If your student is looking for financial aid for college, then they must complete the Free Application for Federal Student Aid (FAFSA) and submit their FAFSA form. This process is crucial for a variety of financial aid options including:
Federal and State Grants
Work-Study Opportunities
Federal Student Loans
Without a submitted FAFSA form, your child won't have access to any of the financial aid opportunities above, and most colleges require one to be provided to them as part of the enrollment process.
At first glance, the FAFSA seems complex. Luckily, it's not nearly as hard as it seems to be, as long as your child is properly prepared.
Here's what you both need to know.

When to Apply
FAFSA opens for submission October 1st of each year for the following fall semester and there are 3 different FAFSA deadlines.
University deadlines are typically the earliest. Often times, the FAFSA has to be submitted soon after the admissions deadline. For example, Vanderbilt required FAFSA to be submitted by November 7th for early decision applications! Many times, the final deadline is mid-April around the tax deadline.
Furthermore, each state has their own deadline and then the federal deadline is June 30th.
When deciding when to apply, however, know that funding is first-come, first-serve. For that reason, we highly recommend submitting the FAFSA as soon as possible rather than waiting. Often times, universities will allocate most of their money as early as April. This means you do not want to wait.
Make sure to check your child's institution's deadline as well as your state's FAFSA deadline!
Not sure if you should submit the FAFSA? Here's a helpful article explaining Why You Need to Submit FAFSA (& What to Do if You Missed the FAFSA Deadline)
*Lastly, this form is not only for high school seniors. College students have to submit the FAFSA every single year while they are in school if they want to be considered for aid each year.
Before Your Student Applies
There are a few things that need to happen before your student begins working on their FAFSA form.
First, their (or their family's) tax return must be completed. Generally, this isn't much of a challenge thanks to a rule change that recently went into effect, allowing older tax information to be used.
For example, for the 2018-2019 school year, families need to use tax return information for the 2016 tax year, which would normally have been filed at some point in 2017 for their FAFSA form.
This means most families filed that tax information some time ago, so it should be fully processed and ready for use on your child's FAFSA. Whether they need to submit only their tax information or both theirs and their parents' depends on your student's situation.
According to Fastweb, "Undergraduate students who are under age 24 as of December 31 of the award year are considered to be dependent for federal student aid purposes unless they are married, have dependents other than a spouse, are an orphan, are a veteran or active duty member of the US Armed Forces or satisfy other very limited criteria. If a student who is under age 24 doesn't satisfy one of these criteria, the odds of being considered independent are very slim."
Typically, if a student qualifies as a dependent and is under the age of 24, then parent information is required as well. However, other circumstances like those listed above may allow them to complete their FAFSA form as an independent student, so it's important to review the details at the US Department of Education's Federal Student Aid website to confirm.
Create a FSA ID
In addition to collecting tax returns, your student will need to create an account on the FAFSA website, allowing them to establish an FSA ID. They need to provide an email address and create a password on their own (parents must set up separate accounts using their own information if their student is considered a dependent). Detailed instructions for the creation of an FSA ID can be found here: How to Create an FSA ID
Documents for the FAFSA Form
Certain documents are required to complete the FAFSA form. This includes the tax return(s) mentioned above, though some students can have the information automatically imported by using the IRS Data Retrieval Tool available through the FAFSA website.
Other documents that can be required include:
Social Security Card (for US citizens)
Alien Registration ID (for non-US citizens)
Bank Statements (if applicable)
Investment Records (if applicable)
Untaxed Income Records (if applicable)
The Social Security Card or Alien Registration ID are needed to ensure the associated numbers are entered properly on the FAFSA form and are used to establish both identity and eligibility. The financial records, aside from tax returns, are used for certain forms of income verification if not all of the data is captured on the tax return.
Completing the FAFSA Form
The easiest way to complete the FAFSA form is to do it online, as the system walks your student through the process. However, paper applications are available for those without internet access.
Generally, filling in the FAFSA form is relatively easy, especially now that your child has all of the documents gathered and information ready. But, to make it even easier, here is an overview of the entire process.
Student Information
The first section your child will need to complete covers information about their identity, like their name, birth date, and Social Security number. But, if they already have an FSA ID, most of the information will be prepopulated, saving them a substantial amount of time.
In most cases, the questions in this section are very straightforward, so they shouldn't run into too many difficulties here. However, there are a lot of them, so it can take a little time.
School Selection
Some students find the FAFSA form school selection page intimidating, particularly if they haven't officially been accepted to a particular institution. But, what's important to remember, is they can send their FAFSA details to any school, regardless of whether they have been accepted or even applied.
Worst case, it is wise to have your child add every school they are considering, as any college they don't end up attending will securely discard the information. Plus, the schools cannot see where else your student sent their FAFSA, so there's no risk there either.
Your child can add up to 10 schools at a time, and the handy search tool makes it a breeze as long as your student knows the state where the college is located and either the city or the school's name.
Dependency Status
The dependency status section establishes whether your student needs to submit tax information for their parents on their FAFSA form or are considered an independent student based on guidelines set by Congress.
Most of the questions are incredibly simple, and your child only needs to select "yes" or "no" based on their current situation.
It's important to note that your child's dependency status for their FAFSA form may differ from that assigned by the IRS for tax purposes. That means the two may not match, so it's best not to assume that their tax status automatically applies for their FAFSA.
Parent Demographics
The FAFSA form does contain demographic questions regarding the student's parents (yes, that potentially means you), and they do have to be completed even if your child doesn't live with their parents.
Again, the information is fairly basic, including items like names, birth dates, Social Security numbers (if applicable), and marital status.
An important note is that the child's parents are determined based on legal status as guardians, so biological or adoptive parents, as well as legal guardians, may be classified as "parents" for the purpose of completing the FAFSA form.
If you have a blended family, are divorced, separated or have any other situation that makes you unsure of which parent's information should be used for FAFSA, more information can be found here: Parents on FAFSA Form
If your child has special circumstances that prevents them from providing certain information, additional guidance can be found here: Special Circumstances Instructions
Financial Information
Generally, the financial information section is the one that causes people the most fear, but it isn't as complicated as it seems.
First, the IRS Data Retrieval Tool, accessed through the "Link to IRS" button, can populate a lot of the information in just a few clicks, so it's worth using if you're student is eligible. They'll just need to connect to the IRS system, providing details from the tax filing, check the "Transfer My Tax Information into the FAFSA form" box, and click "Transfer Now." If successful, they'll receive a confirmation message on the FAFSA site.
Otherwise, the information can be entered manually, referencing the tax return they should have on hand and any additional financial documents that may be required.
It's important to note that some parents prefer to manually enter the data so they can ensure the information that is submitted is correct. Many people have used the IRS Data Retrieval Tool without any issues, however, it is not perfect. Also, if you use the DRT, according to the official website, you cannot edit the information that is pulled from the IRS starting in 2017.
If something does not transfer correctly, please contact your child's institution as they are the only ones with the power to edit the information once it has been submitted.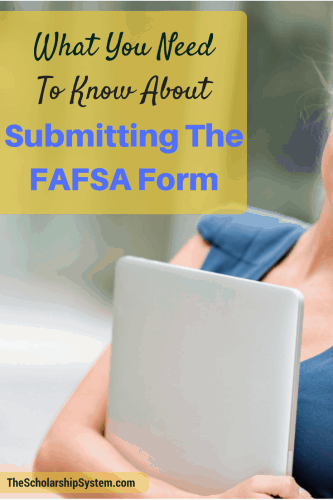 Sign and Submit the FAFSA Form
Once all of the information is recorded, it's time to sign and submit their FAFSA form. For independent students, they can do this on their own. However, dependent students also need their parents to sign the form to go through.
The electronic signature is based on the use of each person's FSA ID. If your student completes their FAFSA in one sitting, they won't have to provide their FSA ID details again to complete the process. Essentially, they can just click submit and send it on its way.
Parents will need to enter their FSA ID and identify as Parent 1 or Parent 2 in a drop-down menu, depending on how they were listed on the application.
Once everyone has electronically signed, your child should be all set, and their FAFSA will start processing. Your child can monitor the progress of their FAFSA by logging into fafsa.gov, and the schools they selected will automatically get the information, allowing them to use it to build financial aid packages if your child is selected for admission.
In the end, completing the FAFSA is actually pretty easy, and it's definitely a must-do for every college student.
And remember, the FAFSA form must be completed EVERY YEAR, so make sure your child puts it on their schedule to get it handle when the next year's application period opens.
For more quick tips to maximize the FAFSA, check out this article: New FAFSA Changes: 5 Quick Tips to Maximize Financial Aid
Lastly, once this is completed, take a break… but not for too long. It's time to apply for scholarships. If you want to learn our strategies on how to secure scholarships, including how I secured 6-figures in scholarships, join me for my next free online training at http://www.thescholarshipsystem.com/freewebinar.