Updated on June 13th, 2022
Disclosure: There are some affiliate links below, but these are all products I highly recommend. I won't put anything on this page that I haven't verified and/or personally used.
If you have a high school or college senior, it's almost time for a graduation celebration! If you plan on hosting the event and intend to provide the graduation party foods yourself, the idea can be as much overwhelming as exciting. To help you plan a party filled with great food and fun a atmosphere, here are some tips to get you on your way.

If your student is trying to avoid debt, scholarships are a great option. They can cover a range of college costs and don't have to be paid back. If you and your student want to learn about scholarships, sign up for our free college scholarship webinar! Take a quick trip over to http://thescholarshipsystem.com/freewebinar to reserve a spot today.
The Characteristics of Fantastic Graduation Party Foods
When you are planning the graduation party foods, it is often important to lean towards snack-style choices over a full dinner. This gives party guests a chance to graze at their leisure and removes some of the formality of a full meal. Plus, depending on your choices, you can limit the need for anything beyond plates and napkins to enjoy the treats, which is certainly a bonus.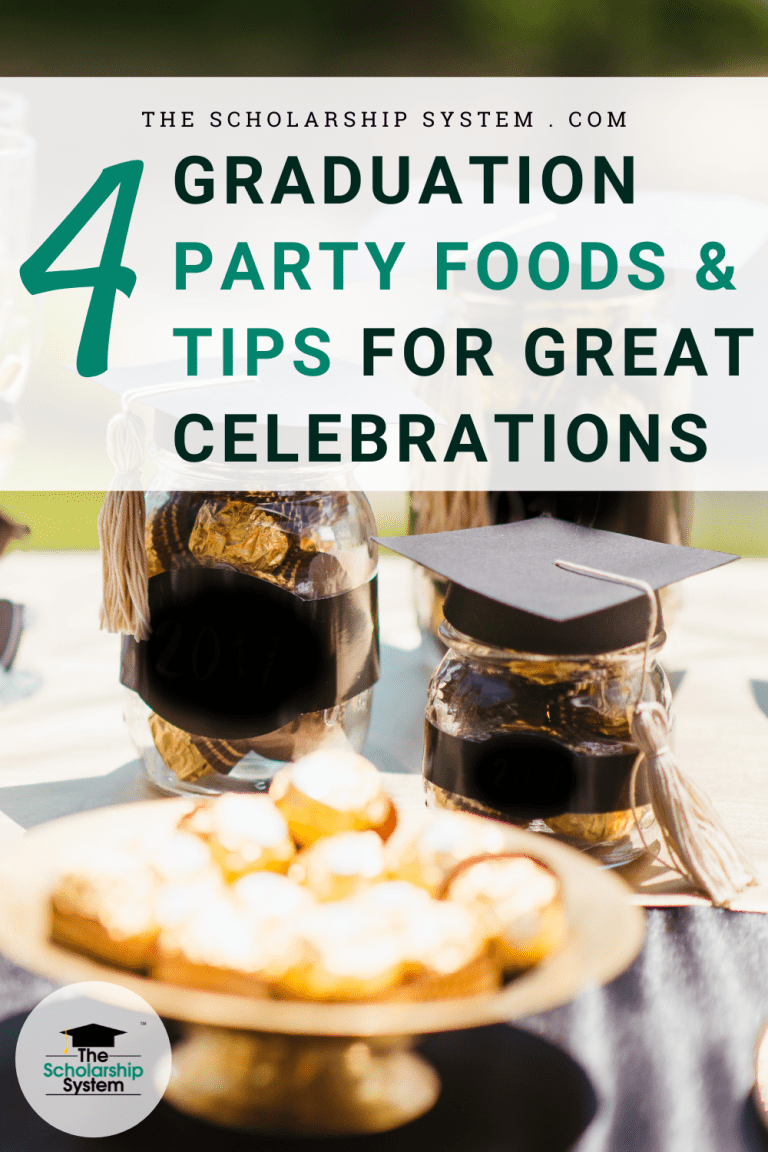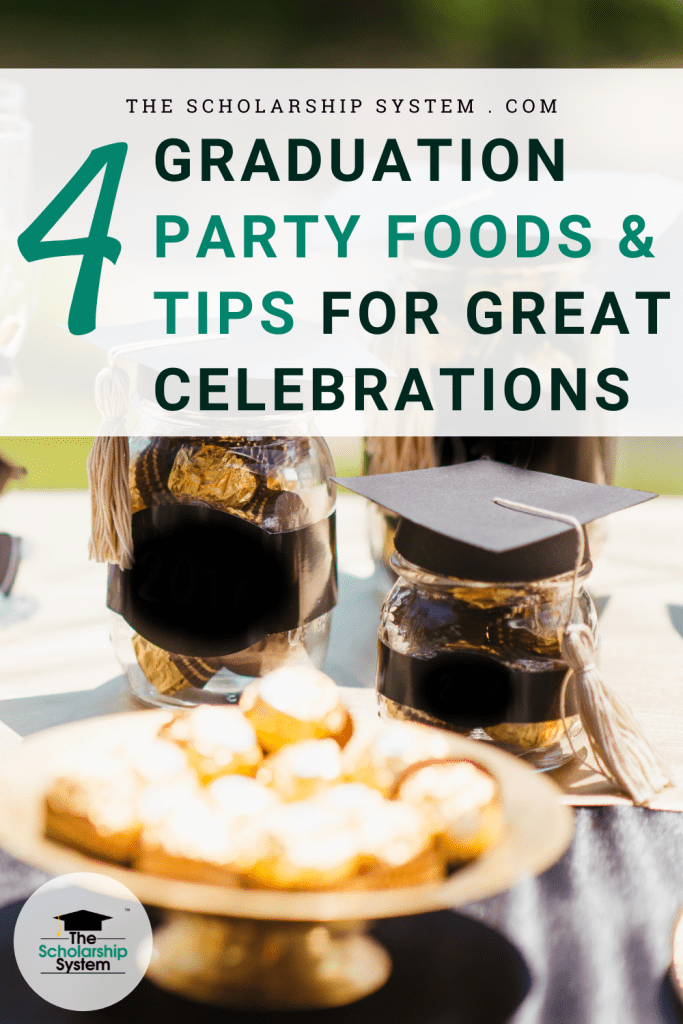 1. Graduation "Diplomas"
These fun snacks are based on something simple: wraps! The key is to take a tasty wrap recipe and accent each one with a small piece of ribbon, making it look like a rolled-up diploma.
A nice thing about using wraps is you can almost always find a combination to please any palette. Plus, they are quick and easy to put together, and can often be prepared in advance, saving you time on the big day.
You can stick with classics, like turkey or ham with cheese, add some international flavor with taco-style ingredients like beans, corn, or jalapenos or Asian influences like cabbage, pork, and sesame, or choose favorites like a chicken Caesar. You can also elevate classic choices by using prosciutto instead of ham and adding fresh parmesan, smoked gouda, or gruyere for the cheese.
Wraps are a nice choice for graduation party foods because they can just be picked up and enjoyed, no silverware necessary.
Need some great wrap recipes? Check these out!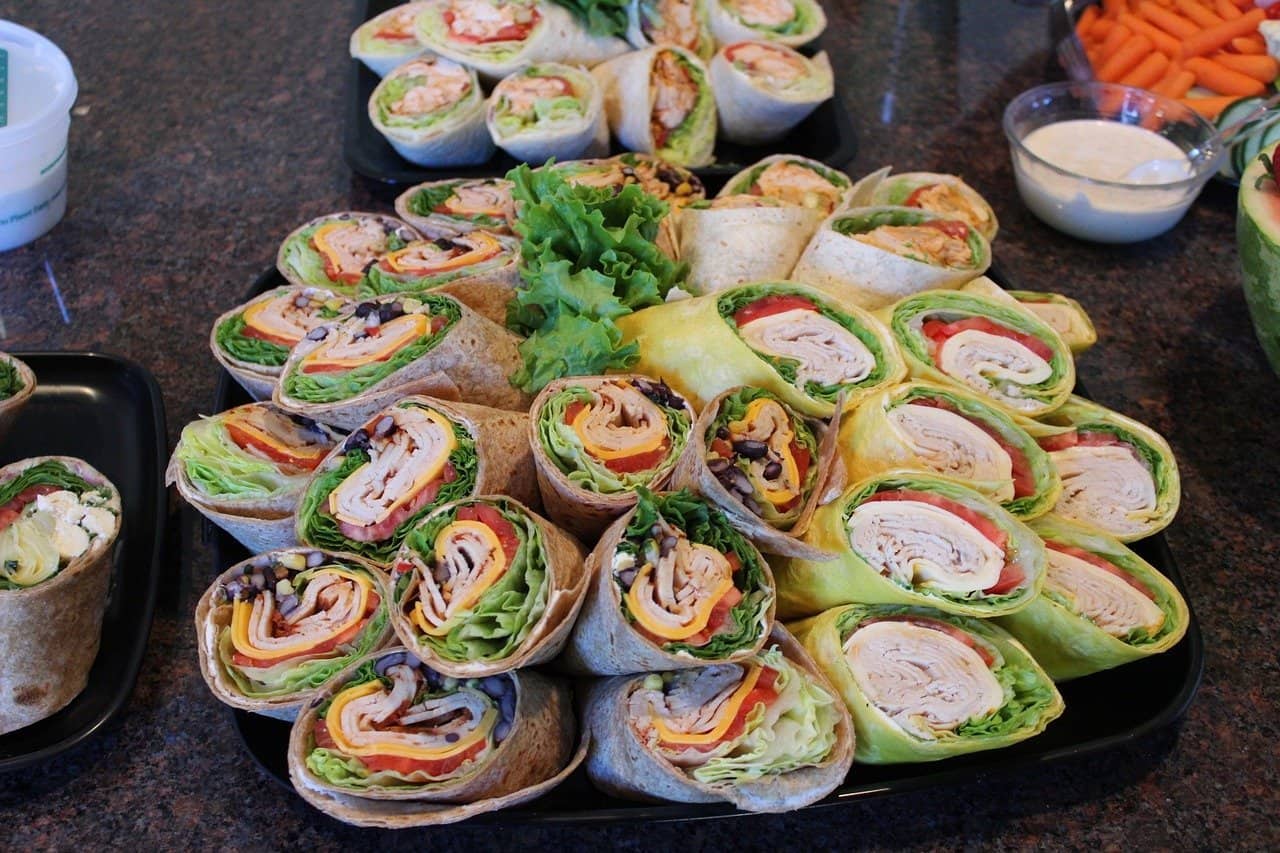 2. Cap Cupcakes
While this one can take a little bit of work, the results are a lot of fun. First, you'll need a chocolate cupcake as a base. You'll need to avoid using liners, so make sure your pan is nonstick and use butter, margarine or oils spray before adding batter. The goal is to get the angled shape of the cupcake, so don't let the cupcake rise above the edge of the pan. This will give you a semi-flat top and bottom, which is what you really need. Since you aren't using liners, the sides should also be relatively smooth.
Once the cupcakes are done, remove them from the pan and place them upside-down, so the smaller end is facing up. Then, use some icing to secure chocolate cookies (you can make them or buy them, we don't judge!) that are larger than the top of the cupcake and have been cut into squares to the top; these serve as the brim. You can also use brownies, though you will want to keep them thin.
Finally, create little tassels using either a string-style candy, like licorice, or draw them on with icing. Voila! Tiny graduation caps!
If you aren't feeling that adventurous, you can also just bake the cupcakes (with or without wrappers) and use icing and toothpicks to secure an upside-down mini peanut butter cup to a larger chocolate square and add a little tassel.
Looking for a great chocolate cupcake recipe? Here's one that makes 20 to 30 cupcakes in a single batch! Just click here.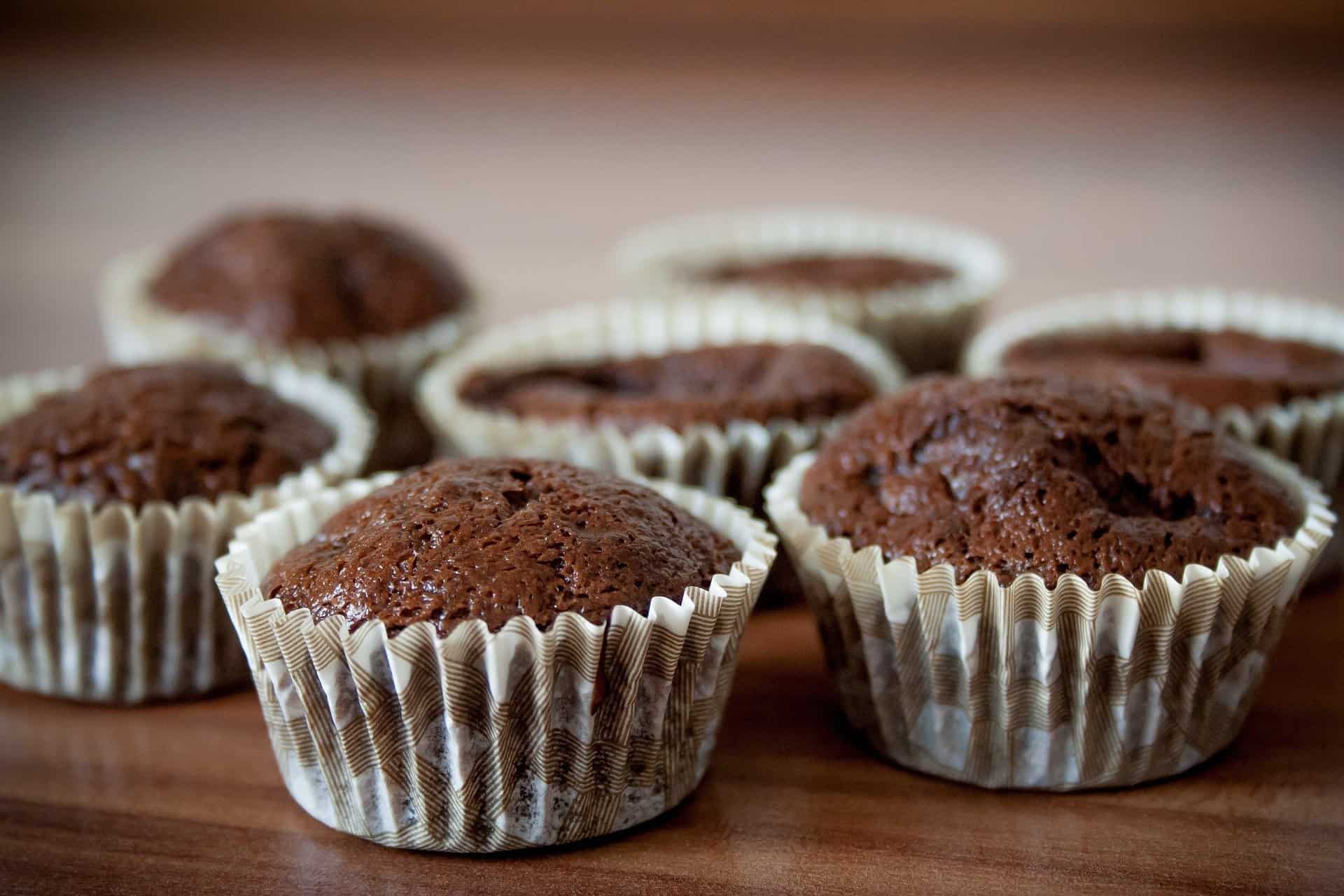 3. BBQ Pork or Chicken Sliders
You can't go wrong with sliders, and BBQ pork or chicken sliders are a simpler option since the meat is generally served shredded. This means you can take a large roast or boneless and skinless chicken, toss it into a slow cooker with some seasoning, and walk away until the meat is ready. Then, simply stir in your favorite BBQ sauce and assemble.
Most grocery stores carry slider buns, which are typically pre-sliced and ready to use, though you can also make your own rolls or choose a store option like Hawaiian rolls and cut them yourself.
Here's an easy BBQ pulled pork slow cooker recipe that can be scaled up or down depending on the size of your party. Check it out by clicking here!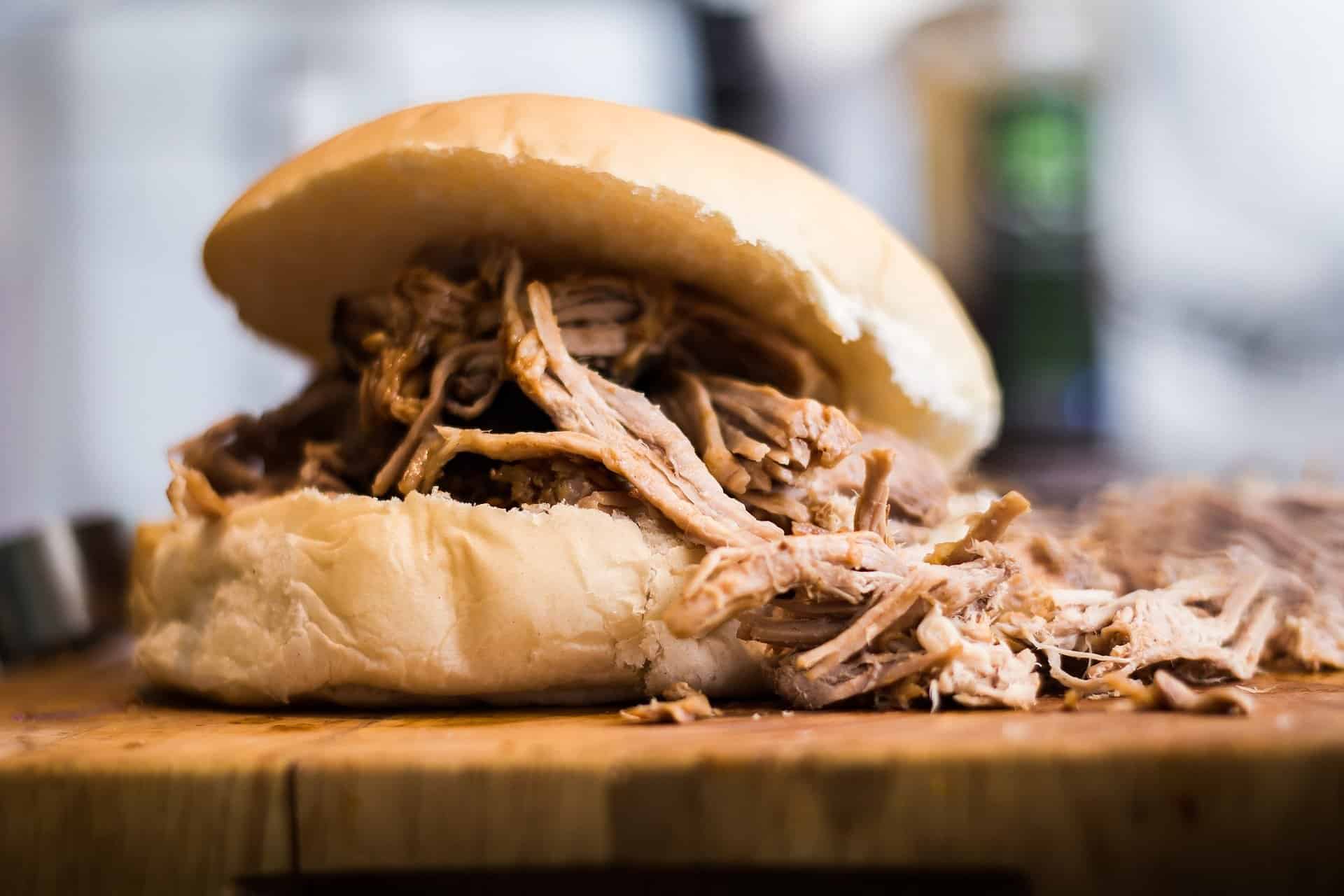 4. Fruit Skewers
Creating fruit skewers gives party-goers a chance to enjoy something light without having to get their fingers sticky. Plus, it is another item that can be prepared in advance.
Typically, you can get skewers wherever you buy groceries. Then, just choose a range of fruits, slice or cube if necessary, then slide them on the sticks. To make it easier, pick fruits that keep their shape fairly well, like grapes, strawberries, cantaloupe, and honeydew melon.
You can get a pack of 100 skewers for your graduation party foods right here!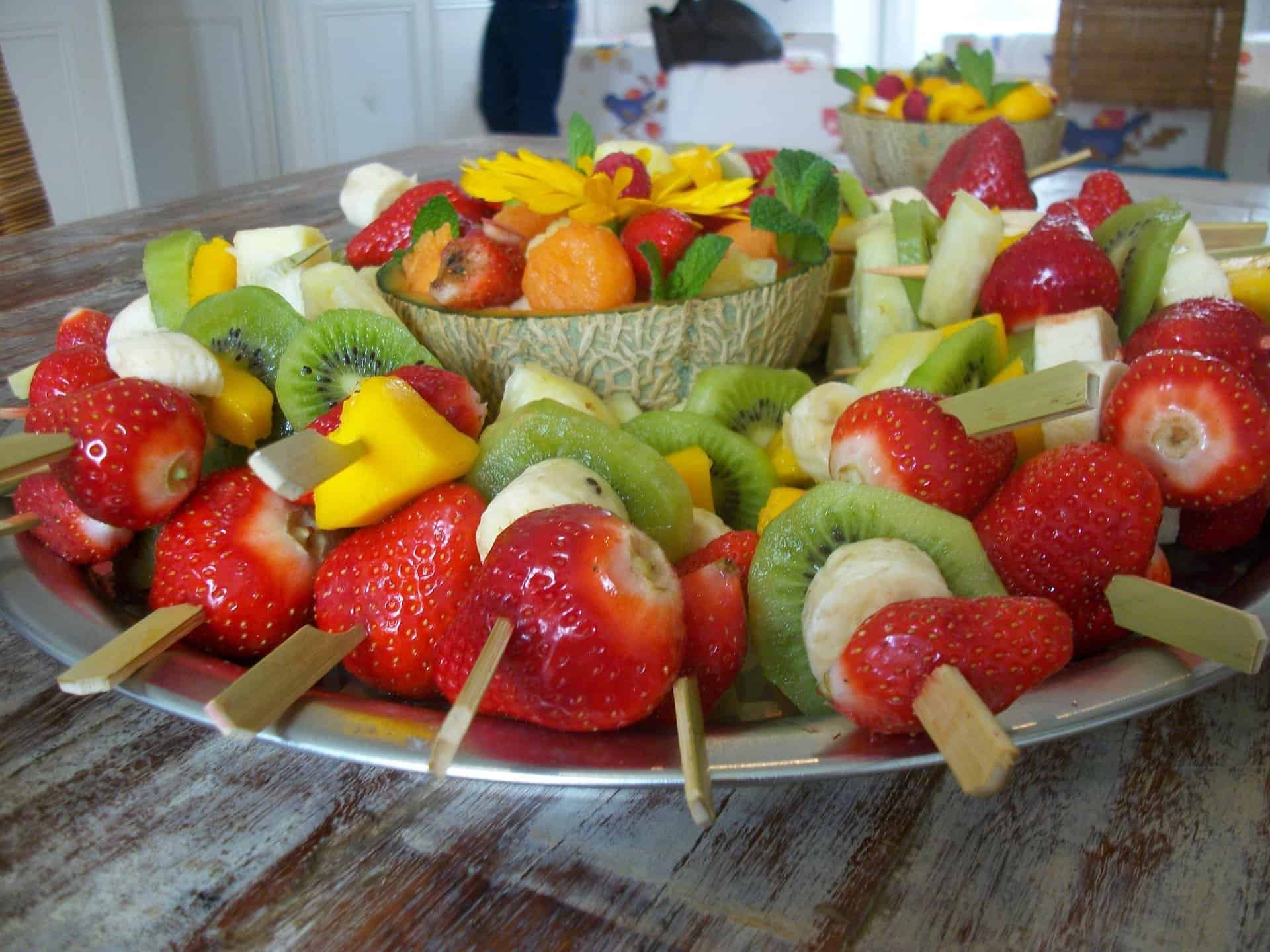 Bonus Drinks: Italian Soda Bar
If you want to provide a variety of beverages easily, consider setting up an Italian soda bar. All you need is a variety of flavored syrups (focus on fruit flavors but make sure to get vanilla too), some club soda or sparkling water, ice, and whipped cream. You can add pumps to the flavored syrups for easy serving, or have a few shot glasses available to help measure the amounts used.
For a 24-ounce cup, each serving needs 3 to 4 pumps/shots of flavoring over the ice. Fill with the soda or sparkling water and top with whipped cream. Not only are these tasty and refreshing, but it is also a completely self-serve setup.
Looking for 24-ounce cups, here are some that are perfect for parties: Click here!
Or you can go with graduation-themed plates, napkins, and cups all in one kit like these:
What about pumps for flavored syrups? You can get those here.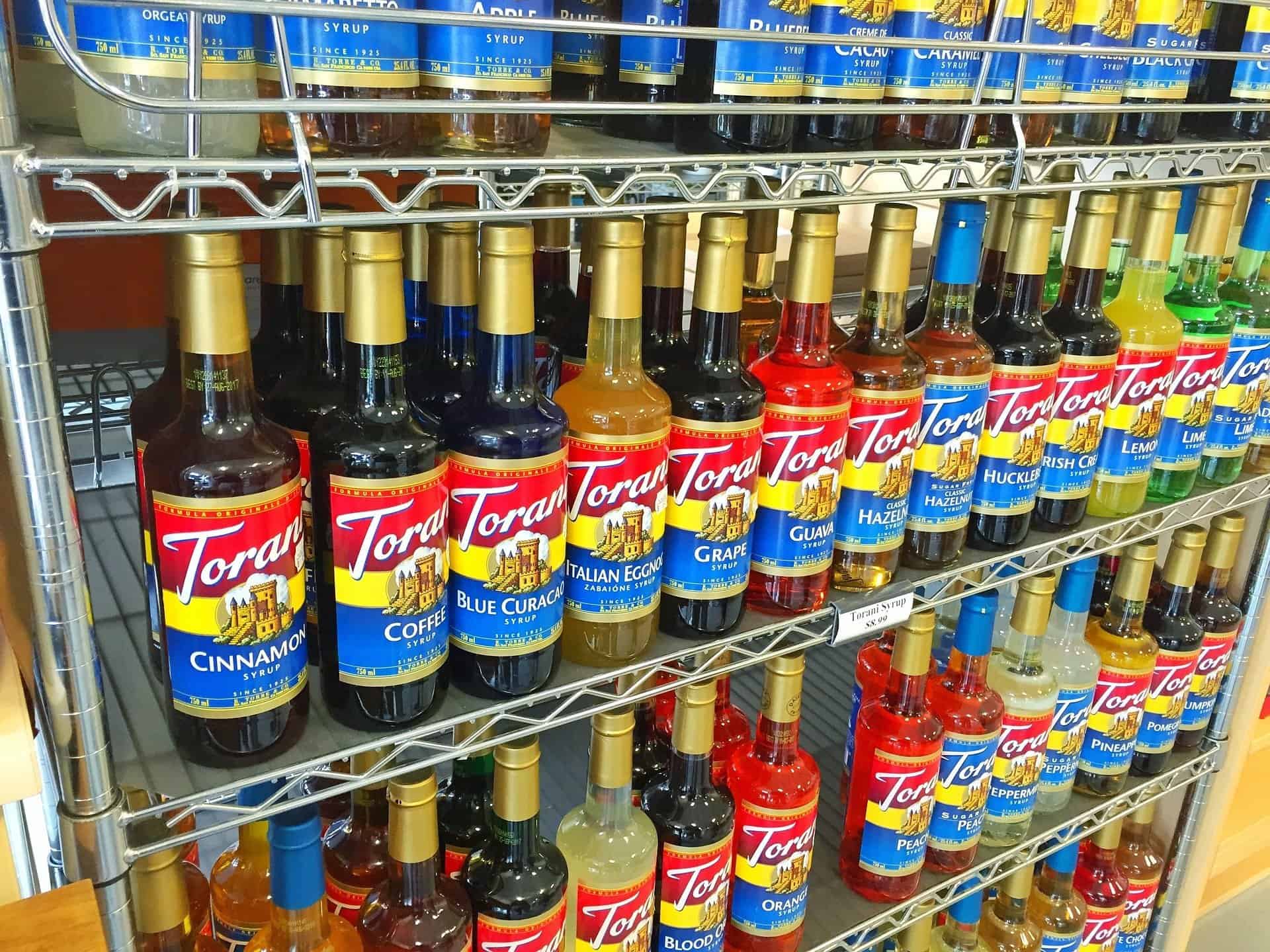 Other Graduation Celebration Tips
While the graduation party foods are a big part of the celebration, they aren't the only reason people show up. Everyone wants a chance to socialize and relax too! To make the party more comfortable, make sure there is a suitable amount of seating based on the number of guests expecting to attend. Additionally, if there will be music, make sure the volume allows the tunes to be heard, but that it won't make it challenging to talk.
If there will be a lot of out-of-town attendees, consider creating a photo area in a corner or off to the side. You can choose to have some fun, like adding a celebratory backdrop or props, or keep it simple if the background is already fine for pictures. The idea is to create a space where friends and family members can take quick snapshots to help remember the event.
Believe it or not, Dollar Tree or other dollar stores are great to find props and backdrops for your own homemade photo booth. Amazon has this set of Graduation Photo Booth Props.
Once you have the graduation party foods managed and the area properly arranged, you'll be ready for the graduation celebration. Just don't forget to have fun and mingle, too. While it's your child's big day, you did a lot to help them get this far. So take the time to grab a snack from your fabulous graduation party foods spread and spend time with those you love.
Items to Grab:
And if you have Amazon Prime, you can receive them in 2 days with no shipping costs! Try Amazon Prime's 30-Day Free Trial here
if you don't already have it. It's a life-saver. I use their shipping perks at least weekly.
​More Articles to Check Out:

If your student is trying to avoid debt, scholarships are a great option. They can cover a range of college costs and don't have to be paid back. If you and your student want to learn about scholarships, sign up for our free college scholarship webinar! Take a quick trip over to http://thescholarshipsystem.com/freewebinar to reserve a spot today.