Updated on October 9th, 2021
Dorm rooms aren't necessarily the most inspiring spaces. Usually, the walls, floors, and furniture are pretty basic, if not downright bland. And, while they cover the essentials from a functionality standpoint, they still leave a lot to be desired.
Luckily, there are some amazingly clever dorm room hacks that can help transform any space without having to worry about sacrificing your child's security deposit in the name of design and improved function.
If your child is ready to make sure their dorm room works for them while making it feel like home, here are 10 dorm room hacks that are perfect for nearly any college student.
If you and your child would like to learn more about how to pay for college with scholarships, sign up for our free college scholarship webinar! It's a great way to learn about the scholarship process, identify opportunities, and how your student avoid debt while pursuing their education!

1. Step Up for Storage Dorm Room Hacks
Saying that dorm rooms tend to be tiny is an understatement, particularly if your student has a roommate. And, as with any small space, a lack of storage is a common problem.
Luckily, there is an easy way to squeeze in a few extra boxes: bed risers.
Bed risers are available in a variety of sizes, and they provide more storage space by lifting your child's bed off the ground a few extra inches. This creates room for a few plastic bins which can be used to store off-season clothes, books, and so much more.
Some even come with power outlets, allowing your student to plug the riser into an outlet that gets hidden behind the bed, making it easier for them to plug in their devices. That almost makes this a two-in-one in the dorm room hacks department.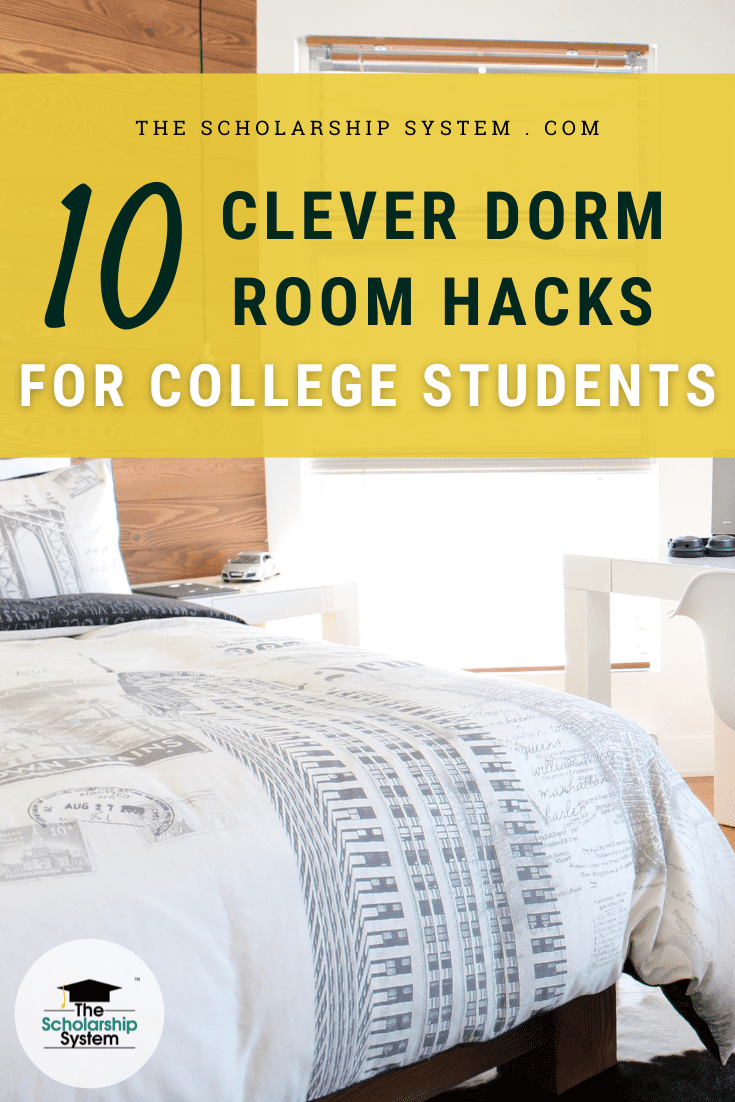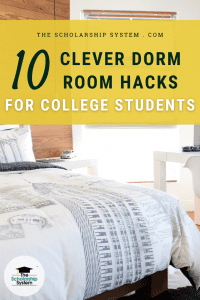 If your child's college allows it, you can even explore lofting the bed. This may require a significant investment, either by buying a lofted frame or constructing one (not for amateur DIYers, as it can be a safety hazard if improperly made).
2. Maximize the Doors
In a way, doors are wasted space. However, by hanging a shoe organizer off of the top, your student gets another storage solution.
Plus, there's nothing that says they have to use it to store shoes. Anything from toiletries to school supplies to snacks can find a home in the pockets or cubbies.
Usually, you can find shoe organizers that are either made of fabric or plastic, including clear options that allow your child to see exactly what is stored where.
3. Take Command of Decorating
Most colleges have very strict rules regarding how pictures and other items can be hung on the wall. It isn't uncommon for nails or thumbtacks to be outright banned or, if they aren't, for students to be responsible for filling the holes when they move out.
One of the easiest dorm room hacks is to purchase a variety of Command hooks and strips. They can be used to hang pictures, string lights, or even hold car keys, all without damaging the walls.
4. Use Soda Tabs in Small Closets
If your student drinks cans of soda, then this is one of the simplest dorm room hacks to pull off. By taking the tabs off of the cans and sliding them over the tops of hangers, they create a secondary hanger hook in the second hole in the tab.
This allows your student to fit more hangers into their closet, potentially doubling its capacity.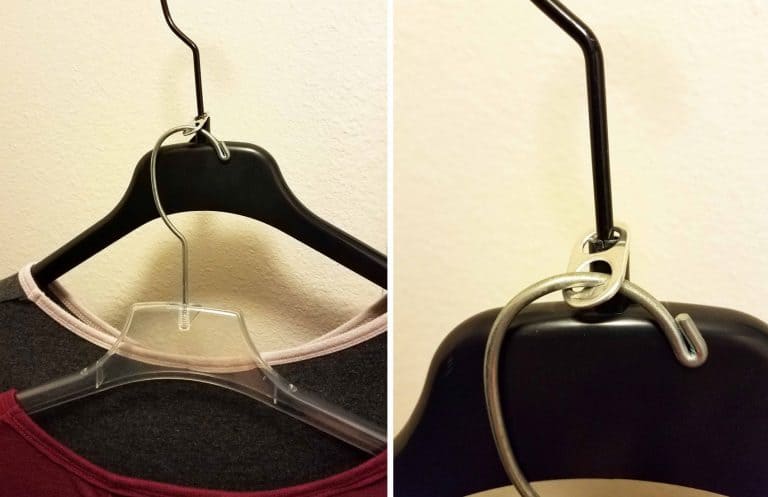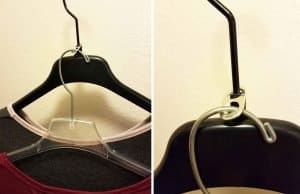 Ultimately, it's one of the cheapest and most helpful dorm room hacks around, making it worth the effort to pull off the soda tabs.
5. Discrete Air Freshening Dorm Room Hacks
Nearly every dorm bans candles, and some also don't allow wax melt warmers, lowering the number of options your child has when it comes to combating odors.
However, there usually aren't restrictions on fans or dryer sheets. By sticking a dryer sheet to a simple fan with tape or paperclips, the scent can be circulated through the room, making it an easy and inexpensive solution.
Another one of the simplest dorm room hacks to combat smells is to attach a car vent clip to fans or vents.
The only time this wouldn't work is if the college has a policy limiting the use of artificial fragrances or if your child's roommate has an allergy. So, make sure to check the guide and have your student speak with their cohabitator before adding a scent to the space.
Related articles:
6. Think Wall Decals
Dorm room walls tend to be a generic color, like white or beige, which usually isn't very inspiring. However, they can be quickly dressed up with reusable wall decals.
Wall decals cling to the wall (or even the window) without any actual adhesive. That means, once your child is ready to move out or simply wants to change things up, they can be quickly peeled off without causing any damage.
Some decals aren't necessarily reusable, so make sure to find ones that are designed to be hung and removed multiple times if your child wants to be able to update their décor seasonally or whenever the mood strikes.
Decals still work great as dorm room hacks even if they aren't reusable, but they'll get more for your money if you find ones that can be put up and taken down every year.
7. Get Cozy with Throw Rugs
Along with being devoid of color, most dorm rooms aren't particularly cozy. In fact, some can seem downright cold or sterile.
Throw or area rugs are easy dorm room hacks for upping the comfort factor, particularly when placed near the side of the bed (so bare feet don't have to hit the chilly, hard floor first thing in the morning). Plus, they can help make a space quieter by absorbing sound, which is always a bonus when living in close quarters.
In some cases, throw rugs may be an easier solution since they don't necessarily require a vacuum cleaner. Instead, your student can just take them outside and shake them out, which could be a good form of stress relief too.
Just make sure to get some non-slip rug pads to help keep them in place. Otherwise, a slick floor and a loose rug could lead to an unexpected fall.
8. Grab Some Silverware Organizers
Silverware organizers can do more than hold knives and forks. In fact, they can act as several dorm room hacks!
The compartments are perfect for organizing desk drawers, giving your student an easy way to keep pens, paper clips, and more from rolling around in their desk. Silverware organizers can also be used as a catchall for their small, must-bring items, like keys and smartphones.
9. Keep Things in Reach with Bed Caddies
A bed caddy is a little fabric "bag" consisting of multiple small pockets. One end is placed between the mattress and box spring while the other hangs loose, providing access to the pockets.
This is a perfect place to keep bedtime necessities like books or remotes as well as eyeglasses and smartphones. It frees up valuable space on your student's desk or end table and keeps everything well within arm's reach.
10. Binder Clip Cable Management
Let's face it; no one likes having to scrounge around the floor to find the end of their smartphone or laptop cables. Luckily, binder clips can be a great solution to keep them right where your child needs them, at the top of their desk.
Simply thread the cord or connector through the handles and clip each one to the edge of the desk. Now, they are all quickly accessible and organized at the same time.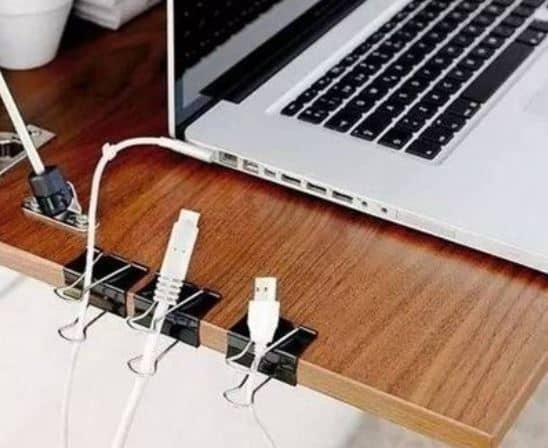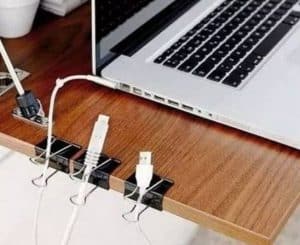 With the 10 dorm room hacks above, your student can create a more functional and inspiring space without having to sacrifice their security deposit. Plus, most of the options are fairly low cost, ensuring your child doesn't have to spend a fortune to have the dorm room of their dreams.
If you and your child would like to learn more about how to pay for college with scholarships, sign up for our free college scholarship webinar! It's a great way to learn about the scholarship process, identify opportunities, and how your student avoid debt while pursuing their education!