Updated on December 13th, 2021
Graduating from high school is a major milestone in nearly everyone's life. It marks a transition into adulthood, even for those who are continuing their studies by heading off to college.
Providing graduates with a unique graduation gift is an excellent way to show that you recognize their hard work and dedication and that you wish them luck as they begin to strike out on their own.
While many people turn to traditional gifts to mark the occasion, providing your student with a unique graduation gift is a fun way to make the moment special. And, just because a present is nontraditional, that doesn't mean it can't be useful.
If you are struggling to figure out what to get your student, here are 10 unique graduation gift ideas that are suitable for almost every college-bound high schooler.

If you and your student want to learn more about where to find local scholarships, as well as national awards, sign up for our free college scholarship webinar! Take a trip over to http://thescholarshipsystem.com/freewebinar to reserve your spot today.
1. LED Message Writing Board
Having a quick and easy place to take or leave notes is incredibly helpful, particularly if your child is going to be sharing a dorm room with another student.
An LED message writing board is essentially an upgraded version of a whiteboard, letting them express themselves with colorful pens against a background that glows.
If you want to make it a particularly unique graduation gift, open it in advance and write a quick note to your child that they'll only discover after they unpack in their new place. It gives you a chance to include a beautiful message of support when they were least expecting it.
2. Wireless Noise-Canceling Headphones
If your student doesn't have a set of wireless noise-canceling headphones, now is a perfect time to give this unique graduation gift.
College campuses can be noisy places and, if they are going to have a roommate, being able to drown out other sounds in their space can be incredibly helpful. Plus, if they want to watch a movie or enjoy some music, they don't have to worry about bothering anyone else either.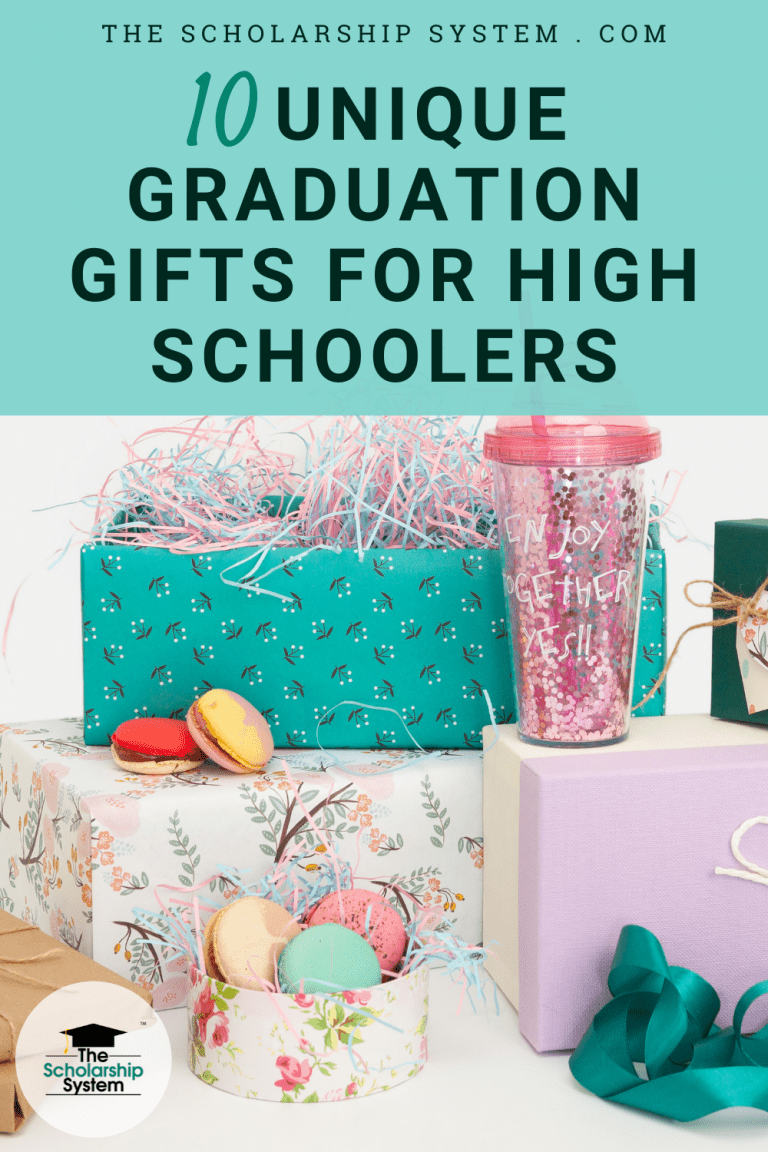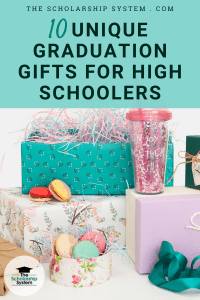 3. High-Quality Multi-Tool
Have you ever needed a screwdriver or pliers only to realize that you don't have any? Well, your student is about to walk out into the world and probably doesn't have a single tool to their name.
While bringing an entire toolbox to college isn't practical, having a high-quality multi-tool on-hand is perfectly plausible. These convenient contraptions usually have screwdrivers, pliers, scissors, a ruler, and more tucked into a compact casing. Just make sure to check their dorm policies regarding edges, as many multi-tools do have short blades, and some properties may restrict them.
In some cases, you can have the side of a multi-tool engraver, so you can include a fun, personalized message along with the convenience of practical tools.
4. F in Exams by Richard Benson
If your child tends to stress out when they make a mistake, consider giving them a copy of F in Exams by Richard Branson.
The book is a collection of incorrect answers that were actually given to a variety of test questions. The answers are amusing, and the book can serve as a great reminder that, while your child might make a mistake on an exam, they likely won't be as bad as these.
Related articles:
5. Personal Shower Locker
Part shower caddy, part security box, a personal shower locker allows your student to keep all of their shower items out of the hands of their roommates (no shampoo thieves here!) thanks to the waterproof combination lock. The back of the locker has two commercial-grade suction cups, ensuring that the locker remains safely mounted to the wall.
6. "Open When" Letters
An "open when" letter is a note stashed in an envelope that has specific instructions regarding when it should be opened.
For example, one letter might be labeled, "Open when you feel lonely," while another would say, "Open when you need motivation."
All you need to do is write the letter, seal it in an envelope, and make sure an appropriate instruction is printed on the outside.
If you would prefer to get a few prompts, consider the book Letters to Open When…: Write Now. Read Later. Treasure Forever. You get a set of pre-labeled envelopes that can help you get started.
7. Luggage and Luggage Tags
Not every college-bound child has their own set of luggage. But, if you want to make sure that trips home are easy to manage, now may be the perfect time to provide them with a set.
Select a luggage set in their favorite color or design (make sure the carry-on size meets most airline requirements for bringing them onboard) and add a fun luggage tag to make it a unique graduation gift they can appreciate for years to come.
8. Livescribe Pen
The Livescribe is a smartpen that allows your child to take handwritten notes and record audio that can be automatically sent to their digital devices. Your student can even sync up the audio timing to a specific point in their notes, allowing them to record lectures and associate portions of the discussion to a particular section of their written notes.
Plus, the notes become searchable, helping your child find the details they need with greater ease.
9. The Naked Roommate by Harlan Cohen
Another fun book that makes a unique graduation gift is Harlan Cohen's The Naked Roommate and 107 Other Issues You Might Run Into in College. The book gives solid advice designed to help any college freshman, covering topics ranging from money management to stress to difficult roommates.
The book is currently in its 4th edition, and the original was a New York Times bestseller.
10. The Scholarship System Online Course
When making this list, I realized that our online course could be the gift that keeps on giving, helping your graduate secure scholarships all throughout college. If they need money for college, even if they need money for THIS fall, they can apply all throughout summer. You can learn more about our 6 Steps to Quickly Securing Scholarships for College here, including a free training to see if you think it's the right gift for your student. If you join our free training, you will receive a discount to the course as well.
BONUS: Making Money a Unique Graduation Gift
Let's face facts; nearly every high school graduate could use a little cash in their pocket.
Money isn't inherently a unique graduation gift, but it can be if you focus on presentation. Consider placing some cash in a shadow box and use stick-on letters to spell "Break Glass In Case of Emergency" on the glass (though also show them how to open the box, because breaking glass isn't really the safest move). You could also fold the cash into origami shapes or buy a puzzle box that has to be solved for them to reach the money.
There are a lot of fun ways to present cash, so consider what may speak to your child's sense of humor and explore your options.
By choosing to give a unique graduation gift, you can create a lasting memory between yourself and your child before they head to college.
So, don't feel like you have to give a traditional present. You can provide them with something helpful without defaulting to a standard, so feel free to have a little fun while you choose.
THESE ARE THE 41 MAJORS THAT MAKE THE MOST MONEY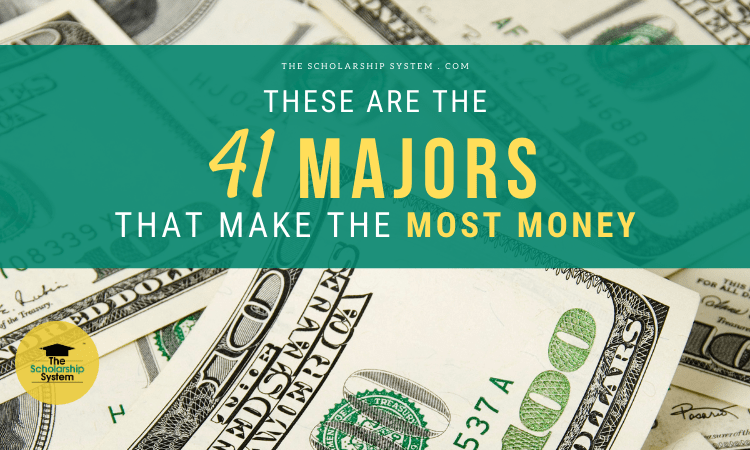 Updated on February 16th, 2021
When students begin exploring majors, earnings potential is commonly part of the equation. Many students want to pick majors that make the most money. That way, the educational track they chose can lead to great pay, benefits, and more, giving them a path that supports their desired lifestyle once they launch their career.
But figuring out which majors make the most money isn't easy. There are a lot of factors in play, many of them going far beyond the subject a student chooses. If your student wants to ensure their earnings potential is top-notch, here's a look at some of the considerations, as well as a list of majors that make the most money typically.
If you and your student want to learn more about where to find local scholarships, as well as national awards, sign up for our free college scholarship webinar! Take a trip over to http://thescholarshipsystem.com/freewebinar to reserve your spot today.