Updated on June 28th, 2022
Starting senior year in high school is exciting! Your child has put in a lot of time and energy to make it this far, and that's an accomplishment worth recognizing.
While your student's senior year should include a lot of fun, it's also important that they lay the groundwork for a bright future. Certain preparations now can reap large dividends later, so taking the time to start planning for college is worth the effort.

If your student is trying to avoid debt, scholarships are a great option. They can cover a range of college costs and don't have to be paid back. If you and your student want to learn about scholarships, sign up for our free college scholarship webinar! Take a quick trip over to http://thescholarshipsystem.com/freewebinar to reserve a spot today.
To help your child stay on target, here are 9 things all high schoolers should do before they begin their senior year.
1. Realize No One is Going to Coddle Them in College
While we all want students to succeed, some have become reliant on mommy and daddy helping them. When they get to college, professors will treat them like adults – because that is what they will be. That means now is the perfect time to start practicing 'adulting.' Need to call the university to ask questions? Have your child do it. Need to schedule doctors' appointments? Have your child schedule their own. Need to get the car serviced? Have your future college student take in the car (or help work on it depending on how handy you are as a parent.)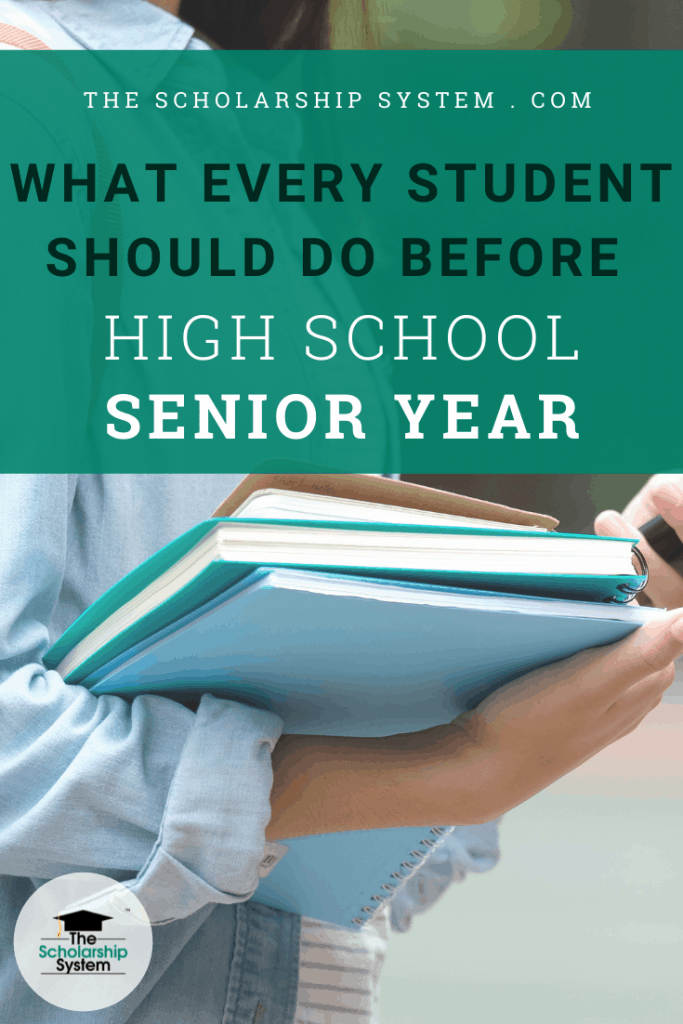 2. Discuss the College Budget
Setting expectations now on how much you can help them with college will only make the admissions process 10x easier on both of you. Help your child understand the true cost of college and how they can pay for it. Show them the consequences of student loans and the seriousness of having to borrow. Doing this now can help motivate them to tackle the rest of this list because they will surely want to find some debt-free money to help pay for college!
3. Start Scholarships NOW
Speaking of debt-free money – Surprise! The scholarship season is upon us!
Believe it or not, some deadlines begin as early as AUGUST for those starting their senior year in high school who plan on attending college next fall. And if your child is younger, students can apply for scholarships as young as FOUR years old! That means that if you have any high schooler, no matter the year, they need to be applying for external dollars.
Check out which steps in the scholarship process your child should be working on based on their grade level here.
While the idea of applying for scholarships can be stressful for your child, it doesn't have to be. There are a lot of great opportunities out there; they just need to know where to look.
If you and your child want to learn how to get ahead by scoring scholarships, take the time to attend our free college scholarship webinar together! It's a perfect way to maximize their time before their senior year by helping them plan for tomorrow, today!
A lot of scholarships can be used at any number of schools, so your child doesn't have to know where they've been accepted to start getting these valuable sources of college money in order. That means there is absolutely no reason not to get started right now.
4. Get to Know Their Top Choice School's Requirements Before Their Senior Year
By this point, your child likely has their eye on a few colleges or universities, and while the start of their senior year is a great time to begin exploring certain details, the earlier the better.
For example, many schools already have information about their application deadlines and requirements online. This means your student should take a look now so they can plan accordingly. By getting a look at these critical dates and what is needed to apply, your child can schedule these activities. Then, they won't have to worry about missing out because they didn't make the cut-off or turning in a sub-par essay because they had to rush.
Remember, most colleges and universities have more than one deadline: early and regular. Meeting the early deadline can increase your child's odd of being accepted, so it's worth sacrificing some time at the beginning of their senior year to get these done.
Typically, there's a lot of other valuable information on these sites too. Your student can learn about admission requirements, such as minimum GPAs, SAT or ACT scores, and essay topics, to ensure they stand a good shot at being accepted. There also might be information about grade requirements to get institutional scholarships, which can be very valuable if your student happens to be on the cusp since they have time to get those grades up.
Your student can also see if the admissions process takes certain other activities into consideration, such as volunteer experiences or extracurriculars. There's still plenty of time for them to add important credentials to their resume, so understanding which options are given the most weight can help them prioritize their other activities.
5. Volunteer Before Their Senior Year
​​Even if your child's target schools don't require volunteer hours, they can help with the admissions process. Additionally, these experiences are great sources of inspiration for admissions and scholarship essays (not to mention are a great way to build character.)
By planning these excursions now, it makes it easier to get them done. Often, your child's schedule is looser now than it will be during their senior year, so getting volunteer hours handled during the lull is just a smart move.
Further, there may be less competition for high-value volunteer spots. Not every student is going to plan ahead, which means there may be a lot of scrambling once application deadlines begin to approach. By encouraging your child to take this on now, they might be able to secure an opportunity with an organization that can help build their resume not just for applications, but for their future career. Now, doesn't that sound like a great way for your child to get ahead before starting their senior year!
6. Part-Time Jobs for Their Senior Year
Let's face facts; college is expensive. Even if your child secures some scholarships and grants, it may not cover all of the costs of being in school.
Getting a part-time job can be a great way to start saving up, especially if there isn't much available cash in the bank for college expenses. These costs can sneak up on you, so having them start now can take a lot of pressure off.
When they select a part-time job, have them explore options that can help with their future career or various applications. If such work isn't available, then any position that allows them to improve certain soft skills, like customer service or teamwork experience, can be valuable in the long run.
It is important to note that they shouldn't work too many hours at a part-time job. Otherwise, they may have to sacrifice extracurricular activities that can help them get into college or score scholarships, or miss out on some of the fun of being in their senior year. Plus, they need to have time to study, especially if their grades aren't exactly where they need to be. Still, having some extra jingle to help with unexpected expenses is always a smart decision – and a part-time job before their senior year is a great way to work towards that!
7. Collect Recommendation Letters
Just as students can become more frantic about volunteer hours as deadlines draw near, the same can be said for recommendation letters from teachers.
If your child didn't start requesting these from teachers last year, their senior year is effectively the last natural opportunity to do so.
As the school year progresses, teachers are going to be bombarded with requests for recommendation letters. Plus, most educators aren't as overwhelmed at the beginning of the school year as they can easily become later. Getting your child's request in before the piles of papers that need grading and tests that need to be scored is just a smart move!
So, by asking now, your child has a better shot at getting a truly thoughtful contribution from some of their favorite educators, and that can help them get into their choice college and score scholarships.
8. Plan College Visits
Taking tours of the colleges and universities that your child is considering can provide a wealth of information. It gives you both an opportunity to see the campus, explore the various amenities, and even meet other students, parents, and faculty members.
If your student is considering out-of-state schools, it's best to plan these ventures before their senior year. Otherwise, if their senior year gets especially busy, you both may miss out on these amazing opportunities.
Related article: Helping Your Child With Choosing the Right College
9. Get Ready for the FAFSA
Essentially every student must complete the Free Application for Federal Student Aid, or FAFSA, to determine their eligibility for certain forms of financial assistance such as government grants or student loans. Need-based awards are generally provided on a first-come, first-serve basis, so planning to get this important process handled now could mean more free money later.
Make sure your information for the previous tax year is easily accessible, as this will be the data your child will need to complete the process. Then, have your student put the FAFSA on their calendar to ensure they finish it quickly.
For students enrolling for the 2023-2024 school year, the FAFSA will open on October 1, 2022.
By covering these activities at the beginning of their senior year, your child can increase their chances of getting accepted to a top college or university, scoring scholarships and grants, and saving some money before they head off on their post-high school adventure.
Yes, it does take some effort on their part, but it's totally worth it in the end.
If your student is trying to avoid debt, scholarships are a great option. They can cover a range of college costs and don't have to be paid back. If you and your student want to learn about scholarships, sign up for our free college scholarship webinar! Take a quick trip over to http://thescholarshipsystem.com/freewebinar to reserve a spot today.