Updated on December 13th, 2021
Many people are unfamiliar with the concept of a scholarship resume. In fact, as a parent of a high school or college student, you may be wondering why they need a resume at all. Scholarship committees generally don't request a resume, so it seems like extra work that isn't necessary. But, it is essential, especially if your student wants to stand out from the crowd. Here's what you need to know about writing a scholarship resume.
If you or your child want more information about how to land scholarships now that their scholarship resume is ready, sign up for our free college scholarship webinar! It's a great way to learn about the process and get valuable tips and tricks such as the ones covered in this article so that they can increase their odds of success.

Why Your Child Needs a Resume
Your child is going to need a resume in the future for all sorts of opportunities, so creating one now gives them a step up in life. Plus, it helps them make a strong impression for a variety of things they'll be applying to as they get ready for college or continue their studies.
Scholarship Resume
Since most applications don't require a scholarship resume, adding one is a great way for students to get an edge.
Often, scholarship applications are somewhat limiting. They only let your student show a quick snapshot of what they have to offer.
However, many scholarships allow you to submit "additional materials," and a resume is a great addition. Your child can highlight various involvements, previous employment, or volunteer experiences that might not be discussed in a generic application or their essay. This means they can pass valuable information on to the committee, making them a more appealing candidate.
Submitting a scholarship resume could make the difference, helping your student secure the funds they need to go to college debt-free.
Internship Resume
Having a resume ready can also serve your child as they pursue their education. Many internships require a resume to apply. Having a scholarship resume ready means they can easily adjust the document to meet these requirements, making the idea of landing an internship less intimidating and certainly less time-consuming.
Employment Resume
Most employers want to see a resume too. So, if your student intends to work while they are in school or simply wants to be prepared for graduation, creating a scholarship resume now gives them the framework they need to get one ready for work applications when the time comes.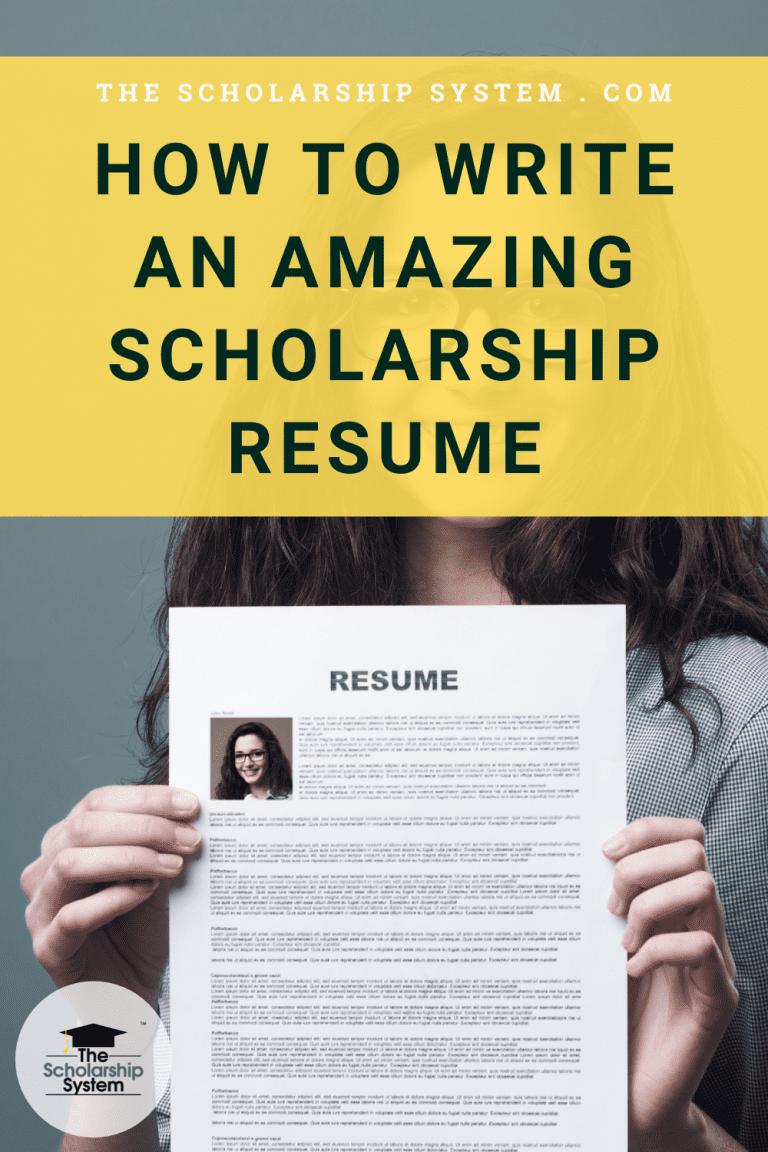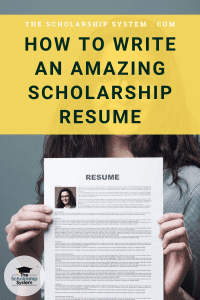 RELATED ARTICLES:
Sections to Include on a Scholarship Resume
Typically, high schoolers or college students don't have years of work experience, so it can feel as though they don't have a lot to say. However, there are a lot of items that can be added to a scholarship resume that aren't employment-related (though these entries help as well).
Work, Volunteering, and Involvements
If your child has work or community service experience, that's great for this resume! It can show the scholarship committee they've already begun to experience the "adult" world and gives your child a method for displaying what skills they learned along the way.
Students with little or no work experience can also add a section discussing their involvements. These are generally activities related to student organizations or clubs, like student council, drama, or sports. Experience in these areas gave your student a chance to gain skills and earn achievements, making this section an excellent opportunity to speak to them. It also demonstrates their commitment, especially if they stuck with a particular organization throughout high school.
Education
Discussing education on a resume is considered a must, regardless of whether it is a scholarship resume or intended for another purpose. High school students and recent high school graduates should include information about their high school. They can also add details about their college if they already know where they will be going and their chosen major.
College freshmen may want to include details about their college and high school, while sophomores and above should stick to just their college.
When to Drop Items from Your Scholarship Resume
Not everything you add to your resume is "evergreen." That means, over time, your child needs to remove certain entries to keep their scholarship resume relevant.
For example, high school students and college freshmen can list information about their high school. But, this item should be removed once they finish their freshman year.
Similarly, if they gain relevant experience in their field through internships or employment, they might want to ditch the information about the summer job they held as a sophomore in high school if it doesn't provide value on their scholarship resume.
The intention is to keep things clean, concise, and clutter-free, and to focus on details that are specifically pertinent to the scholarship to which they are applying.
Choosing a Resume Style
Typically, there are two main resume styles to choose from: professional and creative. A professional resume sticks to the standard accepted format while creative resumes offer more flexibility.
For most students, a professional scholarship resume is often best. Since their education is likely one of their biggest selling points, it makes sense to order their resume sections as follows:
Education
Awards/Achievements
Involvements
Employment Experience
Volunteering/Community Service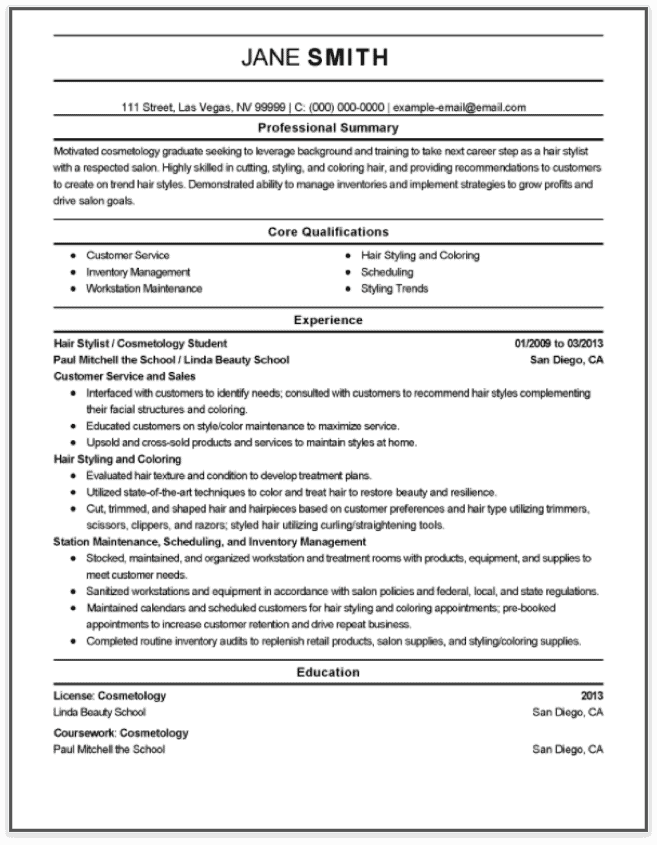 If your child doesn't have anything for one of those sections, feel free to omit it. Then, as they gain experience, they can add it back in accordingly.
Generally, creative resumes should only be used if your child is pursuing a career in a creative field, like graphic design. Options in this area can include creating a scholarship resume using formatting similar to an infographic or even doing one entirely on video.
However, even for creative positions, these resumes are a risk, as not everyone appreciates these formats. In fact, a recent survey showed that 70 percent of employers prefer a professional resume above all else, regardless of the job type. So, when in doubt, stick with the traditional approach.
Scholarship Resume Power Words
When writing a resume, your child needs to make every word count, and using power words on a scholarship resume is a great way to start.
Power words are especially impactful, so they help get the committee's attention. Plus, they speak to what your student has done in a meaningful way, providing more value to the reader.
To get you started, here is a list of some great power words your student may be able to use, depending on their experience:
Accomplished
Analyzed
Collaborated
Delivered
Encouraged
Gave
Lobbied
Nourished
Overhauled
Planned
Presented
Ranked
Selected
Tutored
Power words speak to actions more than capabilities, so have your child keep that in mind as they write their scholarship resume.
Scholarship Resume Tips
Writing a scholarship resume doesn't have to be hard. Ultimately, the goal is to be concise but thorough, giving the committee all of the information they need using a straightforward style.
1. First and foremost, they need to make sure their contact information is clearly listed at the top.
Make sure they include their:
Name
Phone number
Email address
City and state where they live
2. In most cases, your child will want to avoid "I" statements, as these aren't typically used for resumes. Instead, they should think in bullet points to help keep things simple.
3. It is also imperative to choose an easy-to-read font (what good is creating a scholarship resume if everyone has trouble reading it!). If they aren't sure which to pick, you can't go wrong with Arial, Calibri, Times New Roman, or Verdana. Just make sure the size falls in the 10 to 12-point range.
These documents don't have to be filled to the brim with information to make a significant impact on scholarship committees, so have them focus on items that provide value so that they can increase their odds of being selected.
Scholarship resumes are just one of the many topics we cover in detail in our Scholarship Course.
If you or your child want more information about how to land scholarships now that their scholarship resume is ready, sign up for our free college scholarship webinar! It's a great way to learn about the process and get valuable tips and tricks such as the ones covered in this article so that they can increase their odds of success.