Updated on September 10th, 2021
It's no secret that scam artists prey on the vulnerable. They often focus on finding individuals with access to money but may be naïve about certain aspects of the adult world. And that makes college students the perfect mark.
Often, college students are away from home for the first time in their lives. They are handling (at least a portion of) their own finances and may not be well-versed in the techniques used to scam people out of money. And, since they are all clumped on campuses throughout the country, college students are pretty easy to find.
With that in mind, a scam may be created specifically to swindle children, like yours, out of their hard-earned cash.
So, how do you keep your student safe from fraudsters looking to scam them? By being aware of the common college student scams currently in play and the various warning signs of college scams in progress.
Here's what you need to know to stop a scammer in their tracks.
Tuition Scam
The most common scam targeting college students involves claims about being behind on their tuition. The would-be thief contacts your child claiming to be from the admissions department at their college or university, and asserts your student is late in meeting their financial obligations. The fraudster says that, unless a credit card payment is made immediately, your student will be dropped from their classes or failed.
If you or your child receives an email or phone call making these claims, hang up right away or don't click any links in the email. Then, contact the college directly using the phone number listed on the school's website or in any orientation materials to determine if any payments are owed. That way, you can find out if it is a scam by going straight to the alleged source.
Fake Credit Cards and Other Financial Product College Scams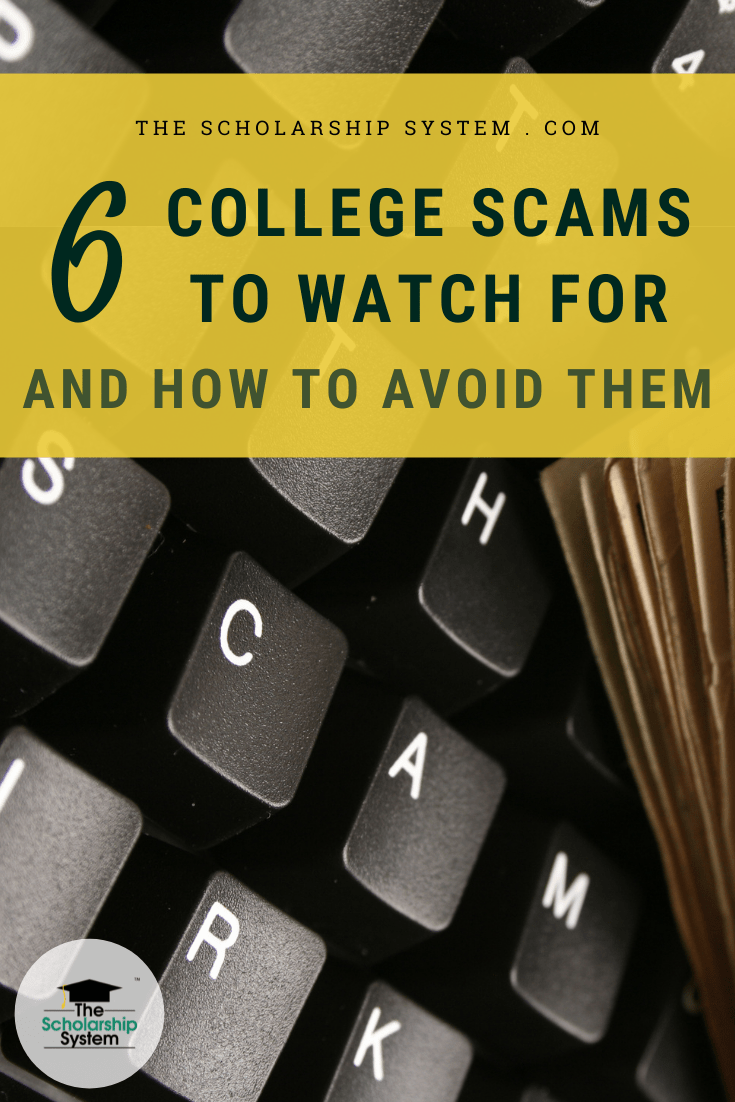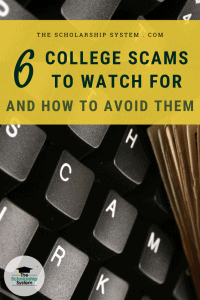 While the Credit Card Accountability, Responsibility, and Disclosure (CARD) Act prevents marketing credit cards to students while they are on campus, that doesn't mean your child won't be pursued. Plus, an unsolicited offer for any form of financing, including credit cards and loans, may not even be legitimate as it might actually be created by a scammer to get valuable personal information from your child.
If your student needs a credit card, loan, or similar financial product, it's best not to respond to any solicitation attempts. Instead, have them do their own research into reputable institutions, and select a service provider from there.
If looking for a student loan to help pay for college, you won't want to miss this article we wrote covering loans from A to Z, including reputable loan providers.
Behavior Blackmail
College students often cut loose once they get on campus and some of their decisions, if they were captured on video, may be quite embarrassing or harmful to their reputations.
With smartphones being in everyone's hands, your child may never know if someone photographed or filmed them when they were being a bit reckless, and this scam is counting on that.
To make matters worse, a person may pose as a friend just to convince your student to do something that they can blackmail them with later.
The best defense against a scam is to not doing anything that could be used as grounds to extort money. So, warn your child of the dangers associated with drinking and partying, especially if their actions could be used to blackmail them later.
Advance Fee College Scams
In most cases, any service that wants to charge your student an upfront fee for something, they should be cautious.
For example, a site or email that says a fee is required to complete the FAFSA is almost guaranteed to be one of the college scams going around. Similarly, any "scholarship" application or award that requires any form of payment from your child shouldn't be trusted.
Completing the FAFSA, getting a scholarship, or landing a job should NEVER cost your student a dime. Anyone charging for these is probably a fraudster, so don't provide payment or any personal information.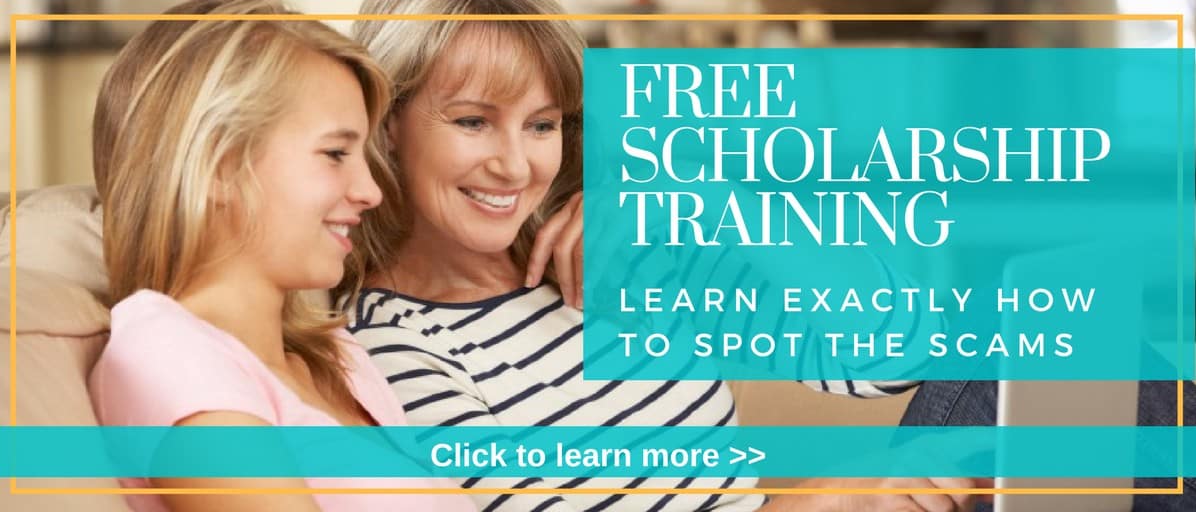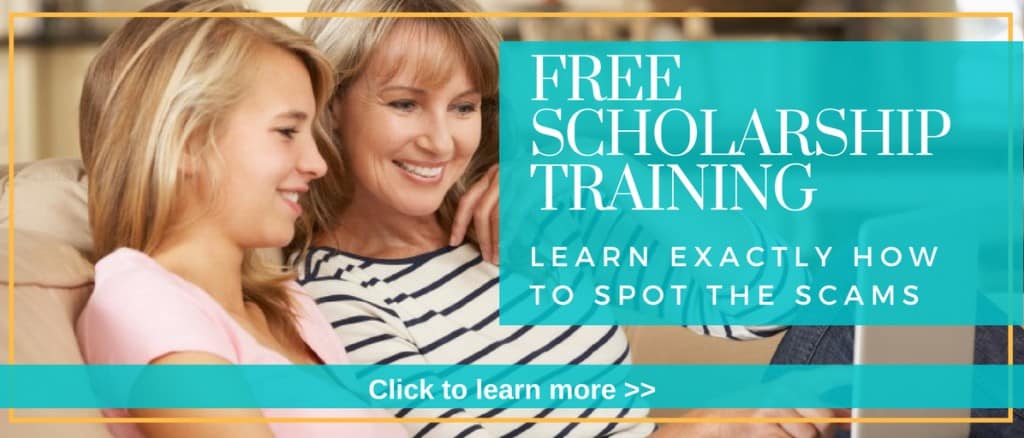 If you want to learn about applying for legitimate scholarships that would never try to scam money out of your child, sign up for our next free college scholarship webinar. It's a great way to learn the ins and outs of the scholarship process, so you and your student can make smart choices along the way and avoid college scams.
Housing Scams
For students who go to school away from home but don't secure a dorm room, that means it's time for apartment hunting.
One popular scam involves listing a place as available, usually online, and trying to convince the potential renter to pay a fee, rent, or deposit without them ever seeing the apartment.
Then, when they think it's time to move in, the college student discovers the person they were speaking to doesn't actually own the apartment. And that they've been scammed out of a lot of money.
To keep your child from falling victim to these criminals, make sure they know to never hand over any money before they've seen the apartment, both inside and out. They also need to meet the landlord in person and should never pay any rent or deposits (aside from possibly a very small application or background check fee) until the keys are firmly in their hands. Lastly, they should never have to send money via Western Union, Money Gram, cashier check, money order, or Paypal.
Technology-Related Scams
Tech is often essential for college students, and certain fraudsters rely on this fact. While not all of these are overtly scams, your child should be aware of the risks outlined here to make sure they keep themselves safe and secure.
Free Public WiFi
WiFi is likely everywhere on campus, but public WiFi comes with certain risks. An unsecured system can be breached by hackers, and it's possible for other people to monitor your activity when you're cruising around on unsecured public WiFi.
Whenever your student is using an unsecured connection, they should never log in to sensitive sites, like their bank account. Additionally, using password protection software and encryption can also make their activities harder to track.
Phishing Scam
One way crooks try to get sensitive information people is through phishing. Often, this involves getting an email or heading to a site that is designed to resemble a reputable business but is actually a fake. The scammers try to get your child to provide details like your name, birth date, social security number, or user name and password into their portal, allowing them to capture the information and use it to access your account.
To avoid these attempts, make sure your student only logs into websites by going directly to the organization's URL. Additionally, they should always check the address bar to make sure they haven't been redirected to a copycat site as part of an attack. And, whenever they are in doubt, have them contact the company or school directly using a number found from a safe source, like the back of their debit card or college admission paperwork. That way, they can check things out to see if the request for the information is legitimate.
Online Bookstores
College students regularly turn to online resources for textbooks as a way to save money, and criminals have taken notice. Once scam involves creating a site, charging your child for a book, and then never delivering the product.
Before shopping online, your student should always do some research to make sure the site is reputable. This can include looking for independent reviews from a respectable source, seeing if the company is listed with the Better Business Bureau, and finding the physical address and phone number associated with the organization.
If anything seems out of place, then it's best to make a purchase elsewhere.
Don't Get Scammed: General Advice
Other college scams, aside from those listed above, certainly do exist. If your child has any doubt along the way, remind them of the following points:
If you're being asked for money upfront as a fee, you should probably walk away.
Don't give out personal details or banking information unless you are 100 percent sure where they are going.
And, if something sounds too good to be true, it probably is.
Lastly, while there are certainly scams out there, keep in mind that your student has been groomed for adulthood over the past 18+ years of their life. Don't let these potential threats make you worry too much, but having the conversations about these can make a huge difference!
Did you find this article helpful? If so, share it with your friends and family so they don't forget anything either.
Related Articles:
Do you know of any college scams out there? If so, share them below so that other families can avoid them!