Updated on September 10th, 2021
As a parent, the last thing you want is for your child to be homesick when they head to college. Most students have mixed emotions as they strike out on their own, often feeling excited about this new direction, but also anxious about what the future holds. In some cases, the negative emotions have your child longing for their old life at home, and it can be heartbreaking when this happens.
Typically, parents can sense when their student has reached that point. Some children will verbalize that they are homesick while others will seek support and permission to leave school. In some cases, the signs will be less obvious. However, there are indications that your student may be homesick, including, but not limited to:
Anxiety
Feeling like they don't fit in
Decreased motivation
Loneliness
Sadness
Irritability
Longing for a connection with someone
Dealing with a homesick child is tricky. Many parents want to welcome their children home with open arms, but understand that, in doing so, it can harm their child's future. You also don't want to be too distant during conversations or forceful when saying your student should stay in school.
Finding middle ground when your child is homesick is often the best option, but isn't easy to obtain.
Here are some tips for helping your college student that can help you both find balance in the situation.
Know That Feeling Homesick is Common
The fact is many college students wish they could just come home, especially during their freshman year. Heading off to school is a rough transition and is typically the first time most children are away from home for an extended period. Plus, they are often responsible for managing more of their daily lives, such as meal times and doing laundry, and are dealing with a rigorous class schedule. Adjusting to the paradigm doesn't come naturally to a large number of students, leaving them homesick.
Suggest Utilizing On-Campus Resources
Feelings of homesickness are so common that some campuses actually have student support groups to help ease freshmen through the transition. Not only is this a great way to find some additional support, but it can also help your child meet new people who are in the same proverbial boat.
Mental health professionals on campus can also assist with feelings of being homesick. Some students have reservations about using these services, but it can provide an excellent outlet for their concerns and be a source of great advice. Most psychologists working on college campuses understand that students may struggle with the transition, and it is almost guaranteed they have helped others deal with feelings of being homesick before. In that regard, these professionals can provide an important connection during your child's time of need.
Offer Them Support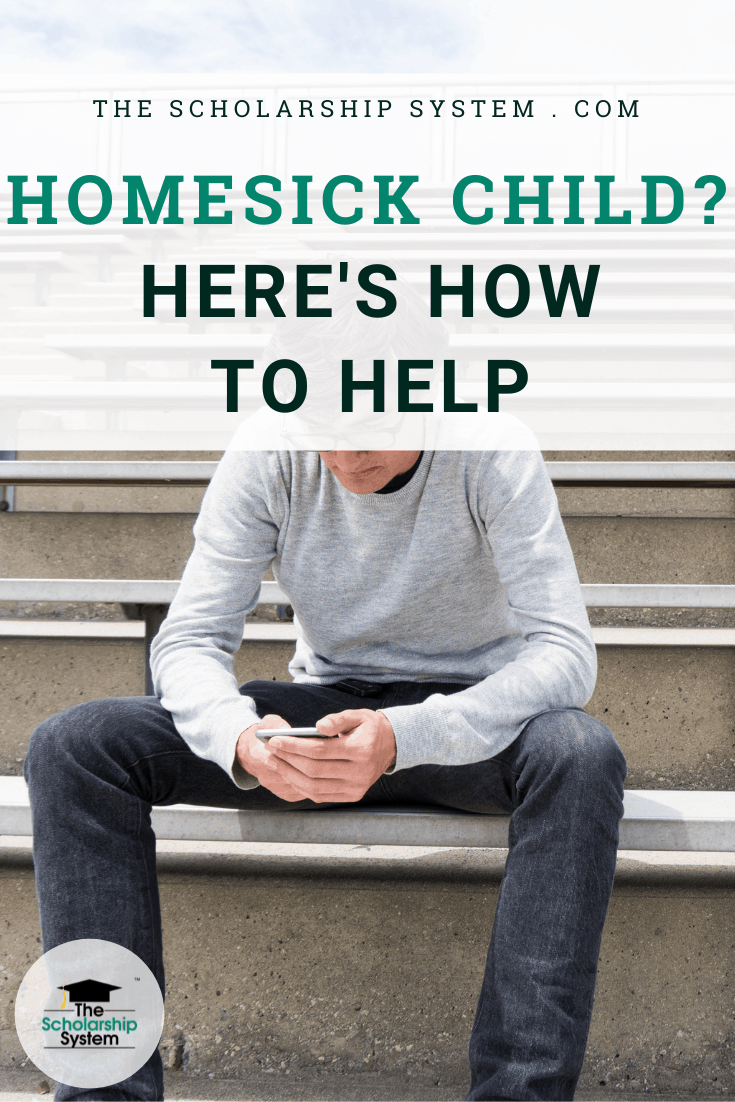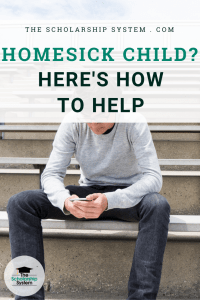 When your child is homesick, providing them with support is an important step. A big part of being supportive is to listen to their concerns. This helps you identify the areas in which your student is struggling, making it easier to offer encouragement and advice after they've expressed their emotions.
Once you understand their situation, consider making recommendations that will help them establish a new "home" on campus. Typically, this involves finding potential activities that will allow your homesick child to form a stronger social circle and give them something enjoyable to do.
For example, you can assist them as they evaluate clubs on campus that peak their interest. Encouraging them to join study groups can also be beneficial, especially if your student is also concerned about their academic performance. Often, there are activities and events planned on campus as well, so recommending they check bulletin boards in their residence hall may help them find ways to connect with other people.
Ultimately, once your child finds their own little community within the university, they often don't feel near as homesick (if at all.)
Encourage Your Child to Explore Their New Home
Part of what causes students to feel homesick is their lack of familiarity with the environment. Living in a new city can be intimidating, and the stress of classes may amplify their negative feelings.
To help them work past this, encourage your child to get to know their new surroundings. This can include scoping out campus to find great study spots to enjoy on a sunny day or finding nearby restaurants that have spectacular lunch specials or a fabulous cup of coffee.
Getting comfortable with their surroundings can help your student establish a sense of ownership in their new home, making feelings of homesickness easier to manage.
Reassure Your Homesick Student
During your conversations with your child, make sure to reassure them. Let them know that they aren't the only person who has felt this way and remind them of how completing their degree will help them secure their future and achieve their goals.
Additionally, let them know that these feelings often subside with time, especially as they get more involved on campus or around their new city. Encourage them to focus on the positive and work to cultivate relationships that can offer them the support they need.
When you reassure a homesick child, you may be tempted to intervene. However, certain actions can actually make things worse instead of better. Here are a few things you shouldn't do if you really want to help them work through this.
Allow Your Homesick Child to Come Home Too Frequently
The occasional home visit is fine, such as during major school holidays. But having your homesick student come back every weekend might make it harder for them to work past the issue.
Letting them visit too often means your child will be less likely to reach out to others and begin making their college feel like home. That way, they'll be more inclined to build strong support systems with others at the school.
Visiting Too Often
Just as allowing your child to come home too frequently can be a problem, so can visiting them too often. If you make yourself too present, your homesick student won't be as willing to forge strong bonds with people at their college.
Sure, the occasional dinner out together can be a great way to offer support and encouragement. But taking them out three nights a week or flying out to visit every weekend may do more harm than good.
Watch Out for Depression
Many of the signs of being homesick can actually indicate your child is depressed. Telling the difference isn't always easy, but it can be possible. The most notable difference is that homesick students typically feel better once they are home for a visit or doing a favorite activity while a depressed person won't experience relief from their negative thoughts and feelings regardless of how the situation changes.
If you think your child is depressed, it's important to encourage them to get help immediately. If left untreated, depression can have serious consequences, so it shouldn't be ignored. Most college campuses have psychologists available on-site who can help them work through this challenging time.
With some time and the right kind of support, most homesick students will begin to feel better. Encourage them to explore their new campus and city, and join clubs or groups that can help them connect with like-minded students. Once they gain their footing, they'll begin to feel more confident, allowing them to make the most of their college experience.
Send Them a Little Piece of Home
One method for helping a homesick student is to send them a little piece of home as a source of comfort. Care packages can be excellent for this, allowing you to couple a favorite item with a variety of other treats and special gifts to make them feel more comfortable.
To learn more about sending care packages, check out our article here.
DID YOU KNOW?
Many parents don't realize that students can keep looking for scholarships even after they've started college. Read our article about When Your Child Should Start Applying for Scholarships.
We also offer a handy checklist to help your child score more scholarship money. Check it out here.