Updated on September 21st, 2021
Let's face facts; most parents would do just about anything to help their children succeed. But, when it comes to their child's scholarship applications, how much parental involvement is appropriate? And when have you crossed a line? This is a question I often get from parents so we thought we'd offer some suggestions on how parents can be involved in the scholarship process.
Don't Handle Their Scholarship Applications and Essays Yourself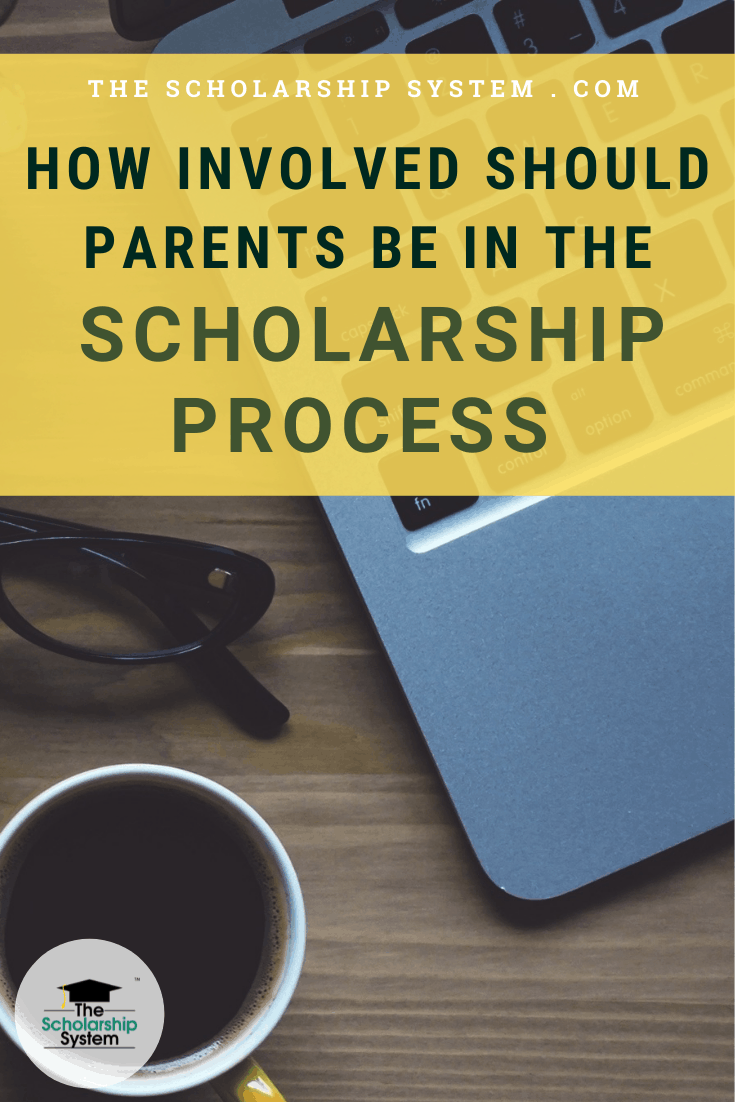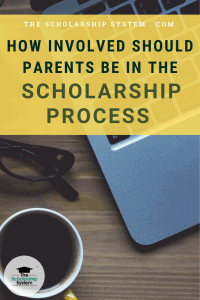 While one of the clearest ways to help your student may seem to be completing their applications and essays yourself, this is an absolute no-no.
Why? Because the scholarship committee will likely figure out that you did the work and not your child.
One scholarship foundation share that, when combing through thousands of scholarship applications each and every year, they could usually tell when a parent had done the work.
Most scholarship committee members have extensive experience in reviewing these documents, so don't assume that you can slip one past them because you probably can't. And, if you and your student are discovered, you can likely kiss that scholarship opportunity goodbye.
Do Help with Scholarship Searches
For your child, the first challenge will be locating the right scholarships. If you are interested in lending a hand, then consider digging into the search right alongside them.
You can also help them develop effective strategies, make sure that they will have quiet time to work on their search or attend our free webinar to learn more about how to land great scholarships.
Sign Up for The Scholarship System Webinar
If you and your child would like to learn more about where you can find scholarships and other debt-free money available to students, sign up for our free college scholarship webinar! It's a great way to learn about the scholarship process and how your student can avoid debt while pursuing their education!
Do Assist with Organization
Keeping track of scholarship deadlines, application requirements, letters of recommendation, and all of the other aspects of the process can be a challenge, so helping your child create an easy to use organizational paradigm can be a great way to lend a hand.
Be careful not to do it for them, however. The method you and your child choose to organize the process should be one where your child performs at their best.
We cover this topic extensively in our online course, so, if you would like more information, check it out here: The Scholarship System Online Training Program
Do Keep Them Motivated
While applying for scholarships is definitely a worthwhile venture for your child, it is also a lot of hard work. As they complete one application after the next, it can be challenging for your student to stay motivated. That means that finding ways to entice them to keep pushing can be very beneficial.
One method for keeping them motivated is to create a reward system. This can involve anything that catches their interest and gives them the ability to maintain positive momentum over the duration.
Not sure what to offer as a reward for keeping up with their scholarship applications? Here are a few great options:
Cash
Matching scholarship dollars
Extra time off during the weekend
Taking them to their favorite restaurant
Updating their school wardrobe
And so much more!
Almost anything can function as a reward if it gets your child excited about the process, so choose options that will speak to them personally to keep their motivation high.
Do Hire a Proofreader
The quality of your child's application and essays play a significant role in whether they are selected for the award, so having a professional take a second look at their materials can be a wise move.
There are many people who specialize in proofreading, so you can likely find a suitable person with relative ease.
Why not proofread their scholarship materials yourself? Well, there are a few reasons.
First, you may be tempted to make changes to the content of their applications and not just make corrections related to spelling and grammar. Since you are devoted to your child's success, temptation can be hard to fight. A professional proofreader won't alter your child's application content beyond mechanical corrections, so the risk that they will make an unnecessary alteration is low.
Second, unless you are a professional-level writer, proofreader, or editor, you might not catch everything that a professional proofreader will spot. This is their area of expertise, so they'll likely find more issues the first time around than someone with less experience.
If you cannot afford to hire a professional, have your child find someone with experience in proofreading and is willing to donate their time such as an English teacher, professor, or a friend who is a content editor.
Maintain Accountability
Whether you are providing rewards or not, you can still help your student be accountable for their actions. Don't be afraid to check on their progress and make sure that applications are submitted in a timely manner.
Some scholarships have very short application windows and tracking all of the important dates can be a challenge. However, if your child knows that you are keeping an eye on their activities, they may be more inclined to get everything handled in a reasonable timeframe.
However, this doesn't mean you need to helicopter parent them throughout the process. Instead, consider scheduling weekly check-ins, or focus on key dates that are especially important. That way you don't end up hovering or micromanaging them, which can be more frustrating to your student than helpful.
Help Identify Scholarship Essay Topics
While you don't want to write their essays for them, that doesn't mean you can't help them pick topics. Sometimes, the questions can be a bit overwhelming, particularly if they leave some room open for interpretation or a lot of subjects could be suitable. By helping your child brainstorm, you can alleviate some of the pressure. Plus, you likely know a lot about your student's life and may be able to remind them of experiences that may have slipped their mind but would make excellent essay topics.
You can also serve as a sounding board if they have a couple of topics in mind, but can't seem to settle on one. Assist them as they talk through the information that would be used to create the essay and ask probing questions to keep their thought process moving forward. In the end, this approach alone may allow them to have a lightbulb moment that gives them the insight they needed, or you can make a recommendation if they still feel stuck.
Be Their Cheerleader
Even though providing rewards serves as recognition, that doesn't mean you shouldn't be their biggest cheerleader. Everyone needs encouragement from time to time, so let them know when they do a great job or that you're proud of them. Positive words can go a long way, and they don't cost any more than a few minutes of your time.
Don't Be Afraid to Ask for Help
Many parents want to coach their student through the college process and take on a lot of the stress and responsibility on themselves. While being involved can certainly help, there are many experts in areas surrounding the college process. Don't feel like you need to tackle this all on your own!
For example, with scholarships, there is no need for guess-and-check. We figured out the process for you and your child. We have a step-by-step course for parents and students to follow as they pursue scholarships for college.
If you want to get a taste of what we teach in our online course, join us for the next free webinar. You'll learn a ton of helpful tips and tricks, including exactly where you can find them (a step we recommend being involved in above!) Reserve your spot at https://thescholarshipsystem.com/freewebinar.
Related Video:
Here are a few other professionals we recommend:
ACT/SAT Testing: Higher Scores Test Prep – Recently ranked as one of the 10 Best Online ACT Prep Services
Finding Merit Scholarships your child can automatically qualify for based on their ACT/SAT scores, GPA and more: Wendy Nelson's list of over 10,000 university merit scholarships
Note: We only recommend products and services we truly believe in. We may receive a small compensation if you choose to purchase services from them.