Updated on September 17th, 2021
Did you know that your student can earn college credit in high school just for taking certain subject tests? And at a fraction of the cost that a college would charge?
How can your child pull that off? By taking AP, IB, and CLEP Exams!
These opportunities award college credit to high schoolers for passing tests on subjects they are likely required to take in college and currently studying anyway.
And, as a bonus, taking part in some of these looks great on college applications, helping your child stand out from other applicants.
Here's what you need to know about these powerful cost-saving options.
Average Cost for One College Credit Hour
Before we get into the various exam-based programs, it's helpful to understand what a single college credit hour generally costs.
While the actual amount varies from one school to the next, based on average yearly tuition and fees data from the College Board, the average cost for a single credit hour is (rounded up to the nearest dollar):
$115 for Public Two-Year Colleges (in-district students) or $345 for a 3-credit hour course
$314 for Public Four-Year Colleges (in-state students) or $942 for a 3-credit hour course
$797 for Public Four-Year Colleges (out-of-state students) or $2,391 for a 3-credit hour course
$1,081 For Private Four-Year Colleges (in- and out-of-state students) or $3,243 for a 3-credit hour course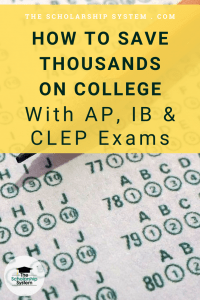 Traditionally, students earning a bachelors degree need 120 credit hours, with each class your child takes generally receiving between 1 and 5 credit hours each, so the costs can add up quick.
Now, what this does mean is, if your child is able to successfully earn college credit through AP, IB, or CLEP exams, they will save between $345 and $3,243 for each 3-hour class they test out of, minus the cost of the exam, which can range between $74 and $96 each.
It is important to note that the testing fees can also be lower, as some high schools and other programs offer subsidies that decrease the cost. Some schools completely cover the cost of AP or IB exams so it could possibly cost you and your child $0 for a class that could have costed thousands at a university. Not a bad deal.
Ultimately, after paying the exam fee, your student still comes out ahead even if they go to a more affordable school, like a two-year public college, making AP, IB, and CLEP exams incredibly worthwhile.
What's the Difference Between AP, IB and CLEP Exams?
You may be wondering, "Since the AP, IB and CLEP exams all help high school students earn college credit, what's the difference between them?"
To help make that clear, here is an overview of each option.
AP Classes and Exams
The College Board's AP, or Advanced Placement, classes are offered at high schools throughout the country. These courses mimic their college-level equivalent and are usually more challenging than a regular high school class.
For example, an AP Biology class at a high school closely resembles a college freshman level course, typically using similar textbooks and syllabuses as many universities. That means your student is essentially taking a college class from the comfort of their high school. And, in some cases, they can even receive bonuses on their GPA for taking an AP course, such as an A being calculated as a 5.0 instead of a 4.0.
Once your child completes the AP course, they should have the knowledge necessary to successfully take the AP exam (suggesting they paid attention, of course), giving them the ability to earn college credit as long as they achieve the minimum score requirements.
An AP exam is scored based on a scale of 1 to 5, with 1 being the lowest. Typically, a score of 3 or better can be translated into college credit, though that requirement may vary from one school to the next.
There is no restriction regarding the number of AP classes and exams your child can take, as long as they can manage the workload, so they have the potential to earn a lot of college credits while they are still in high school.
My brother actually used AP classes to enter college as a second-semester sophomore, freeing up an entire school year to either graduate early or double major without a crazy workload.
One important note is that credits are awarded by colleges by relating the exam to a particular class from their course book. Generally, each test can only be equated to one college class and, if two AP exams correlate to the same course, credits are just awarded one time, not twice. The remaining credits could possibly count as electives. This applies to all the exam types we are discussing.
IB Program and Exams
The IB (International Baccalaureate) program is similar to AP, with classes being offered through a range of schools. However, it is broken up into four primary programs, based on the student's age and goals, meaning IB has a presence in elementary, middle, and high schools through the United States and the world.
Generally, IB options are not as widely available as AP. For high schoolers that can enroll in IB courses, they have the ability to focus on specific subjects and take exams (similar to how the AP system works) or participate in a diploma program which includes instruction in six subject groups, all of which can result in college credit after passing the exams.
CLEP Exams
The College Level Examination Program, or CLEP exams, offered through the College Board, operate a little differently as they aren't directly related to specific high school courses or programs. CLEP Exams cover 33 subjects and are offered at more than 1,800 testing centers worldwide. They cost just $85 each, plus any fees charged by the testing centers.
Instead of having a class in school to prepare them, CLEP participants must study on their own to make sure they have the required knowledge level.
While that may make preparing for CLEP exams sound more difficult, the opposite can be true if your child already excels in a subject. Plus, it gives them options to take tests for subjects that aren't offered by many high schools, allowing them an additional opportunity to earn college credit if they are willing to put in the work or already have the proper knowledge level.
Make Sure Your College Accepts the Exams
This strategy won't be a money saver if you find out that your child's college doesn't accept exam scores in exchange for credit. High school students who want to go the college credit path should check their prospective schools' policies and talk to the admissions office about their plans to apply exam credit toward their degrees. This could also impact their decision of which school to go to, realizing that one school could be much more affordable should they accept the exams for credit.
If your child is heading to college or already there, you may be able to (surprisingly) save by negotiating college tuition, check out this article: 5 Steps to Negotiate College Tuition and Save Thousands of Dollars
Is There a Downside?
With everything AP, IB and CLEP exams can do for your child, it is important to note that there can be some drawbacks for taking part.
For example, AP classes are more challenging than regular courses. If your student struggles here (but would have excelled in the high school-level class), it could damage their GPA or add stress to their lives. This means your child should take AP classes in subjects where they have some confidence, and might not want to take too many at a time.
Additionally, for all of these options, if your child doesn't pass the exam, they don't get college credit, and they don't get a refund on the exam fee (if they paid one). So, your student should only pay for a test if they are reasonably sure they can get a qualifying score. Otherwise, they might want to study more before hopping into the exam.
Usually, the benefits outweigh the potential drawbacks, making AP, IB and CLEP exams an excellent option for students looking to save money on their college tuition.
If you and your child would like to learn more about how to get started with scholarships, sign up for our free college scholarship webinar! It's a great way to learn about the process and how to identify opportunities that can help your student avoid debt while pursuing their education!