Updated on June 21st, 2022
The scholarship process can be a scary and grueling task for many students. It can even be scary for parents – desperate for their child to secure some free funding, yet unsure of where to start.

According to most of my students, one of the hardest parts of applying for scholarships is finding appropriate scholarships to apply to. It's easy to become overwhelmed with all the scholarships and scams out there.
In this short article, I will give you quick tips on how to simplify finding the right scholarships (with the least competition).
There are hundreds of thousands of scholarships out there which can be good news or bad news – all depending on whether or not you know how to search through them. The key to getting a free ride is finding the best scholarships for you and ignoring all the scams and scholarships where you don't fit the criteria. Here's how to do that:
1. Create a List
Write down a list of activities, organizations, interests, companies, or any other topic that you are involved in where you believe they would give scholarships. For example, I personally love Walmart so I would write down Walmart. I was also involved in FBLA and passionate about public speaking so I would write both those down as well. Try to get 20-30 items. Here are a few questions that can help you:
What organizations, clubs, and companies am I involved in?
What topics am I passionate about or have an interest in?
What are some skills I have that make me unique?
What extenuating circumstances make me stand out from others?
What do I want to major in? Are there any foundations or associations for employees in this area?

2. Google Search Method
Go to Google and type one of the keywords you wrote down in step 1 plus the word 'scholarship'. To continue my Walmart example, I would write 'Walmart Scholarship' or 'Walmart Award' or 'Scholarship funded by Walmart'. Replace the word 'Walmart' with one of the terms you chose and hit 'search'.
3. Narrow Your Results
Go through the search results by focusing mainly on specific foundations, companies or organizations' websites. You can also look at generic sites with results such as scholarships.com or fastweb.com but try to avoid these if you can. Our goal is to go directly to the source rather than going to a scholarship search engine.
4. Check for Scams
Assess whether or not the scholarships you find are a scam. Read my blog post on How to Tell if a Scholarship is a SCAM or Not.
5. Document
Save the legitimate scholarships in an Excel spreadsheet or Word doc. If you downloaded my Action Guide that came with my book, The Scholarship System, which you can see by clicking here, you can also use my Scholarship Tracker that came with it. Here's a preview of it.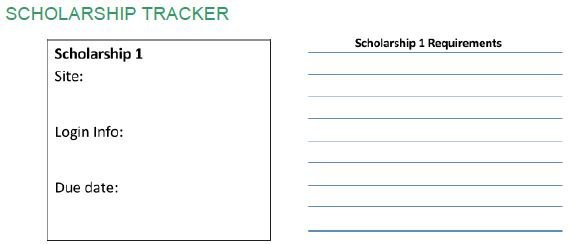 Rinse and repeat. Do this over and over through all 20-30 terms and, before you know it, you will have easily 10-15 scholarships to apply to.
Find the essay the most troubling part instead? Here are a few posts that may help:
Winning scholarships and securing free college funding can be easy. You just have to know the right process. For the complete process rundown along with many more tips and tricks, I used to secure over $126,000 in scholarships, join me on my webinar. You can claim your seat at thescholarshipsystem.com/freewebinarpst.