As the official start to the spring season gets ever closer, many college and high school students are deciding what to during spring break, most likely one of their favorite times of year. While the event often conjures up images of young adults spending time on the beach, tossing their work and studies aside, not using some of the time to be productive can actually be quite a waste.
However, it is also important for your student to take at least some of the time to relax and rejuvenate. That way, they are better prepared to make it to the end of the semester without burning out or succumbing to stress.
So, how does a parent help their child strike a balance between work and play during this annual event? By using some of the tips below.
Understand Your Limits AS A PARENT
The amount of influence a parent has on their child over spring break depends on a few factors. First, you likely have more sway over a high schooler than a college student who is legally an adult. Second, if your child still lives in your home, or comes back during the break, you likely also have more say.
So, before you start making decisions about how they will spend their time, make sure the level of oversight you are providing is appropriate to their current situation. And even then, do your best to provide information as suggestions instead of ultimatums. Often, you'll get better results if your student feels at least part of the decision was theirs, so tact is going to be your best friend.
Work/Play Balance for High Schoolers
At this point of the year, your ideal course of action for a high schooler likely depends on their current grade level. For example, high school seniors still have time to explore scholarship opportunities. If you want to know how to help them get into the scholarship hunt, you can join our free webinar for more information. Alternatively, now may be a great time to take on a short-term volunteer opportunity to help build their credentials or to simply study their current coursework to help them maintain their footing.
High school juniors can begin looking into scholarships as well, though they need to make sure they only apply to scholarships whose award dates are based on when they will start college. Still, many parents are surprised to learn that juniors can apply for scholarships – and now is the time!
If you want to learn when students should be applying for scholarships (from junior year in high school, all the way through college,) check out our article on "When Your Child Should Be Applying for Scholarships."
Related article: When Your Child Should Be Applying for Scholarships
Other activities like test prep for the SATs or ACTs may be valuable as well, and adding a visit to any local university campus of interest can help them see the light at the end of the high school tunnel.
But don't make their entire break about working and studying. Instead, make sure they take some time to rest and recharge in ways that are meaningful to them. This could include spending time with friends doing something fun or even catching up on some "guilty pleasure" television.  If you want ideas for activities that you can do together, check out the suggestions here where we wrote 15 Fun Activities to Enjoy With Your Kids. While some are focused around the holiday season, many can be done throughout the entire year!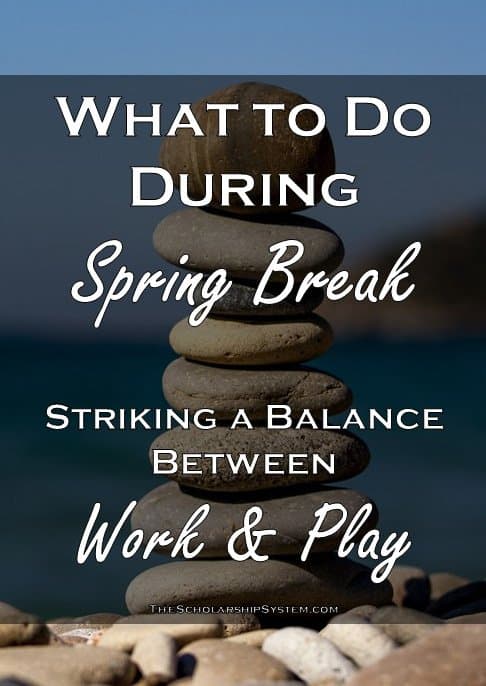 Work/Play Balance for College Students at Home
If your college student still lives at home, then the same advice that would go for a high school senior can be appropriate. Often, once your child begins college, taking time throughout the year to explore scholarships is always a good idea as well as suitable volunteering ventures or simple study sessions. And balancing those out with some socializing and sleeping in is perfectly fine.
However, if your college student is a senior about to enter the working world, then this can be a great time to job hunt if they haven't started already. And this goes double for those graduating in May instead of June. Most job placements can take some time to work through, so upcoming graduates can begin submitting applications for positions, especially jobs designed specifically with recent graduates in mind.
But, it is important to remember that jetting off to somewhere for spring break can be seen as a college-age tradition. In cases where your child is an adult, has their own money, and can support the trip while meeting the rest of their obligations, you will just need to wish them a good voyage. However, if it involves a plane flight to reach their destination, don't be afraid to suggest doing a little studying while they head out on their journey.
Work/Play Balance for College Students Away from Home
Not every college student heads back home over spring break after spending time in the dorms. Some stay on campus to keep up with obligations and activities there while others head off to vacation destinations to blow off steam. Surprisingly, if your child is staying on campus to keep up with work or get ahead in school, it may be more important for you to encourage them to take some time off than to push them to accomplish more.
Students experiencing high levels of stress about their academic progress may think a week long study session is the only answer and, while their dedication is admirable, all work and no play doesn't do anyone any good. So, check in with your child regularly to gauge how they are doing and try to offer advice when appropriate. At a minimum, make sure they spend at least some time with friends during the break. Even if that time ultimately turns into a group study session, managing the task in a social manner may be better for their overall mental health.
Having an Adult Child
One of the hardest adjustments required of parents of college-aged children is understanding that some of the paradigm has changed. Your child is likely now a legal adult and is probably asserting at least a noticeable amount of control over their own lives. Ultimately, it is important to respect their developing adulthood, but that doesn't mean you can't provide input (especially if they live at home with free room and board, or you are paying for their college education).
Just make sure to handle discussions with care regarding suggestions about how they use their spring break. And, if they are paying their own way in life, including living and college expenses, understand that if they have properly prepared a week of fun in the sun (or snow or woods) isn't likely to damage their entire future. Sometimes, we all just want to have a good time, so don't deny them this rite of passage if their ducks are otherwise in a row.
Now that we've shared some ideas of how your child can spend their spring break, we'd love to hear what your family is doing! Share what your college-aged child, whether in high school or college, is doing with their break.