Join the VIP Waitlist and get first access + bonuses when we open doors!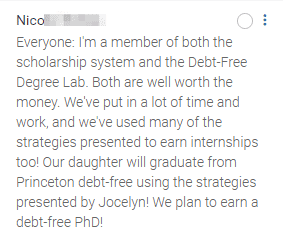 $96,000 in Merit Aid
Thank you so much for all the wonderful information you provided. It has been helpful to our family. My son has secured about $96,000 in merit aid at two of the colleges he's applied to. We are still waiting to hear back from 2 more. He has also applied to outside local scholarships. We are confident he will graduate as a #rebelfamily student! 🙂
- Julie
0% Need Based
My daughter is now in her first year of college. She won a competitive 4 year full tuition scholarship, multiple local scholarships, a national renewable scholarship from the American Chemical Society, and is a finalist to be a Hispanic Scholarship Fund Scholar. And all this even though she is 0% need based. We are very happy with the program and all the advice.
- Michelle
Freshman Year No Debt!
We are going to get our freshman in college through her second semester with no debt! Yeah freshman year clear! Now on to her sophomore year and my last daughter's freshman year. It will be amazing if we can continue to do this year by year!
- Tracy
$116,000 Presidential Scholarship
My daughter received an acceptance with a $116,000 presidential scholarship over 4 years with it! That is about half of the tuition over the 4 years. Waiting for other acceptances but feeling a little more hopeful!!!
- Donna