Updated on May 1st, 2023
If your student wants to attend college in Georgia, they are in good company. Many students have their sights set on going to one of the top colleges in Georgia, even if they aren't exactly which one just yet.
Figuring out which college in Georgia is the best fit isn't always easy. Every school brings something unique to the table, for one. For another, students need to consider the availability of specific academic programs, the area's cost of living, and their access to amenities.
Finally, students have to figure out how to cover the cost of college. Without proper planning, that can be incredibly challenging.


When it comes to paying for college in Georgia, scholarships can make any school more affordable. If you and your student want to learn more about finding Georgia scholarships, sign up for our free college scholarship webinar! Take a trip over to http://thescholarshipsystem.com/freewebinar to reserve your spot today.
Luckily, by learning more about what it's like to live, work, and study in Georgia, it gets easier to figure everything out. If your student is hoping to attend college in Georgia, here's what they need to know.
About Georgia
Saying that Georgia has a lot to offer feels like an understatement. The Peach State has everything from amazing cities to charming small towns, all of which feature a healthy dose of southern hospitality. Couple that with a slew of historical sites, museums, festivals, pro sports teams, and hearty food culture, and there's something for nearly everyone.
Georgia also has a subtropical climate, which many people consider ideal. The summers tend to be warm and balmy, and there's plenty of sunshine during the year.
The temperatures tend to run from 72°F to 100°F for the highs during the summer, depending on where you live in the state. However, it can get up to 110°F in some areas, at least on occasion.
However, even with temperatures like that, Georgia does get all four seasons. Springs are vibrant and cooler, and fall brings about a wealth of colors thanks to the changing of the leaves. Much of the state also gets at least a little snow, particularly up in the northern mountains.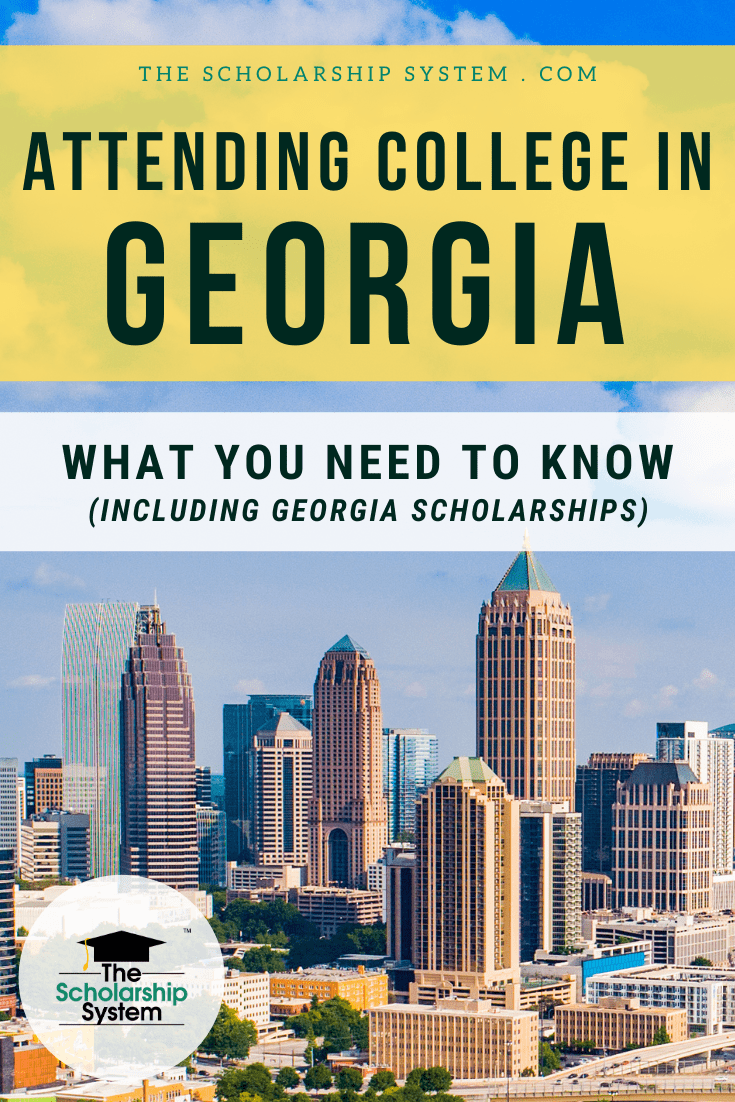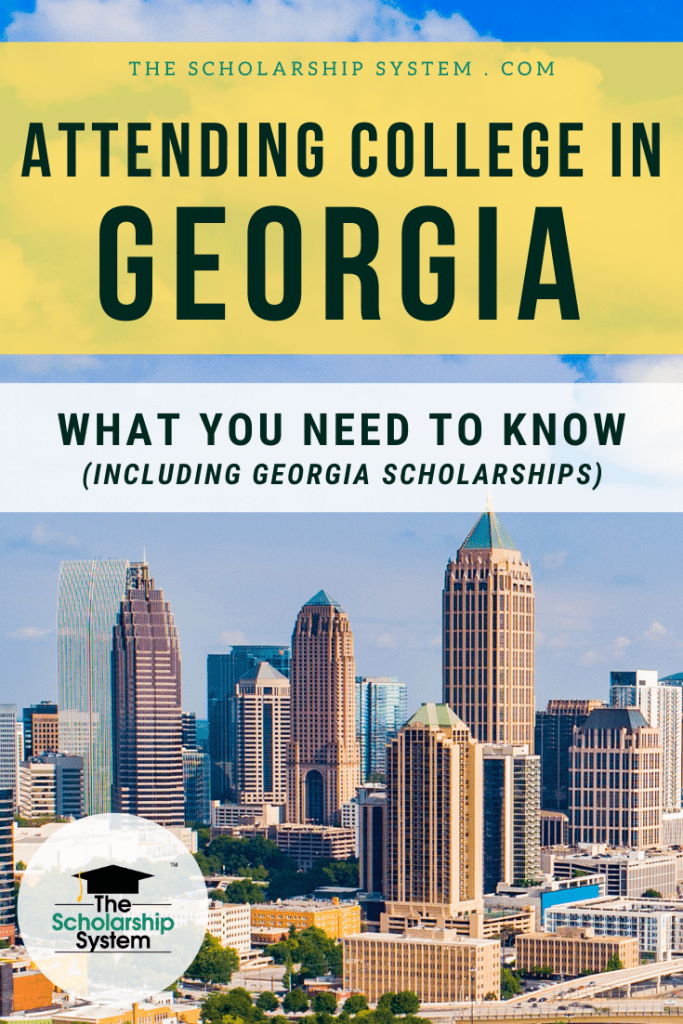 Colleges and Universities in Georgia
Overall, there are around 254 colleges, universities, and technical schools in Georgia. Of those, just shy of 100 are four-year institutions. That means that students looking for a Bachelor's degree generally have plenty of options available.
The trick is, choosing between that many schools isn't easy. Figuring out which college meets all of their needs is a daunting task, particularly since so many factors are in play. Along with examining academics, students need to look at the kind of lifestyle they'll have if they attend the school, and that's a lot to take in.
While it's true that every college search requires time, effort, and a lot of research, the process is straightforward. If your student is still narrowing down which school may best meet their needs, here is some information that can make it easier.
College Towns in Georgia
While you could argue that any city with a college or university in it is a "college town," some have more to offer students than others. Usually, this means amenities that are in demand for college-age adults and a youthful culture.
If your student is trying to figure out which college in Georgia might be their best fit, looking at the state's college towns can be a great place to start. It helps them determine whether they can have their preferred lifestyle at a particular school, ensuring they can get more out of the experience than strong academics.
Here is a list of Georgia college towns:
Albany
Athens
Augusta
Columbus
Decatur
Kennesaw
Macon
Milledgeville
Rome
Savannah
Statesboro
Valdosta
In the end, all of the college towns above are worth considering. They each bring something different to the table, but they all tend to have what young adults need to thrive.
However, they aren't the only options, either. For example, Atlanta has several colleges and universities and may work well for many students. Since it's a major city, it isn't a college town, in the classic sense, but that doesn't mean it isn't worth considering.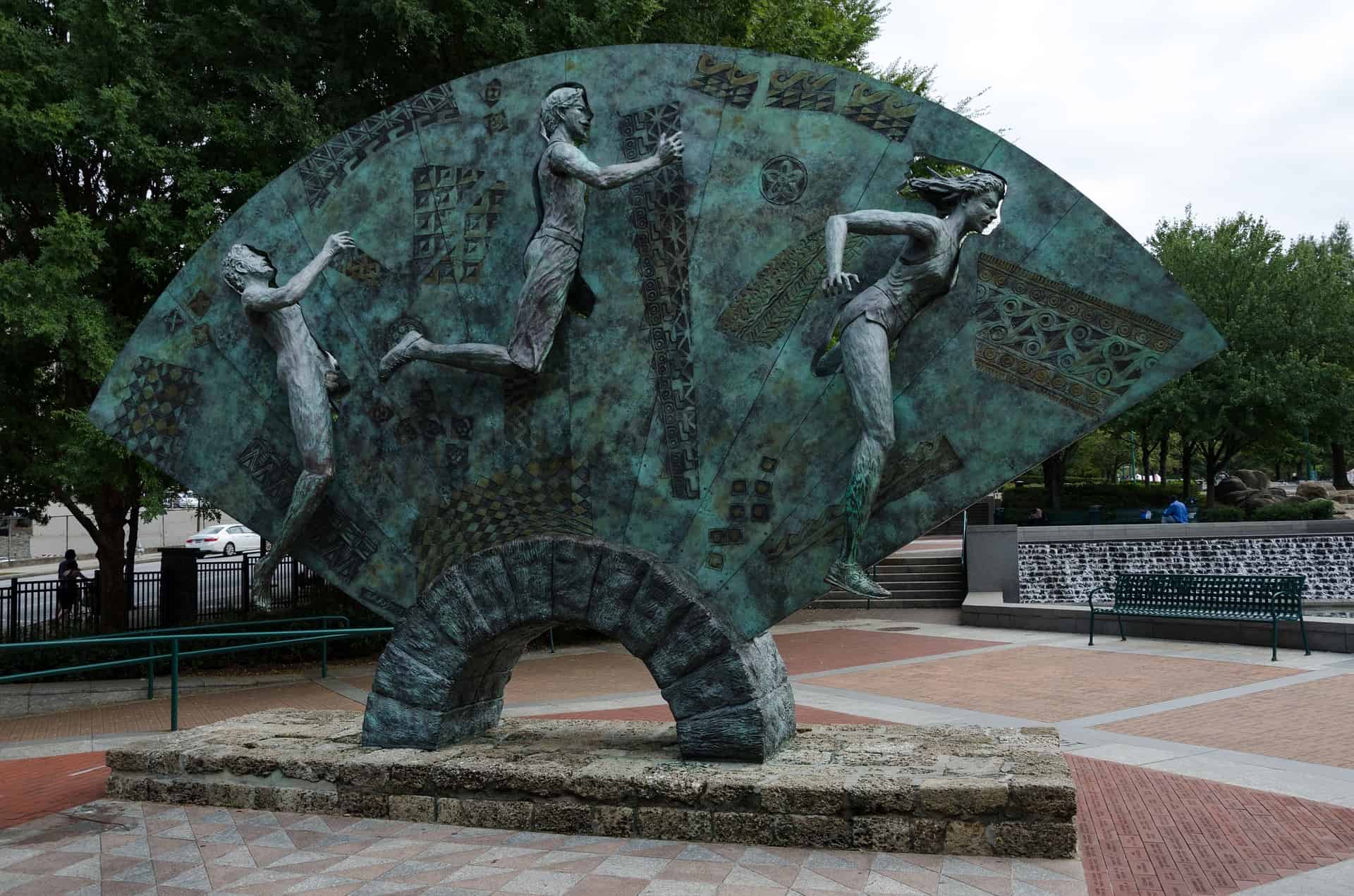 Major Georgia Colleges and Universities
As mentioned previously, there are hundreds of Georgia colleges and universities. In fact, there are so many great options that choosing a list of top 10 colleges in Georgia, a top HBCU in Georgia, or one best college in Georgia would be incredibly challenging, if not outright impossible. This is particularly true since students all have different needs, causing what may be the perfect option for one student to be less than ideal for another.
Starting a Georgia college search with some of the major institutions can be a good move in many cases. Each one is unique, standing out from the crowd in slightly different ways. Some may be recognized for specific academic programs, while others are known for great cultures, outstanding sports teams, and more.
If your student is struggling to decide where to send their Common App or application, here are some of the major colleges in Georgia that they may want to check out:
Now, this is just a small sample of the colleges you can find in Georgia. It's meant to serve as a starting point, letting your student learn more about what's available if they head to Georgia for school.
For some students, branching out and considering other institutions could be necessary. For others, they may find their perfect option right there. What's important is that your student ultimately finds the ideal college for them, allowing them to confidently move forward with their education.
Georgia Financial Aid
In many cases, students need some form of financial aid to attend college. Paying for tuition, room and board, and everything else out of pocket just isn't an option, so they have to explore alternatives to cover the cost.
Students commonly turn to scholarships and college grants in Georgia to make going to school affordable. However, not all Georgia scholarships or grants are available to all students. Each one will have a unique set of requirements. Additionally, some will be limited to Georgia residents.
Grants and scholarships for Georgia residents require students to establish residency before they attend a Georgia college. Usually, this involves living in the state for a minimum of 12 consecutive months before college starts. Additionally, a student might have to prove they intend to stay in Georgia long-term, such as by getting a Georgia driver's license, buying a home, or something similar.
Ultimately, attending college in Georgia alone doesn't make a student a resident. As a result, some students won't be eligible for specific Georgia college scholarships or grants.
However, that doesn't mean there aren't other options. Institutional scholarships usually aren't limited to residents. Instead, they are only open to students who will attend that particular school. Additionally, there may be regional, national, or organizational scholarships that can be used at a variety of colleges.
For example, HBCU scholarships may work for many, if not all, HBCU institutions, including some in Georgia.
Students simply need to explore a wide range of options. If they qualify for Georgia college grants or scholarships, that's great. If not, that's not the end of the world. There are numerous options out there; they just need to look for them.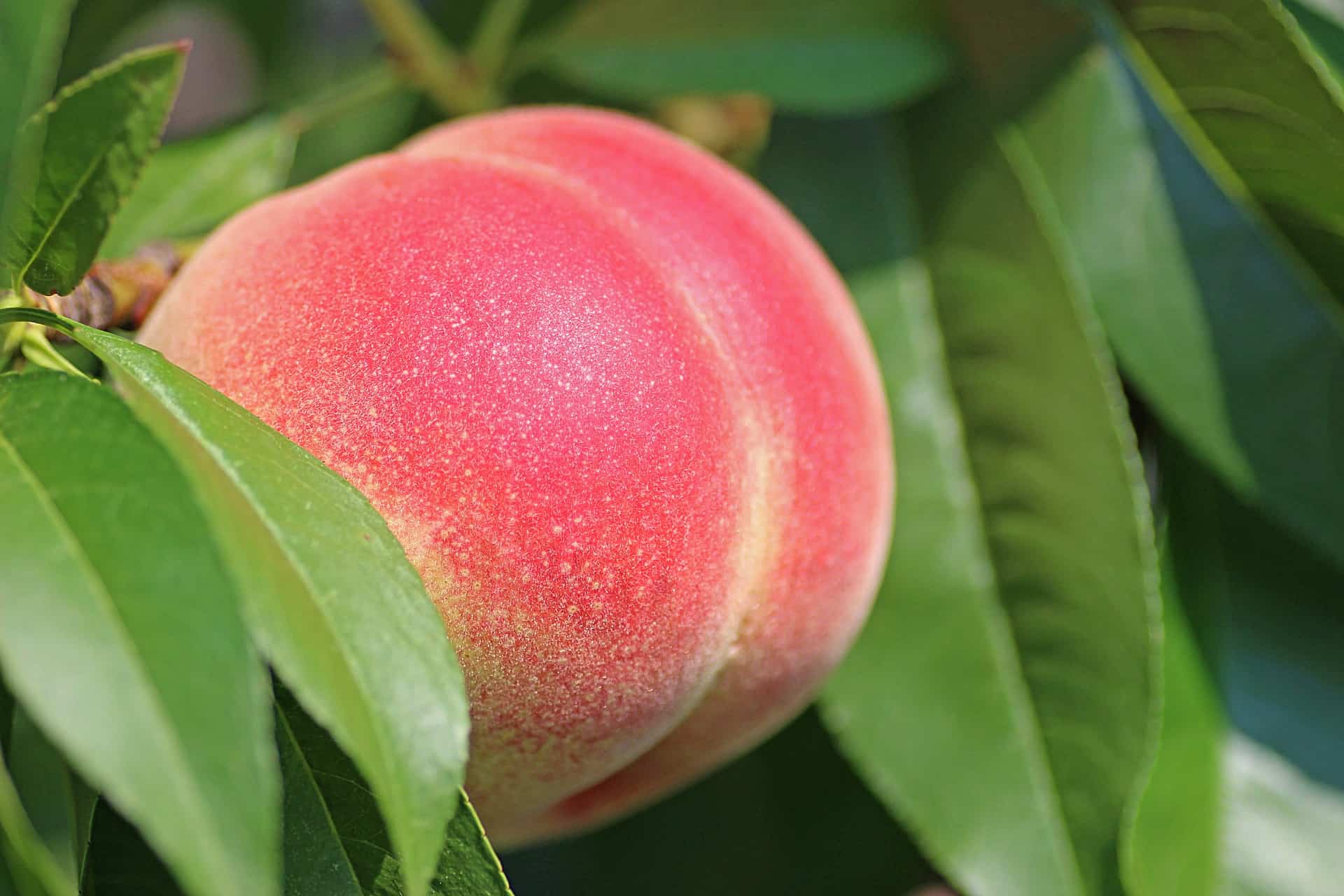 Georgia College Grants
There are a decent number of Georgia college grants available to students. These operate similarly to Pell Grants but aren't offered by the federal government. Instead, they may be available through the state or another organization.
For many of these, being a Georgia resident is a requirement. There may also be other eligibility restrictions, depending on the award.
If your student wants to explore Georgia college grants, here are some they should check out:
Georgia College Scholarships
There are also quite a few Georgia college scholarships. As with grants, some of these may be limited to residents of the state. Additionally, they'll usually have additional requirements.
If your student is looking for college scholarships, here are some that are worth looking into:
Living and Getting Around in Georgia
While your student may end up spending most of their time on campus, that doesn't mean they'll never need to get around. Whether they want to explore neighboring cities, come home for the holidays, or live off-campus, they'll need the ability to venture away from the school.
Plus, understanding housing costs is wise. Again, many students choose not to live on campus. Others may decide to make Georgia their permanent home after college, too.
If your student is going to college in Georgia, here's what they need to know about living and traveling in the state.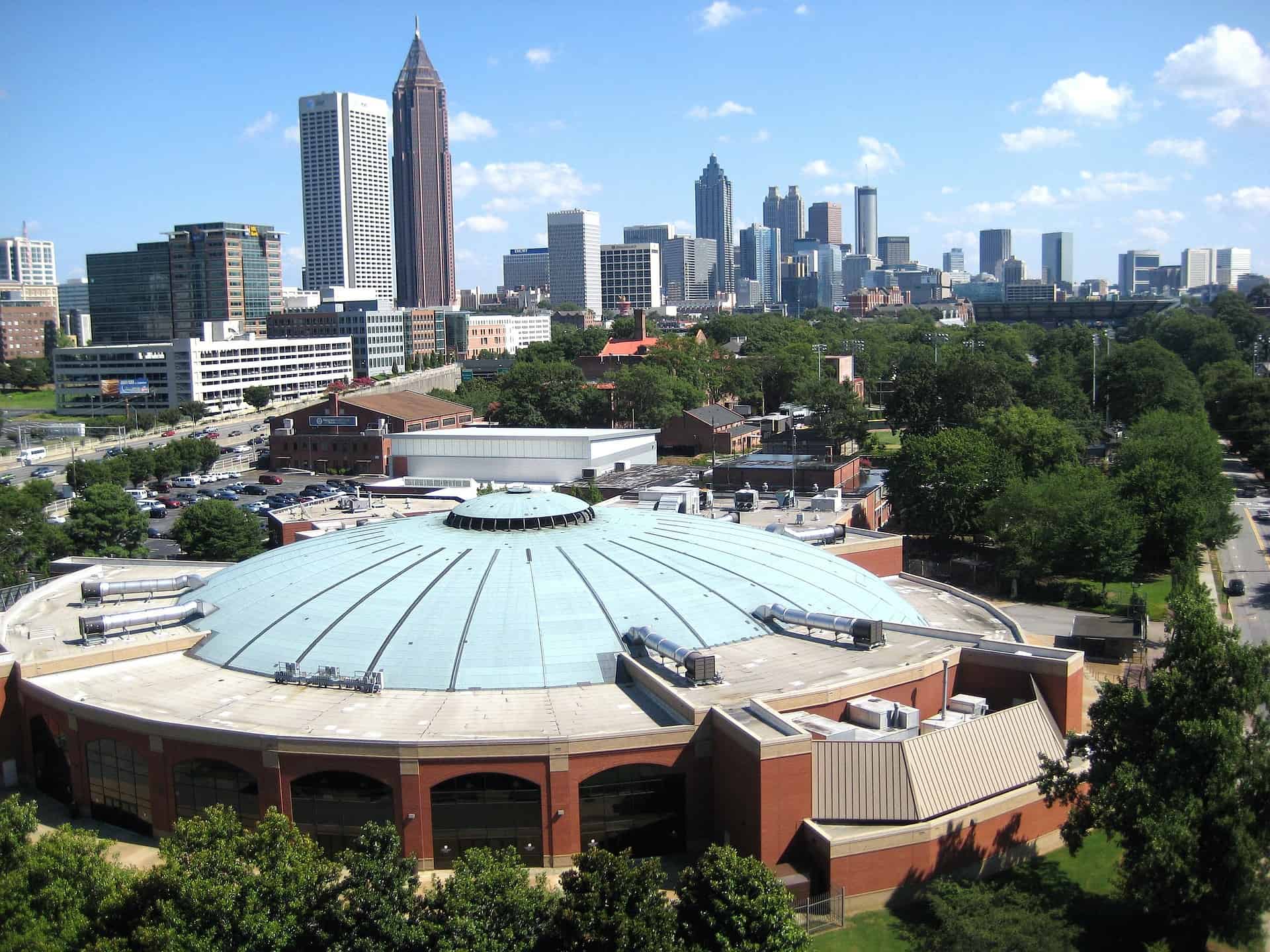 Housing in Georgia
Overall, Georgia is more affordable than many other states when it comes to housing. While places like Atlanta usually come with larger price tags, the average home value in Georgia is $228,599, which is below the national average.
When it comes to apartment rentals, a one-bedroom typically comes in around $858 per month. If they need a two-bedroom, $994 is common.
Some college students may be able to shoulder those costs. For others, the price may make dorming seem like a better option. In the end, knowing the numbers helps your student plan effectively, and that's what matters.
Transportation Options
While students will usually have access to local bus services, rideshares, and similar options, that won't always handle all of their needs. Luckily, Georgia has a lot to offer, making it easy to get to a different city or state.
Here is a list of the major airports in Georgia:
Here is a list of Georgia Amtrak stations:
Atlanta
Gainesville
Jesup
Savannah
Toccoa
Things to Do in Georgia
Saying that Georgia has a lot to offer when it comes to attractions and entertainment is an understatement. Along with a range of professional sports teams, there are museums, amusement parks, hiking opportunities, and so much more.
Film buffs may appreciate a trip to one of the state's drive-in theatres, while those looking for adventure may prefer a trip to Six Flags Over Georgia or one of the state's other theme parks.
If sports capture your student's attention, a trip to the College Football Hall of Fame might be right up their alley. The Atlanta Zoo is exceptional, making it a great choice for anyone who wants to learn more about the world's animals. For those looking for a unique way to enjoy some history, the Footsteps of Dr. Martin Luther King, Jr. Trail is worth checking out.
And that's just the tip of the iceberg. Georgia has plenty more to offer in the way of fun, learning, and outdoor experiences. In the end, there's something for nearly everyone, making it a great choice for students.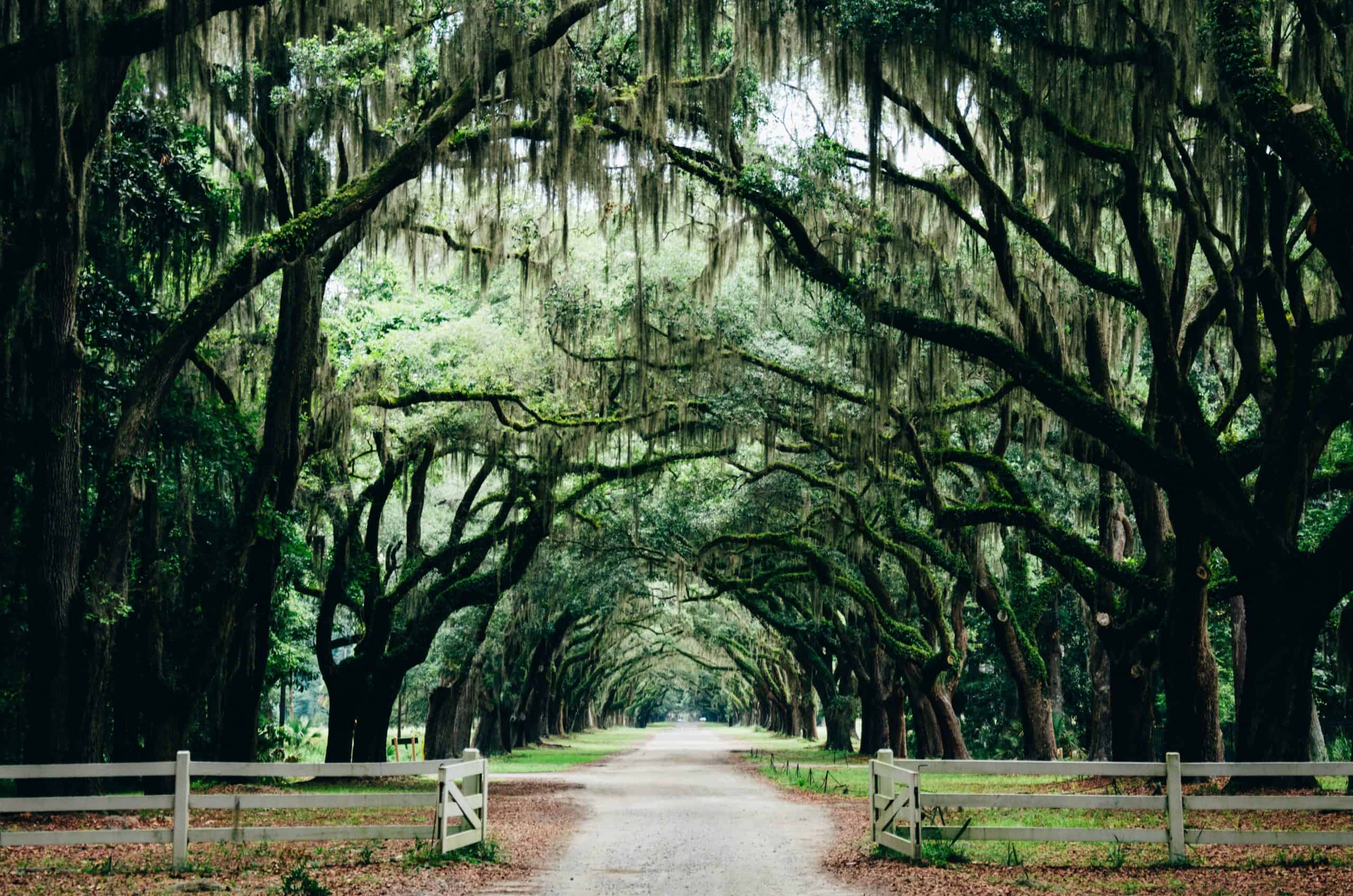 Making Money in Georgia
It isn't uncommon for students to need to earn some cash while going to college. If your student may look for a job while studying, here's what they need to know about Georgia's employment landscape.
Minimum Wage
In Georgia, the minimum wage follows federal guidelines. While there was a past law in Georgia that set the minimum wage at $5.15 per hour, that is lower than the federal minimum. As a result, it defaults to $7.25 per hour for non-tipped workers in most cases.
Employment Rates
As of March 2021, the unemployment rate in Georgia was 4.5 percent. That's actually a hair lower than the national average for that period, which came in at 6.0 percent.
In the end, that's good news for students. Often, lower unemployment means positions are reasonably available, potentially making it easier to find work for those that need a job.
Georgia Key Industries
One incredibly strong industry in Georgia is entertainment. The state has made a name for itself in the world of movies and television, playing home to many popular shows and films over the years. It's also done the same with music, making entertainment an even larger part of the economy.
Tourism is another main industry in Georgia. The area has a rich history and numerous attractions, drawing in visitors from all around the world.
The state is also known for its life sciences industry. There is also a substantial aerospace presence, as well as other kinds of manufacturing.
When it comes to paying for college in Georgia, scholarships can make any school more affordable. If you and your student want to learn more about finding Georgia scholarships, sign up for our free college scholarship webinar! Take a trip over to http://thescholarshipsystem.com/freewebinar to reserve your spot today.