Updated on September 9th, 2021
Going to college is expensive and time-consuming, leaving many to wonder, "Is college worth it?" A "four-year degree" actually takes closer to six years to complete on average, and the mean cost per year is over $28,000 for public schools, approximately $60,000 a year for private college, and around $70,000 annually for elite universities – again, this is per year
With numbers like that, it's no surprise people ask the question, "Is college worth it?"
But those numbers only tell part of the story. While the cost can be high, there's no guarantee your child will have to pay the entire amount out-of-pocket. Additionally, there are some more frugal approaches that can help bring these expenses down.
It also doesn't account for the difference in salary potential a person may have before and after obtaining a degree, and those numbers can vary wildly depending on the student's major and ultimate career path.
To help you navigate this tricky question, here's what your child needs to do.
Start by Looking at Salary Potential
While most people know that there is a significant income gap between high school and college graduates (with some estimates showing a difference of around $17,500 a year in income potential), not everyone with a bachelor's degree receives the same salary. Additionally, many college graduates are saddled with student loan debt, which can be costly to repay.
That means there's more to understanding if college is worth it than just the standard income gap.
First, understand the salary potential for your child's future career. The Bureau of Labor Statistics can provide a lot of valuable data regarding potential pay rates based on the profession or job title and the city or state in which your child may work. Sites like GlassDoor can also be helpful.
Once your student has some numbers, it's time to determine the ROI of their target college degree.
The ROI of a Degree – A Calculation to Help Answer "Is College Worth It"
An ROI (or return on investment) provides a method for comparing the cost of your child's education to the financial value of their potential career.
The purpose of examining the ROI is to see if the full net cost of obtaining the degree (including tuition, room and board, supplies, and other associated expenses) makes sense based on their potential annual salary.
Now, you are allowed to use net cost when calculating ROI. This means, if your child is able to pay for everything using scholarships and grants, then the financial cost of their degree is functionally $0. So, they would calculate their ROI based on that number, and most potential careers would likely look pretty good.
However, if your child needs to acquire student loans or pay cash for tuition and other expenses, then all of those costs need to be added up to determine the ROI. And, when student loans are involved, they need to factor in the principal AND interest payments to get an accurate picture.
Once these costs are estimated, then compared the average annual salary to the net cost. One simple way to compare multiple options, which may be necessary if your child is considering multiple schools or more than one possible career, is the divide the net cost by the average annual salary. Then, they can order their options from highest score to lowest with the higher numbers representing a better ROI.
For example, if your child could make $60,000 per year in income and the net cost is $34,000, then they would get an answer of 1.25. Then, if they were considering a career that pays $35,000 annually and requires a $40,000 college investment, the calculations come out to 0.875. That means the first option has a better ROI.
Choose a Career, Not a Major, to Decide if College is Worth It
When working with our students, we always point out that college is to pursue a career, not a major.
Most college majors can be applied to a range of careers, so the degree itself doesn't necessarily guarantee a specific income. However, many majors don't necessarily mean there is a career at the end of the 4-year tunnel. When focusing the discussion on a career path versus a major, you are naturally leading your child into a (hopefully) more lucrative path.
Furthermore, salaries can vary greatly for graduates with the same degree because it depends on the career, not the major..
For example, a person with a degree in English could choose to go into teaching or perhaps journalism. For teaching, the average salary is around $58,000, though they'll likely start closer to $38,000 depending on location. In comparison, the median pay for a journalist is just under $39,000, and many starting out making less than $26,000 annually.
As you can see, the degree isn't the biggest determining factor when it comes to ROI. So, it's important that your child examines potential careers, not majors, to answer the question, "Is college worth it?"
Additional Steps to Answer the "Is College Worth It" Question
It is not all about money. Many people are incredibly passionate about specific fields or want to have a particular lifestyle, and these points are just as important when your child is considering the question, "Is college worth it."
To help guide their thought processes, some helpful questions they can ask themselves along the way.
Does the Career Match with the Desired Lifestyle?
A career isn't just a job; it's a lifestyle. The salary your child receives will partially denote how they live their lives, and certain positions come with travel requirements, potentially longer hours, or even the opportunity to go into business for themselves. When examining a potential career path, here are some questions they can consider to determine if the work matches their desired lifestyle: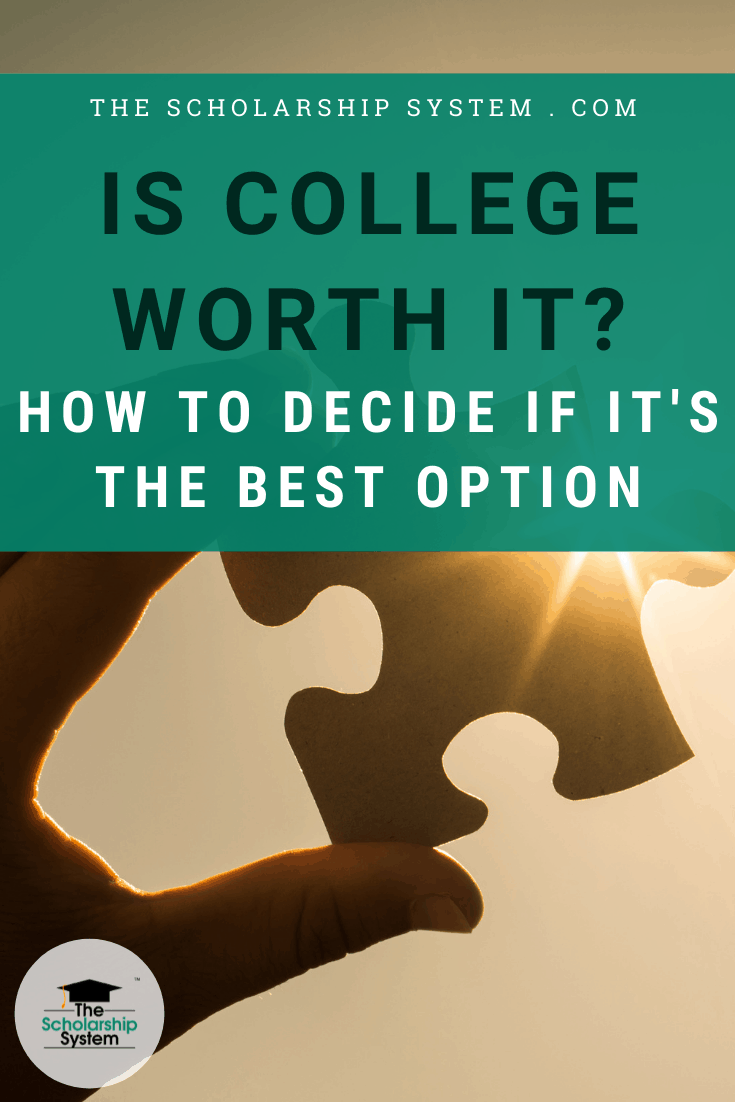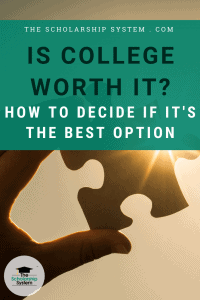 Salary and Benefits
Can I live comfortably on the pay I will likely be offered?
Will my salary potential increase with experience?
Do companies that hire professionals in this field offer the benefits I'm hoping to have?
Travel
Will I likely need to travel to perform my duties?
How often will I be away from home?
Where may I get to travel to?
Hours
Do most professionals in this field work full-time?
What shifts might I need to work?
Is overtime common and expected?
Running a Business
Do most professionals in the field work for a larger organization or for themselves?
Would I like to run my own business one day?
Do They Need a Degree for That Career?
Sometimes, people assume they have to go to college to be successful. However, there are many alternatives to a traditional four-year degree that can still lead to rewarding careers, and may make the "is college worth it" question easier (and cheaper) to answer.
For example, information technology (IT) is a hot field today. There aren't enough skilled workers to fill openings now, and the demand is expected to grow for the foreseeable future. While degrees in IT (and a variety of subspecialties) are available, getting a bachelor's degree might not be a necessity.
Many professionals working in the field only have a two-year degree, a few certifications, or a combination. Before your student assumes a four-year degree is the best way to get started on a career in IT, have them research what employers actually want. They may be surprised to see that these lower cost, less time-consuming alternatives can get the job done.
Skilled trades can also be a great option for high school students looking for options with better ROIs. A recent news article suggests that for every five skilled tradesmen that retire, only one person is entering the workforce to take their place. That means demand for construction professionals (including carpenters, plumbers, electricians, etc.), advanced manufacturing specialists, and certain other positions are booming.
And the wages offered to skilled tradesman can be very competitive. For example, the median pay for plumbers is over $51,000, and electricians can receive almost $53,000 a year on average. Often, these professions either require trade school diplomas or for interested workers to apprentice to a professional working in the field. This means less time (and money) is spent in school, and more is directed to learning on the job.
These fields are also great areas to start their own business which could increase their earnings exponentially long-term.
Is College Worth It? Can We Make It Worth It?
If your child is dead-set on a particular career, then there are options to help improve the ROI.
First, have them research a variety of schools that offer the degree they need. Tuition rates are set by the institution, so the same degree can cost vastly different amounts from one school to the next.
Second, have them consider a college or university that would allow them to live at home. This can lower the net cost by removing the room and board expenses from the equation.
Next, it can often be very cost-effective to complete the first two years of a four-year plan at a community college. Generally, they offer a comparable educational experience at a fraction of the cost (just make sure they are accredited and that the credits will transfer to their preferred college or university when the time comes).
Check out this vlog post, Stop Losing Money When College Credits Transfer, for more information.
Fourth, make sure they complete their FAFSA to see if they qualify for any government or institutional grants. For more information about the FAFSA, check out: Why You Need to Submit FAFSA (& What to Do If You Missed the FAFSA Deadline)
Lastly, get them started on their scholarship applications as soon as possible.
Almost any degree can be a great choice if you don't have to pay anything out of pocket, so grants and scholarships can be the key to turning a not-so-great investment into an exciting and lucrative career path.
If you and your child want to learn more about where to find scholarships that can help simplify the "is college worth it" question, attend our free college scholarship webinar today!
Related posts: