Updated on July 15th, 2022
It's official college acceptance letter time. It's one of the most exciting and one of the most stressful times of the college application season. The notices are working their way toward students' front doors, and they can spark great joy or severe disappointment.
Navigating college acceptance letter season is tricky. Most parents want to be there for their students, no matter what kind of news arrives. However, planning for the future is a must – regardless of what the letter says. If you want to make sure you're ready to manage the highs and lows, here's what you need to know about college acceptance letter time.
If you and your student want to discover more about the scholarship process, including where to find them and how to apply, sign up for our free college scholarship webinar! Take a trip over to http://thescholarshipsystem.com/freewebinar to reserve your spot today.

What Is a College Acceptance Letter?
A college acceptance letter is a notification to students, letting them know if they are admitted to the incoming class. Usually, there are three potential outcomes:
Accepted
Waitlisted
Rejected
Accepted students have the opportunity to join the incoming class, while rejected students are typically out of the running. A waitlisted student may or may not be invited to attend during the upcoming school year, depending on how many accepted students actually decide to head to that school.
What Are College Acceptance Rates?
How many students get good news depends on how many students apply and how many spots are available. That ratio is the college acceptance rate, marking what percentage of applicants had the opportunity to join the incoming class.
College acceptance rates vary dramatically. For the 2021-2022 school year, Harvard's rate was just 3.43 percent. Florida State University comes in closer to 32 percent, while the University of Washington sits near the 51 percent mark. However, there are also schools with 100 percent acceptance rates.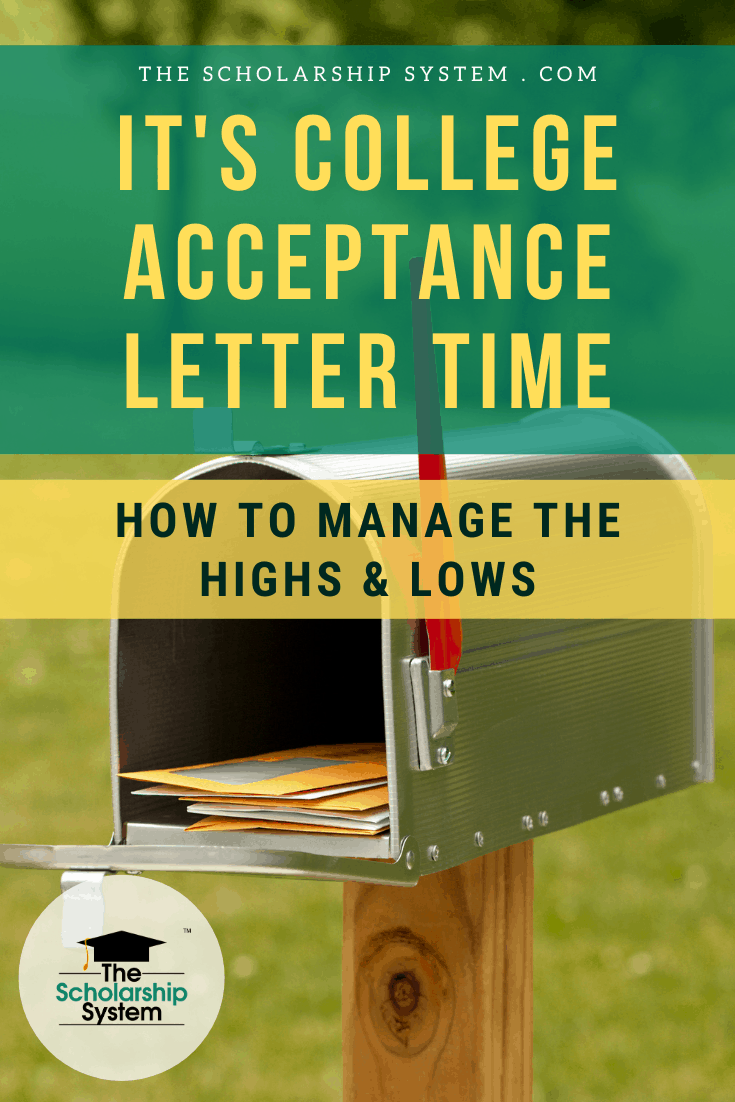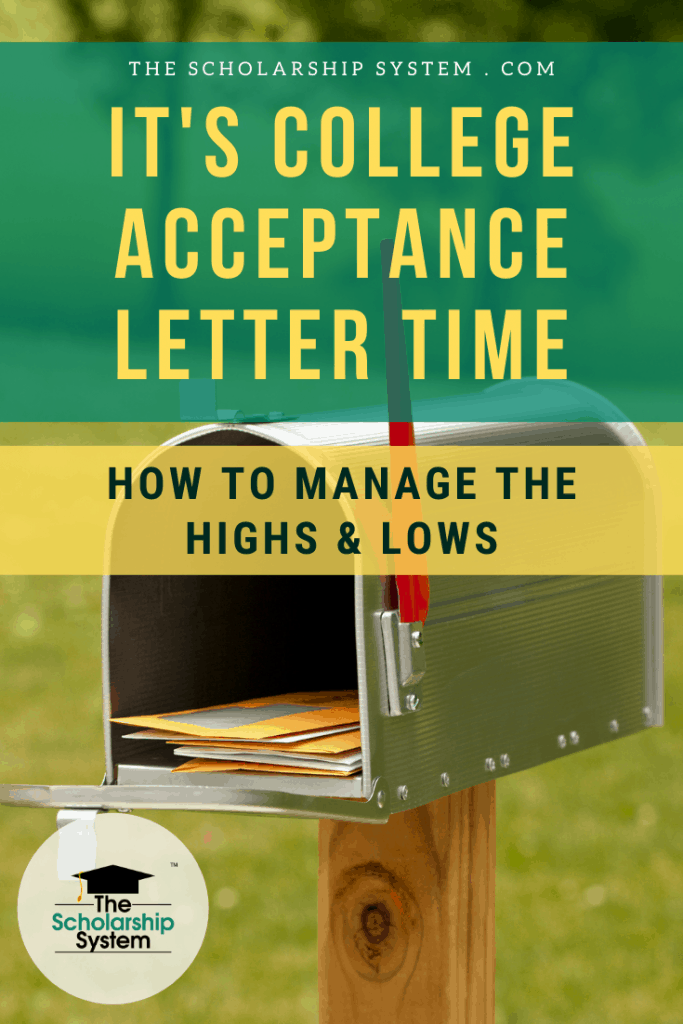 When Do College Acceptance Letters Arrive?
Exactly when college acceptance letters arrive depends on the college and what kind of admission your student used. For example, early decision and regular admission groups have separate decision deadlines, altering when the students could receive their letters.
Usually, early decision or early action students start receiving college acceptance letters as early as November. However, it could take as long as February. For regular admission, February is when letters generally begin rolling in, though some may not go out until early April.
In many cases, each college lists its college acceptance letter timetable on its website. Head to the admissions section to see if any details are available.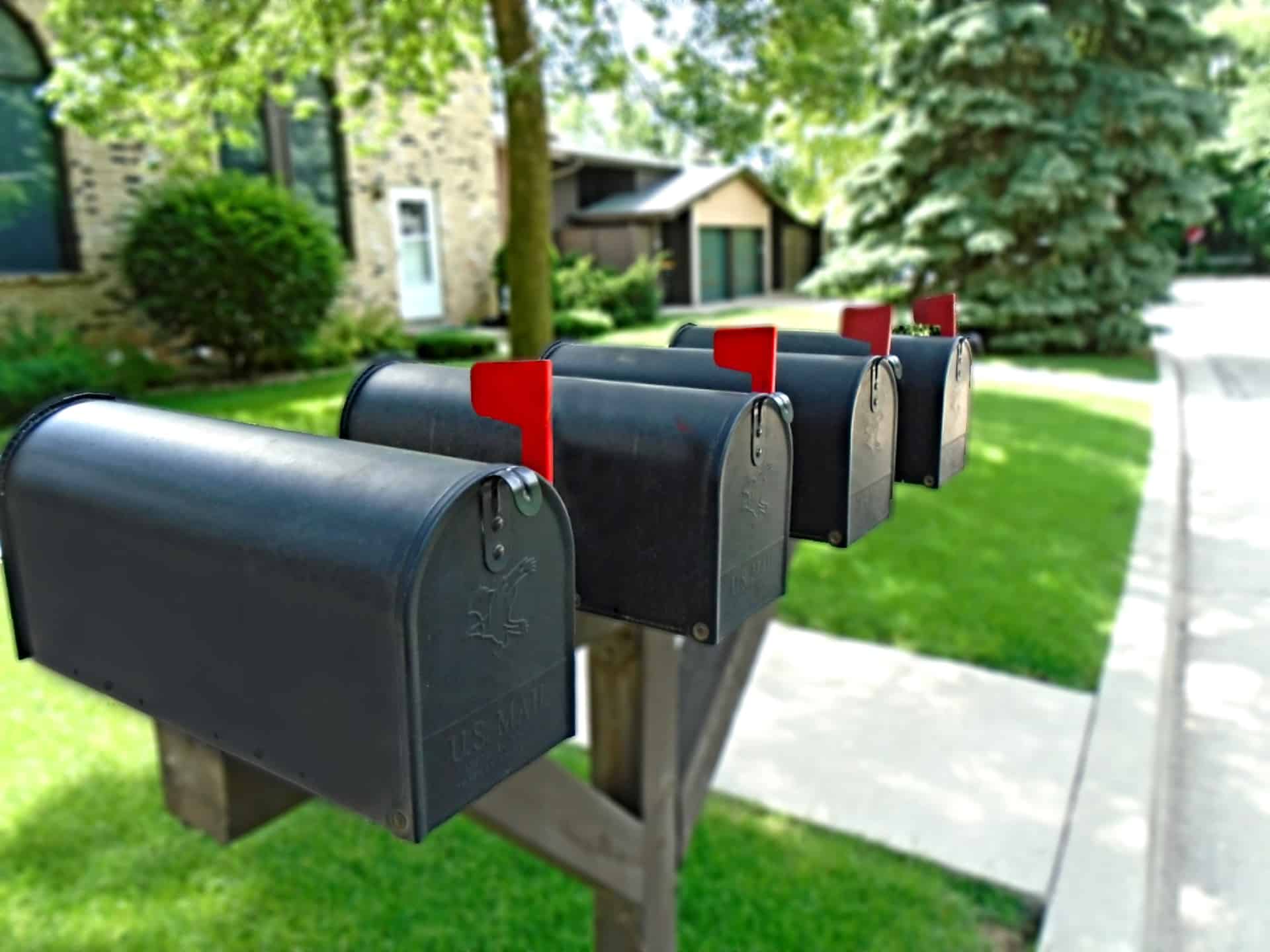 What to Do If You Get Good News in a College Acceptance Letter
If your student gets good news in their college acceptance letter, they'll need to take additional action. Here's a step-by-step guide of what to do.
Make a Decision
First, your student needs to decide by the deadline if this is the college for them. If your student applied for early decision and was accepted, then they've essentially already made that decision. However, if it was a different kind of admission and your student hasn't heard back from every school they applied to, this may take a little time.
Ideally, your student should track their acceptance letters, logging what's been received and the due date for responding. That way, they can make their final decision as more letters arrive or before the deadline passes.
Notify the School (and Send the Deposit)
Once your student knows which college they want to attend, they need to officially secure their spot. Students need to follow any instructions in their college acceptance letter. Typically, this involves filling out a form and providing a non-refundable deposit.
If your student is accepted to multiple schools, they should also send decision notifications to colleges they don't plan to attend. Again, it's usually as simple as filling out a quick form. The school then knows they have a vacant spot and can then offer it to a waitlisted student. That's why letting the college know is a good move; it's a chance for another student to get some good news.
Start Planning
Even after receiving their college acceptance letter and their spot is secured, that doesn't mean your student's work is done. Instead, it's time to start planning to attend.
This process can include a lot of steps. Many students will need to finalize their financial aid, make room and board arrangements, plan for a move, outfit a dorm room, get ready for freshman orientation, prepare to choose college classes, and much more.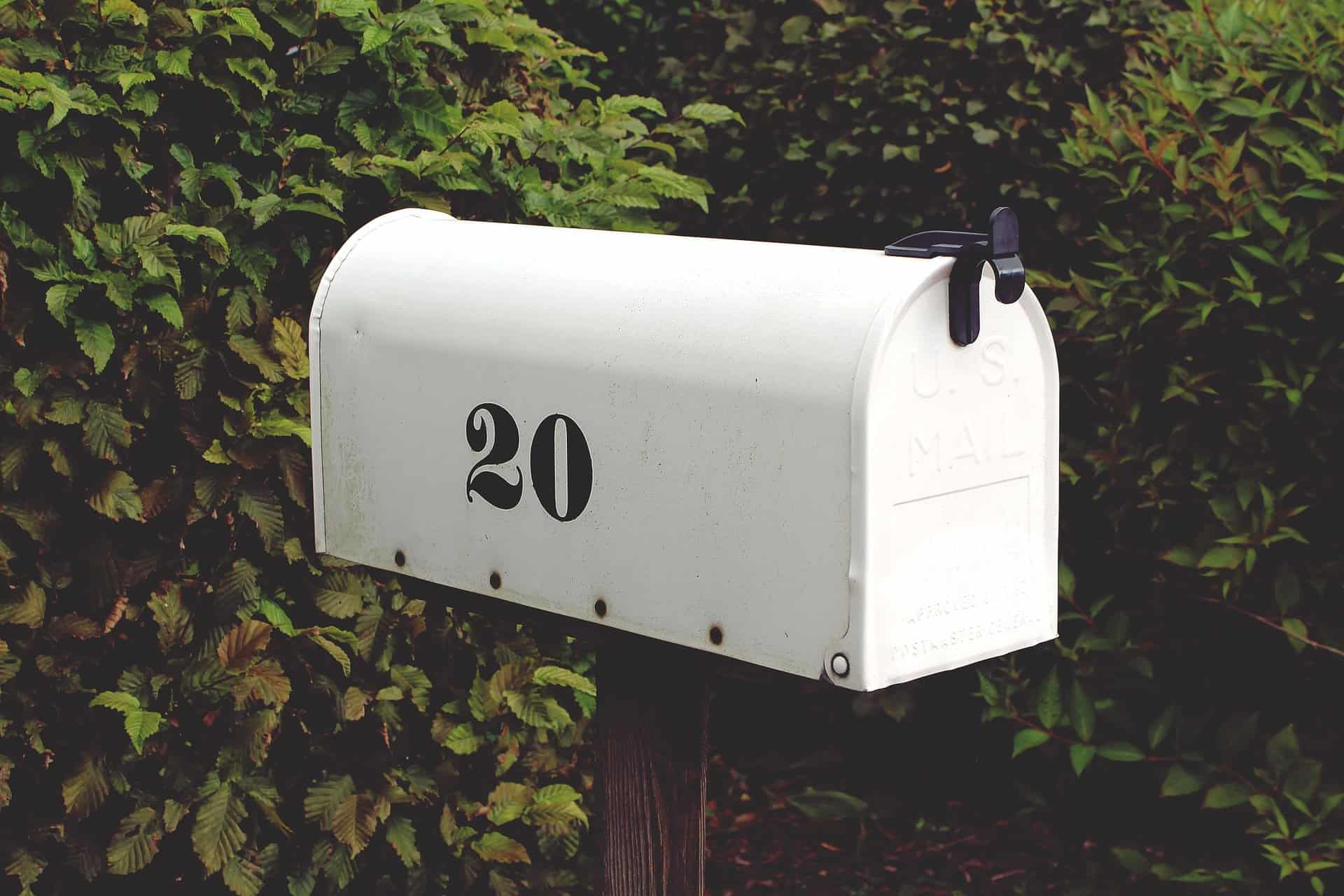 How to Deal with Rejection from a College
Figuring out how to deal with college rejection isn't easy. Many students have their hearts set on specific schools, so it can be incredibly disappointing not to get in. Plus, even if the content is generic, a college rejection letter makes many students doubt their worth, even if they shouldn't.
If you want to make sure you approach this situation properly, here's what you need to do.
Manage Your Own Emotions
Every parent wants the best for their student. Seeing a rejection letter is hard on everyone. Still, it's especially tough for students who worked hard to make themselves great admission candidates.
With that in mind, parents need to manage how they react to the news. Remember, this is about your student. You need to focus on your student's needs first and help them work through any emotions that come along, regardless of whether the letter is positive or negative.
Let Your Student Feel Their Feelings
This is one of the biggest moments in your student's life (so far), and they will have a strong emotional reaction. Whether the news is bad or good, let your student fully express how they are feeling. They should work through these emotions with a supportive parent than to bury them inside.
Even students with perfect academic records, various extracurricular activities, substantial volunteer hours, and excellent test scores might get a college rejection letter, especially if they applied to highly selective schools. If your student is used to excelling academically, then rejection may take them (and you) by complete surprise. It is important to help them see beyond this, especially if there are other schools from whom a response has yet to be received.
Embrace Discretion
If your student receives a college rejection letter, sensitivity is vital. Many high school students tell their friends and classmates about the colleges to which they applied based on the initial excitement about becoming a college student. But, once the results come in, it is important to handle the information delicately.
If your child isn't accepted into their dream school, understand that they will have a hard time facing the rejection once it is made public. This applies to reactions from family members as well as their school friends. Facing the reality that their dream future didn't accurately reflect what is happening is hard, and they will need your support.
Resist the urge to spread the word yourself. Instead, leave this in your student's hands. That way, they can control how the news gets around.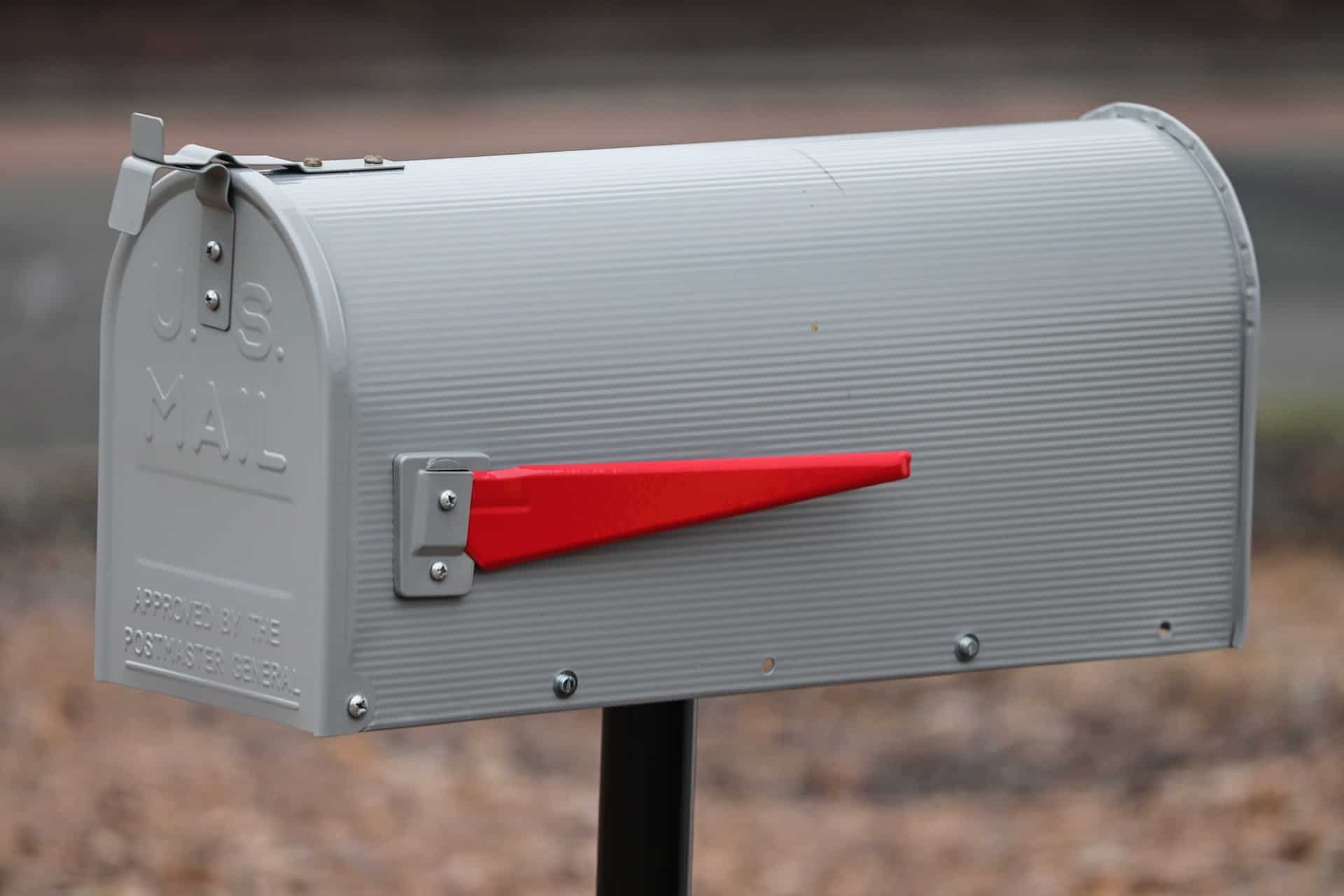 Create a New Plan
Being rejected means, it's time for a new action plan. If your child is rejected from one or more schools, but they haven't received responses from every institution, review the timelines associated with those schools to see how long it may take to get the news. That will let you both know if you can sit in a holding pattern or if it is time to apply to other colleges or universities.
Remember, some schools aren't done sending out college acceptance letters just yet. In fact, some actually start that process much later than others, and every school has its own admissions criteria. A single college rejection letter isn't necessarily a bad sign in the grand scheme of things, particularly if your student applied to a variety of schools with different college acceptance rates.
If there are no more applications in the works, then it is time to dive into alternative options. Many institutions are still accepting applicants for the fall semester, so there is still time to get into a school that offers the program your child is interested in. While it may be hard for them to push forward, it is crucial to do so.
Start by researching colleges with late deadlines. That will give your student new options, allowing them to choose a college that is still welcoming applicants to help them meet their goals. This can create a sense of hope, which may be crucial for keeping your student motivated and looking toward the future.
How to Get Accepted into College After Being Denied
In some cases, students can appeal a college rejection letter. However, this process isn't easy, and it's not guaranteed to lead to a new result.
Students shouldn't go this route just because they were rejected. Without a significant reason why the college should reconsider, it's usually not worth the effort.
So, what is a good reason to appeal a college rejection letter? Well, here are some possible ones:
Incorrect SAT, ACT, or GPA reported by an agency or school
Errors in the student's transcript
A new major achievement
A significant improvement in a test score or GPA from what was reported
If your student has a good reason, they can follow the school's appeal process. Usually, they'll need to write a letter and submit it to a particular department, along with supporting documentation that backs up their reason.
Not all colleges allow appeals. That means your student may not be able to fight against the rejection. However, that doesn't mean your student is out of luck. They can always reapply, giving them a chance to land a spot in the spring or the next school year.
Plus, there are hundreds and hundreds of other schools that could be worth exploring. Encourage your student to check out their options. They may find that another college can also be a great fit.
If you and your student want to discover more about the scholarship process, including where to find them and how to apply, sign up for our free college scholarship webinar! Take a trip over to http://thescholarshipsystem.com/freewebinar to reserve your spot today.