Updated for 2017
Do you have a child going to college in the fall of 2018?
It may seem far away but believe it or not, it's time to start thinking about how to pay for it – or else you can miss out on a lot of money!
Whether your child is going to be a freshman or they are returning to college in the fall, this year is especially important to start early because there have been some major FAFSA changes.
The Free Application for Federal Student Aid (FAFSA) is an application that every family with college students should fill out and can result in financial aid that doesn't have to be paid back as well as more affordable loan options for students.
Here are 5 QUICK tips you need to know to RECEIVE the MAXIMUM financial aid possible.
1. FAFSA Changes #1: Submit FAFSA as soon as possible after October 1st of the year prior.
The FAFSA now opens October 1st (previously January 1st) making it 3 months earlier than usual and will likely have some large impacts on families. And yes, this is for the 2018-2019 school year already.
Why is this important?
Financial aid is first-come, first-serve. The earlier you fill out the FAFSA, the better your chances are to receive financial aid. With the FAFSA now opening on October 1st, three months earlier than usual, the early bird will certainly get the worm this year. Do not wait until the spring, deadline (mid-April) to submit FAFSA. Most aid will likely be gone by then.
2. FAFSA Changes #2: Choose the correct year of taxes to submit.
You now have to use "pre-pre year" taxes.
What does that mean?
For the 2018-2019 school year, you will need to submit your 2016 taxes. If you've had a substantial decrease in income since then, be sure to fill out the "questions" section in the FAFSA as well as reach out to your child's university financial aid office to inform them.
3. Understand that the FAFSA's financial aid award letter is not final.
The EFC (Expected Family Contribute) that is calculated by FAFSA is a non-binding calculation to guide schools on your financial aid award. To put it simply, each individual college can alter your financial aid award (as long as they have the money to give.)
As mentioned above, if your circumstances have changed, you can reach out to your Bursar's office for them to amend the allotment; however, this is yet another reason to remember that once the money is gone, it is gone – so do this early!
4. Do not pay to apply.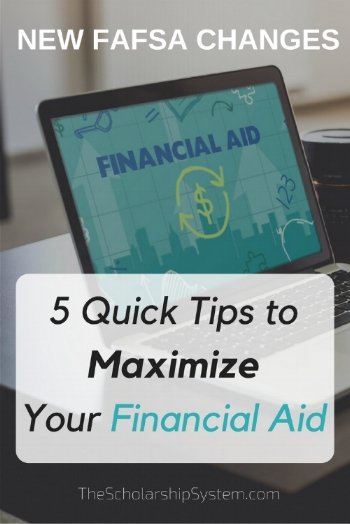 You absolutely do not have to pay! The FAFSA is free so be aware of scams that want you to pay to fill it out.
5. Submit the FAFSA every year regardless of how much you make or if you don't feel like it.
According to CBS News, "Despite its power as a tool in the financial aid process, a surprising number of families don't file the FAFSA. As a result, some $3 billion in state and institutional grants and $9.5 million in federal Pell Grants are left on the table every year."
Contrary to popular belief, even families who make 6 figures can benefit from filling out the FAFSA, saving thousands of dollars every year.
So now that the FAFSA has opened its applications, it is time to get started so that you can maximize the financial aid available to your child.
And if you are overwhelmed by all these crazy terms like FAFSA, EFC, financial aid vs. scholarships, different types of student loans, check out our complete reference guide where we break down all that gibberish!
If you'd also like to secure scholarships and other funding that doesn't have to be paid back, as well as more information about the FAFSA, feel free to join us for our next free webclass "6 Simple Steps to Securing Scholarships for College" where we cover exactly how to find funding your child is actually eligible for without going crazy!
Go to http://www.scholarshipschool.org/free-webinarpst to save your spot now.