Updated on September 14th, 2021
Many students struggle with how to pay for their education, making companies that offer tuition reimbursement and education-oriented financial assistance particularly attractive. But, can you find a job that pays for college that doesn't require a degree or a 40-hour work week? Surprisingly, the answer is yes!
Tuition reimbursement may not have been on your radar, but the reality is there are companies that provide this benefit to their part-time staff and can certainly help reduce the need for student loans.
This means, by pursuing a position with one of these businesses, your student can reduce their out of pocket college costs.
The programs listed here are specifically with fast food restaurant chains. Why focus on those? Because they often require very little experience or formal education! That means most high school and college students can easily qualify.
Additionally, fast food restaurants generally have extended hours beyond a traditional 8 to 5. This makes it easier for your child to get the number of hours they need to qualify even if they need to work around a school schedule.
With that in mind, here are four fast food restaurants that offer tuition reimbursement.
Related Articles:
Starbucks Tuition Reimbursement Program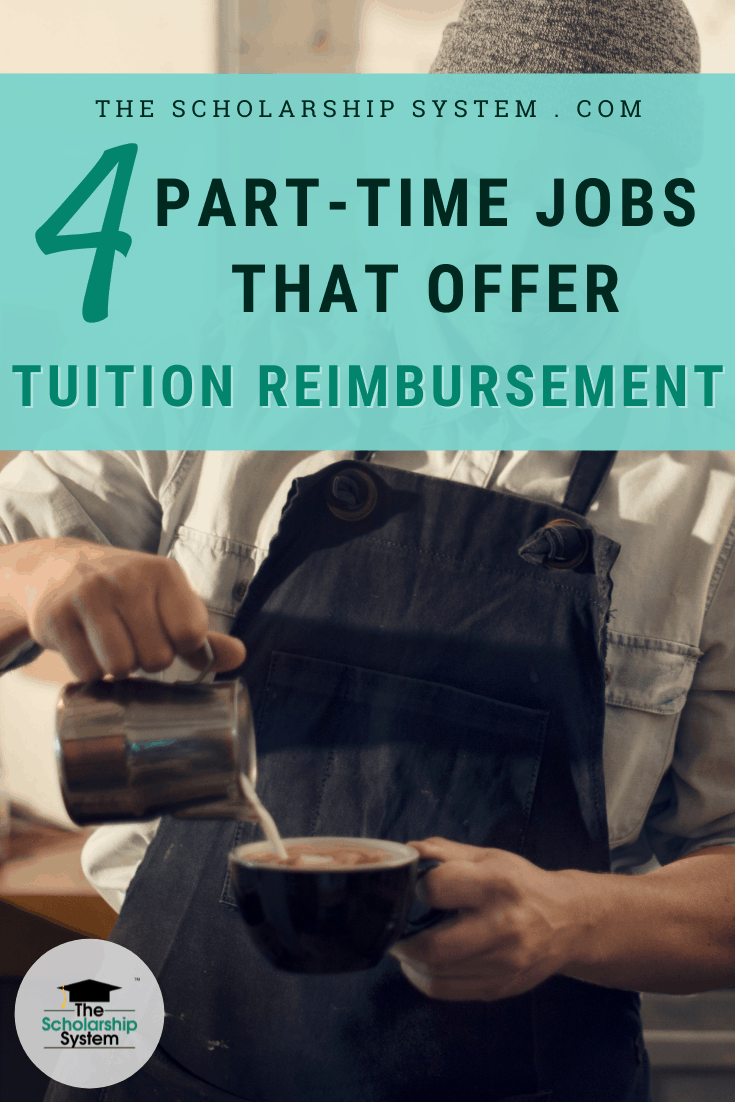 Does Starbucks pay for college tuition? The answer is yes! Starbucks, one of the most recognizable names in coffee, has a comprehensive education program as part of its Starbucks College Achievement Plan.
The business created this "first of its kind collaboration" program with Arizona State University, and employees can receive tuition reimbursement benefits while they earn a bachelor's degree through the online portion of the university, which offers over 60 undergraduate degrees.
Starbucks employees become eligible for the plan after they've worked at least 20 hours a week for about three months, though it is recommended that your child begin working with the program before they actually enroll, letting them get a head start on the technicalities. After qualifying, your student can apply to ASU for free (another nice perk) and, once accepted, register for their classes.
Then, students just needs to fund the first semester and focus on passing their classes. In most cases, employees qualify for an automatic, up-front 42 percent College Achievement Plan (CAP) scholarship that is applied to their first semester of tuition.
Six weeks after the end of the semester, employees receives their tuition reimbursement through their Starbucks paycheck. At that point, your child can use the money to pay off the previous loan, fund the next semester, or any other way they choose based on their financial need.
The exact value of this tuition reimbursement program varies, as different degree programs have differing total costs. However, it is designed to cover a full four years at ASU, which can bring the value to well over $50,000.
Chipotle Educational Assistance Program
If your student has a different school in mind, then the Chipotle Educational Assistance Program provides additional flexibility as it allows students to pursue their education at a two- or four-year college as well as a range of technical and vocational schools.
Employees are eligible for up to $5,250 per year through the plan, which is offered through Guild Education. Additionally, they may have access to discounted tuition rates, lower the out of pocket costs even further.
Hourly workers do have to be on staff for at least one year before they qualify, which may make this option ideal for high school juniors or seniors who have some time before they head off to college. However, salaried employees and hourly managers are eligible immediately.
To receive a tuition reimbursement, your child would have to provide course descriptions in advance, maintain a minimum of a "C" average, and submit their grades before receiving any funds.
McDonald's Tuition Assistance
Archways to Opportunity, the tuition assistance program offered by McDonald's, is modest in comparison to the two above. However, every bit of extra (free!) money your child can find is certainly worth mentioning.
Your child can receive funds in advance, instead of through a tuition reimbursement program, helping them to limit the upfront costs of going to college. Hourly workers can receive up to $700 a year in tuition assistance, which can offset the cost of a class or two, especially at a community college.
The qualifications are simple. Generally, the employee must work at least 20 hours per week and have been on staff for a minimum of one year. Again, this can be an excellent option for high schoolers interested in earning some money and receiving tuition assistance when they head to college.
McDonald's also offers scholarship opportunities, including a $2,500 award to one employee from each state and three awards of $7,500 provided to selected eligible workers.
Pizza Hut Education Program
Through the Pizza Hut Life Unboxed EDU program, eligible employees can receive up to $5,250 a year (if they are salaried) or discounted tuition for hourly workers. The plan is a partnership with Excelsior College, which offers associate, bachelor's and graduate level degrees through their distance learning program. And any employee who has been on staff at least 60 days can qualify.
While your student may not qualify for a salaried position, the discount that all hourly workers can access is substantial, amounting to 45 percent off the usual undergraduate tuition rates. That comes out to almost two classes for the price of one!
It should be noted that bachelor's degree from Excelsior can cost over $61,000 normally (based on a 120 credit hour requirement.) So, after the discount, your child would still likely pay around $34,000. However, if the school meets their needs, then it is possible they can cover the difference with another form of free money: Scholarships!
Scholarships to Cover the Difference
Now, while the programs mentioned above are great (heck, they're essentially free money for college!), that doesn't mean they'll cover all of your student's expenses. To pay for costs that are outside of tuition reimbursement maximums or the program's limits, it's smart to look into scholarships too.
Many scholarships can be used for tuition along with a variety of other expenses, making them an especially powerful supplement to tuition reimbursement and other educational programs.
There are a lot of scholarships out there. If you and your student would like to learn more, sign up for our free college scholarship webinar! It's a great way to learn about the scholarship process and how they can help your child finish their education while limiting out-of-pocket expenses even when they are receiving tuition reimbursement benefits.
By applying for scholarships, it is possible to bring the total out of pocket cost of your student's education down to zero. All it takes is some time, effort, and know-how.
And ultimately, if your child is going to have a part-time fast food job while they are in college, then it makes sense to explore options that also offer various educational benefits, including tuition reimbursement or assistance. That way, they can make the most out of the opportunity and work towards a debt-free education.
Did you find this helpful? If so, share it with your friends and family so they can take advantage of these opportunities as well!