Updated on September 8th, 2023
Attending college in Vermont is the perfect option for many students. But choosing between all of the amazing Vermont colleges isn't easy, particularly for students that want to find the best colleges in Vermont for their specific needs. Plus, determining how to pay for colleges and universities in Vermont isn't always simple.


If your student plans on attending college in Vermont, scholarships can make nearly any school affordable. If you and your student want to learn about Vermont scholarships, sign up for our free college scholarship webinar! Take a quick trip over to http://thescholarshipsystem.com/freewebinar to reserve a spot today.
Luckily, students can start narrowing down their options and planning for their college journey effectively by using the right strategies. If your student has their sights set on attending college in Vermont, here's what they should know.
About Vermont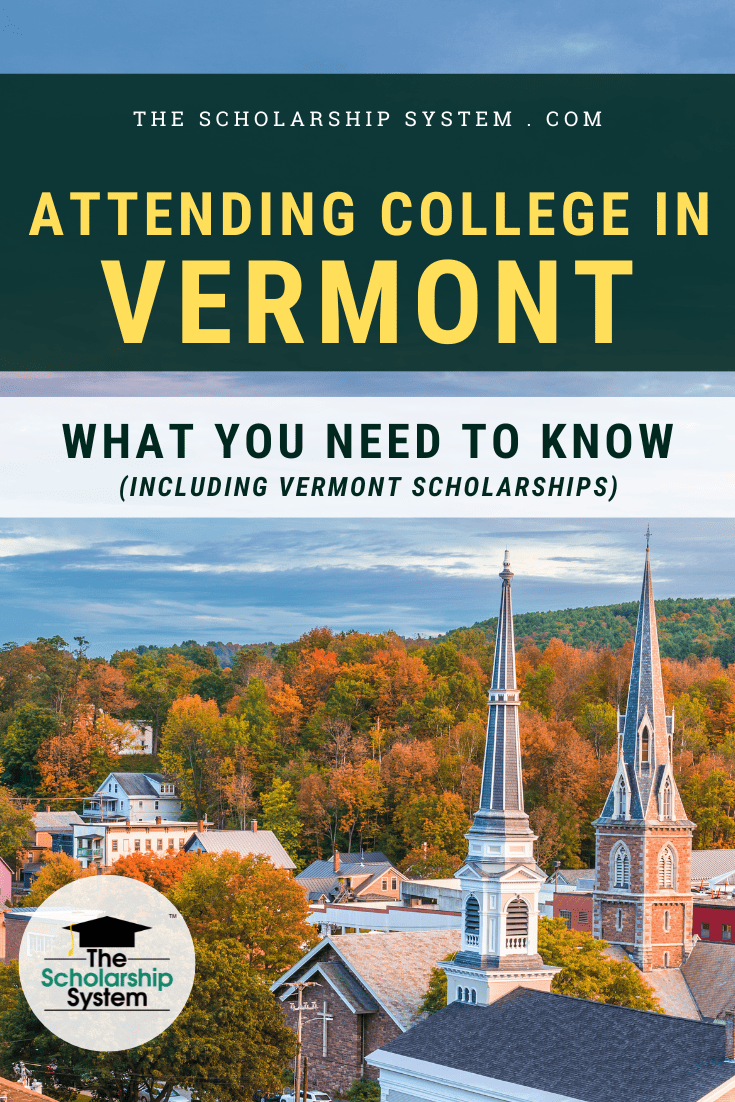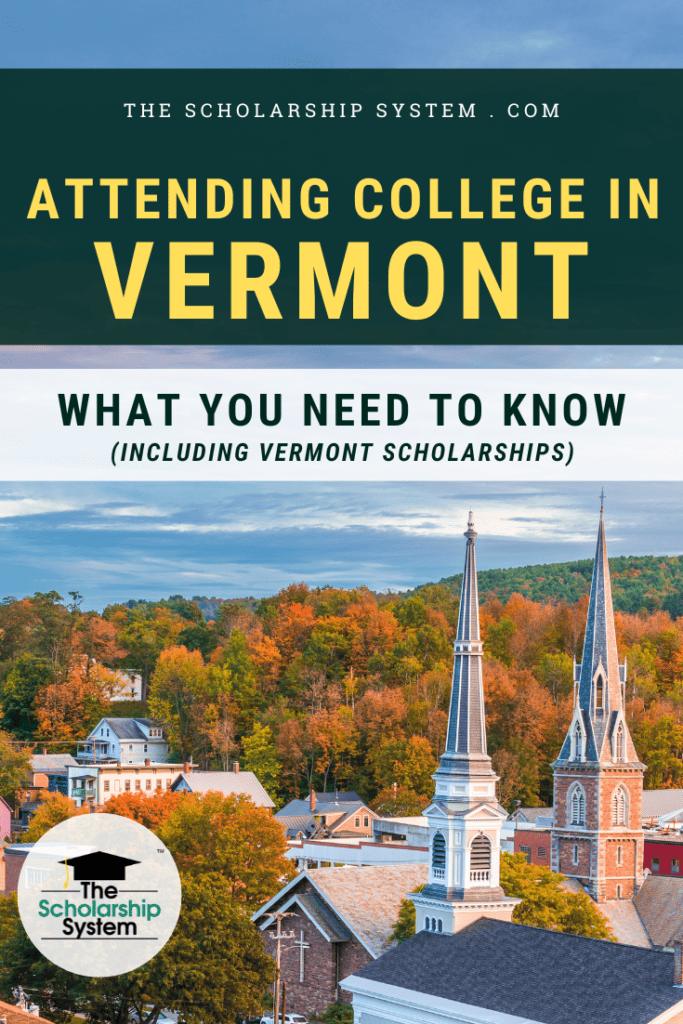 Vermont is an exceptionally beautiful state with an intriguing culture and history. It's home to the smallest capital city in the nation, and Montpelier is also the only state capital without a McDonald's in its official limits. Vermont is home to more than 100 covered bridges, and it banned billboards, so there's nothing to disrupt the beauty of a scenic drive.
The state has several other claims to fame. It's the first state to abolish slavery in its constitution and the first state to legally recognize gay couples and pass marriage equality laws. Two presidents were born in Vermont. Also, there are more breweries here per capita than in any other state.
As for the weather, Vermont has warm summers, with highs potentially crossing 90°F during the hottest part of the year. Winters are often cold, with average temperatures in the 20 to 30°F range. Many parts of the state also see snowfall every year, though the exact amounts can vary.
Colleges and Universities in Vermont
In total, there are 19 colleges and universities in Vermont. There are 16 four-year schools and 3 two-year community colleges in Vermont. For some students, exploring them all may be viable, but others may want to use specific techniques to find the college that best meets their needs. Here are two strategies that work well.
College Towns in Vermont
This somewhat non-traditional approach to a college search can work well for many students. Instead of focusing on schools first, students can check out college towns to find a suitable location as a starting point.
College towns are typically very supportive of their local schools, and they often have amenities that meet the needs of young adults. As a result, using this strategy can help students find locations that meet their broader needs.
Here is a list of Vermont college towns:
Bennington
Burlington
Castleton
Colchester
Middlebury
Rutland
While Burlington, Vermont, colleges, or schools in the other cities above, may work well for many students, students should also branch out if they feel those towns aren't a great fit. Ultimately, they have to find their perfect match, as that is what makes an ideal college experience.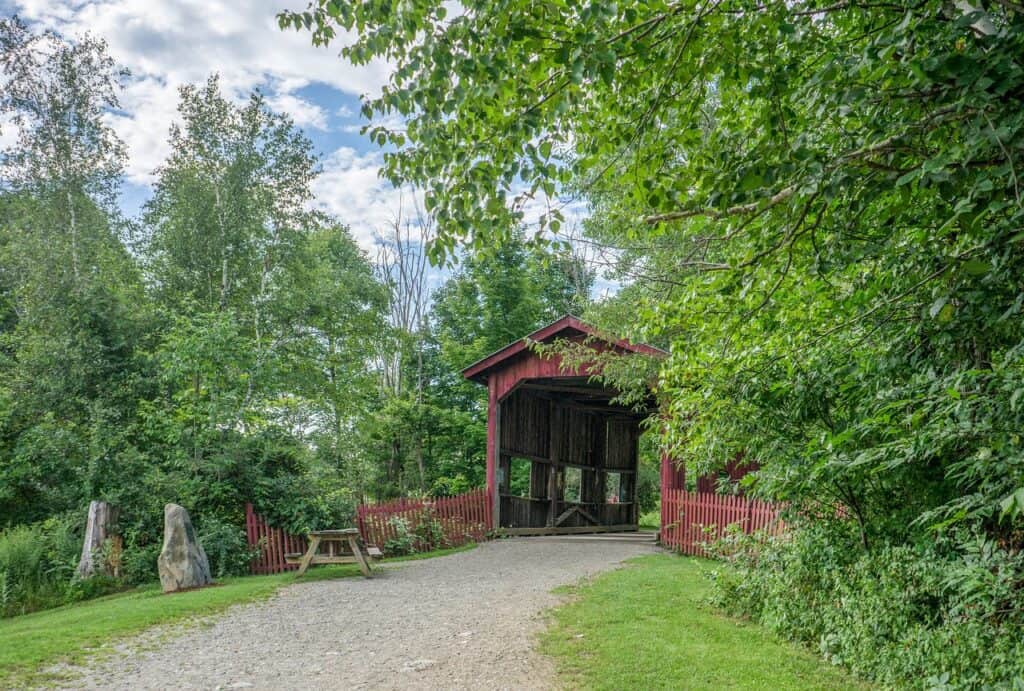 Major Vermont Colleges and Universities
While many students can quickly narrow down their options by focusing on college towns, others may want to concentrate on the major colleges in VT instead. Every leading school has something different to offer, such as a fantastic culture or unique programs. That means many students may find a differentiator that makes their college decision a breeze to make.
Here is a list of Vermont colleges students can use as a starting point:
While some students may find that their perfect college is on the list above, others may need to keep exploring. Ultimately, the goal is to find the best universities in Vermont for every student. So, if that means looking elsewhere, that's okay.
Vermont Financial Aid
Before students head to college in Vermont, knowing how they'll cover the cost is a must. Fortunately, student loans aren't the only option. VT scholarships and grants are also available, and they can help students graduate debt-free.
Typically, Vermont grants and scholarships require applicants to be residents of the state. Residency is usually defined similarly to how it's outlined for in-state tuition rates. That means living in Vermont for a purpose other than education for at least one continuous year prior to the start of the semester. However, additional eligibility requirements are always part of the mix, so students should review the rules of each award carefully to ensure they qualify.
Additionally, it's critical to note that some awards won't require residency. Institutional awards are a prime example. For instance, there are many University of Vermont scholarships (including University of Vermont merit scholarships) where residency isn't a factor.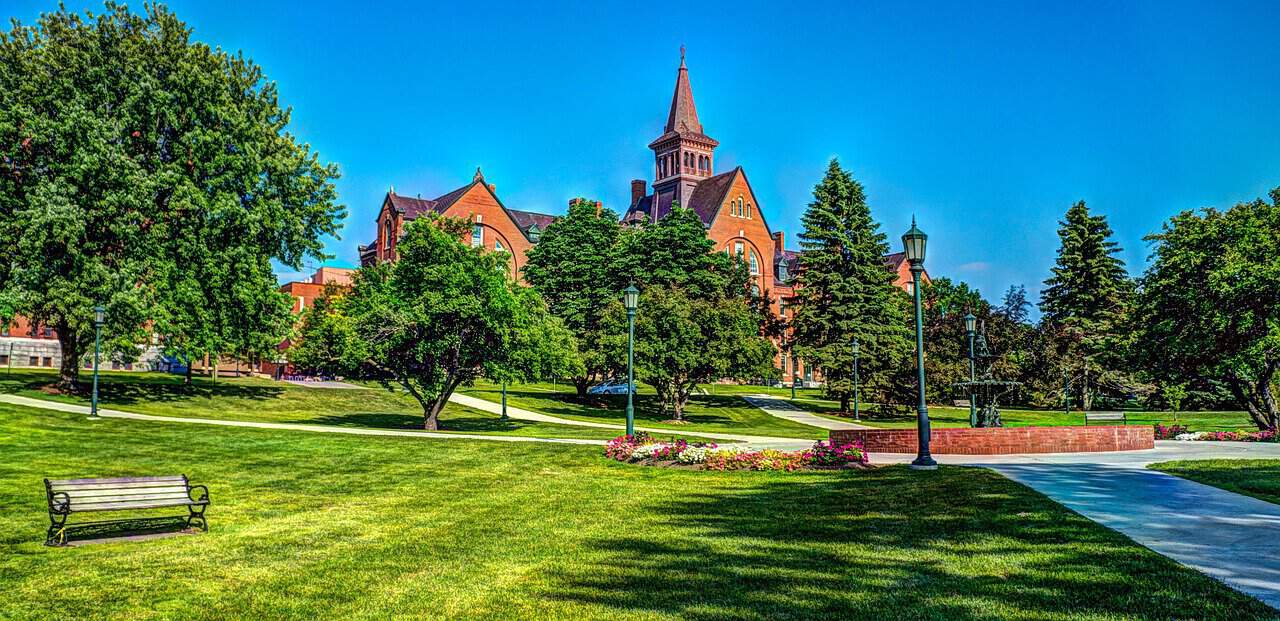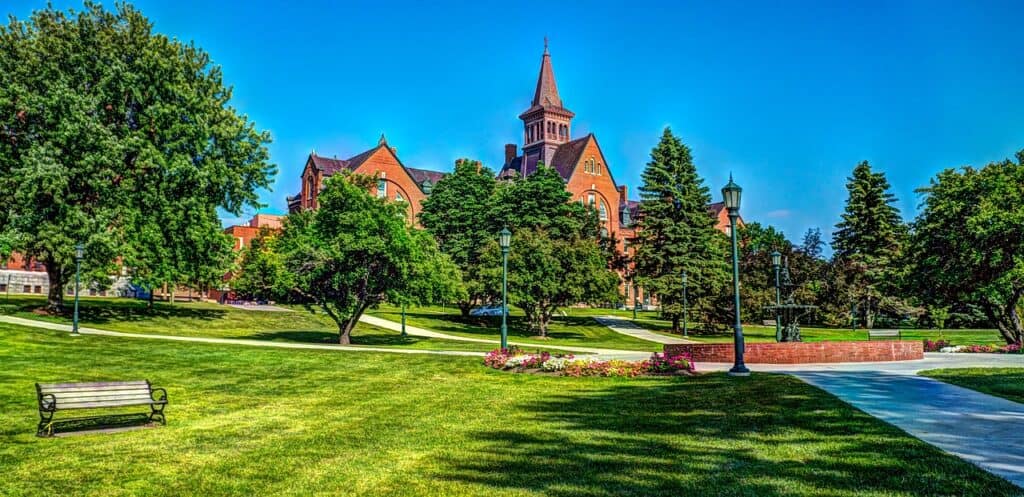 Vermont College Grants
Functionally, Vermont college grants are a lot like federal Pell Grants. The main difference is that the grants below are administered at the state level instead of the federal level.
Ultimately, college grants are excellent options for students looking to avoid debt-based financial aid. Along with residency, the awards can have a variety of requirements, so students need to check the details closely to ensure they're fully eligible.
Here is a list of grants for Vermont students:
Vermont Scholarships
Scholarships in Vermont are another excellent option for students that want to reduce their out-of-pocket costs when heading to college. Just like grants, they don't require repayment.
While the eligibility requirements do vary, being a Vermont resident is generally part of the equation. However, students need to check all of the rules to make sure they fully qualify.
Here are some Vermont scholarships that students should explore:
Living and Getting Around in Vermont
Students typically focus on the educational experience and on-campus experience when preparing to head to colleges in southern Vermont or other parts of the state. However, it's also critical to know a bit about what it's like to live and get around in the Vermont. Here's some information that can help students get ready.
Housing in Vermont
When students prepare to head to a Vermont state college, choosing between dorms and off-campus apartments (or other types of housing) often seems tricky. Fortunately, by looking at the cost of some of the options, it's easier to make a wise financial decision.
The average home value in Vermont is $388,580 (as of August 2023), which is slightly above the national average of $348,126. For most students, that puts buying a home well out of reach.
When it comes to rentals, the fair market value of a one-bedroom apartment is $1,049 per month, while a two-bedroom has a fair market value of $1,328 per month. For some students, that may be affordable, particularly if they get a roommate. However, others may see the prices and decide that a dorm room is definitely the better financial choice.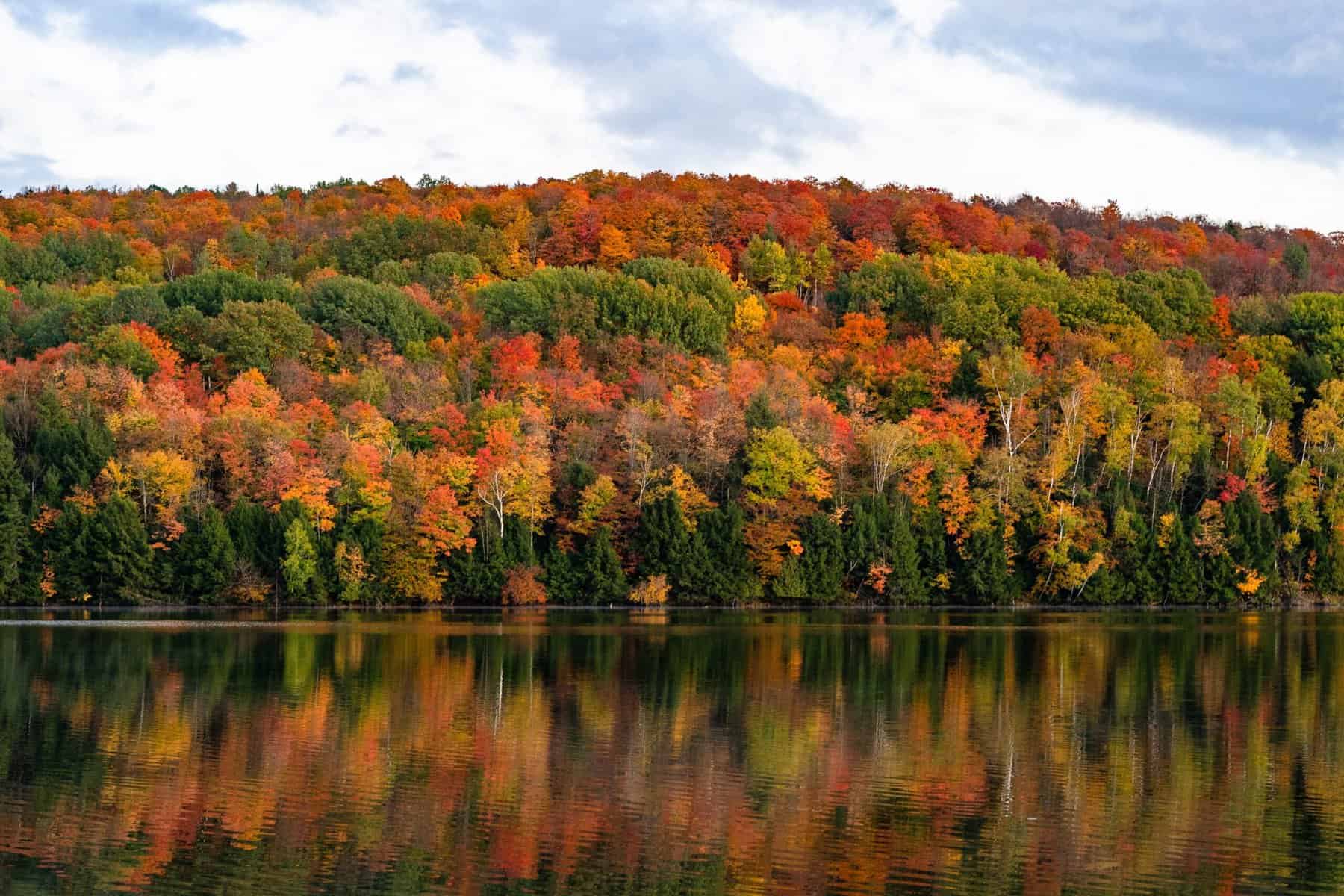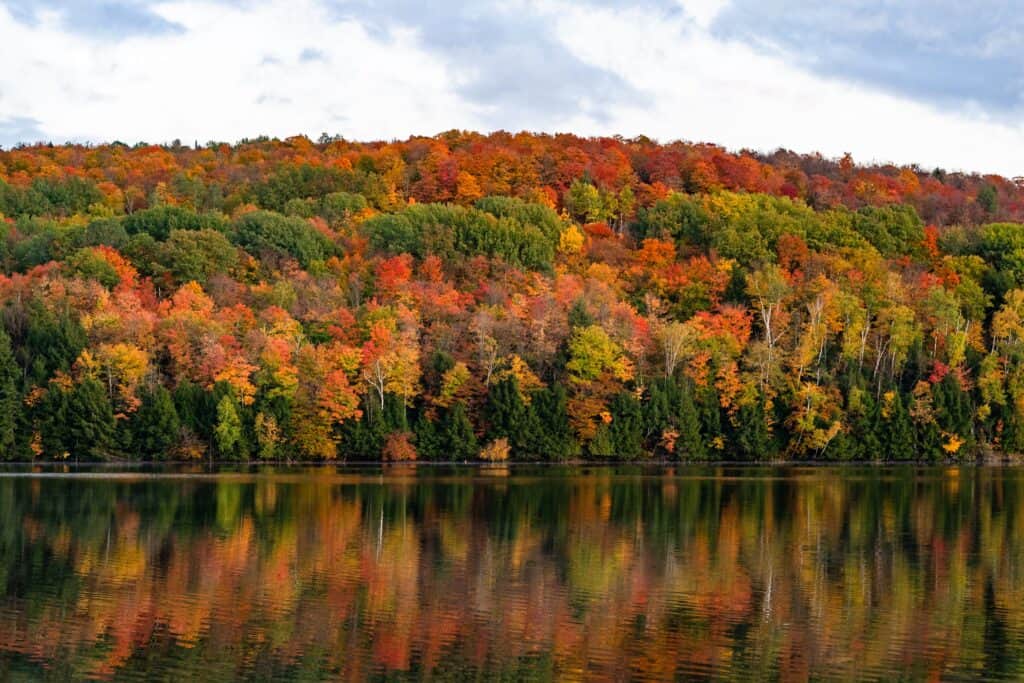 Transportation Options
When students need to get out and about, they have plenty of options. Most Vermont cities have plenty of local transportation services, including buses, rideshares, and taxis. For longer-distance travel, airports and train stations are widely available.
Here are the Vermont airports:
Here is a list of Vermont Amtrak stations, all of which are on the Ethan Allen Express or the Vermonter lines:
Things to Do in Vermont
When students need to relax or have a little fun, Vermont has plenty of fantastic attractions available. For fans of history, a trip to Hildene is an excellent option. The Sherburne Museum is perfect for students who enjoy folk art, while the Vermont Institute of Natural Sciences is an ideal choice for students curious about the natural world.
Students looking for a scenic option for some outdoor exercise should head to the Burlington Bike Path or Stowe Recreation Path. Plus, there are plenty of places for skiing and snowboarding, including Killington Resort and Stowe Mountain Resort.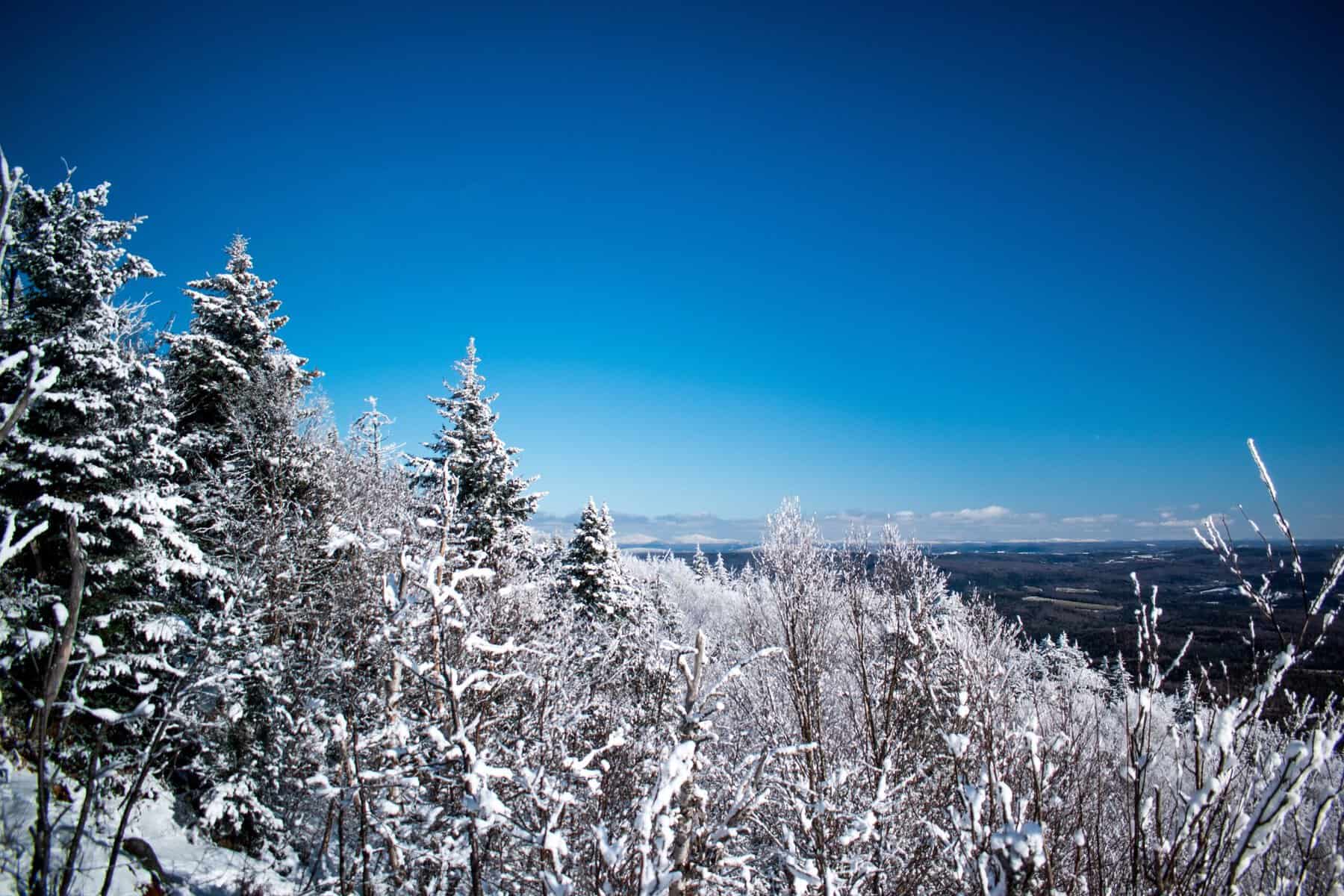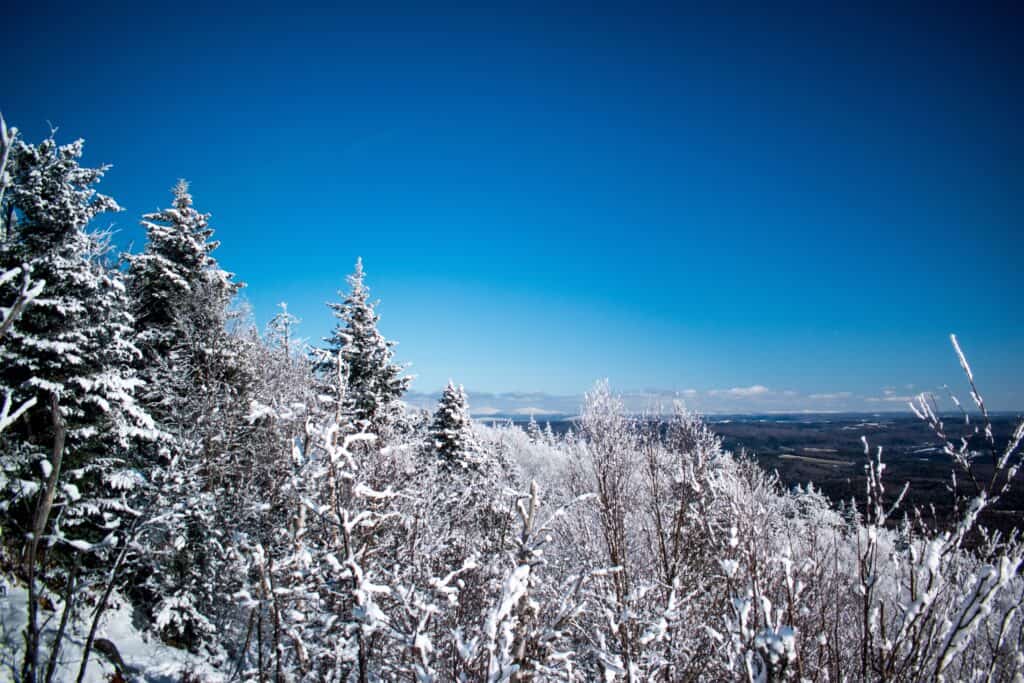 Making Money in Vermont
While students may primarily focus on their studies while at college, many also have to work to ensure they can make ends meet. Here's everything students need to know about making money in Vermont.
Minimum Wage
Many students work in minimum wage jobs since the experience requirements are low. Plus, these types of positions often offer more flexibility, allowing students to work around their school schedule. As a result, it's critical to know about the minimum wage in Vermont.
As of January 2023, the minimum wage in Vermont is $13.18 per hour. For tipped employees, the minimum is $6.59 per hour. However, if a tipped worker's tips don't bring them up to the regular minimum wage, the employer is required to make up the difference.
Employment Rates
Understanding a state's unemployment rate is helpful for students, as it gives them clues about the availability of jobs in the area. When unemployment is low, open positions are often plentiful, while the reverse is true when unemployment is high.
In Vermont, as of July 2023, the unemployment rate was a mere 1.8 percent. Along with being far below the national average of 3.5 percent, it's exceptionally low in general. As a result, many students won't have much issue finding a part-time job if they need one.
Vermont Key Industries
A state's major industries often represent opportunities for students and young professionals. Typically, these sectors offer the most jobs in the area, which can help students that want to land internships or are interested in pursuing careers in the state.
In Vermont, aerospace is a leading industry, thanks to several significant employers with operations in the region. Consumer goods, agriculture, food and beverage, forest products, and general manufacturing are similarly big business in the state.
The construction industry is also a significant part of the Vermont economy, as well as financial and professional services. Renewable energy, technology, tourism, outdoor recreation, education, and healthcare also play substantial roles in the picture.
If your student plans on attending college in Vermont, scholarships can make nearly any school affordable. If you and your student want to learn about Vermont scholarships, sign up for our free college scholarship webinar! Take a quick trip over to http://thescholarshipsystem.com/freewebinar to reserve a spot today.