Updated on September 21st, 2021
An internship can be a vital part of the college experience. Not only will they give your student experience in the real-world of business, but they can make your student especially competitive when pursuing an opening with the company of their dreams. Furthermore, internships are also exceptional learning opportunities.
While most students use job postings to locate a suitable paid internship, this can be very limiting or extra competitive. Unless the local area has a wide selection of companies in your child's area of focus, they also might not find any opportunities at all.
What can your child do to uncover hidden paid internship opportunities?
There are other ways to land an internship that can be just as (if not more) effective than applying through a job posting. Here's what to do.
Note: this can be used by high school students as well. It's never too early to start shadowing or working in the field they think they want to pursue! This could save years of schooling and prevent changing majors down the road.
1. Identify What They Need from a Paid Internship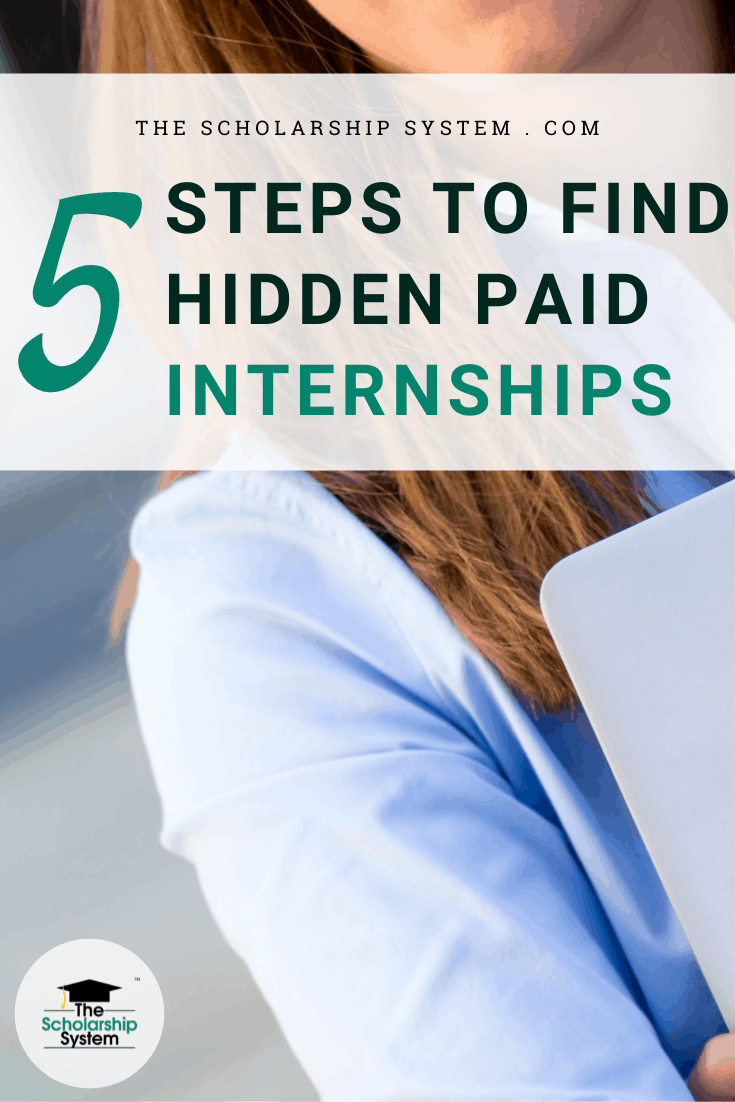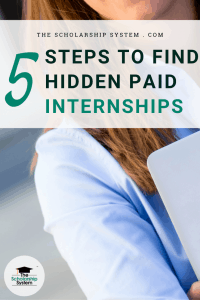 The first step your child needs to take is to figure out exactly what they need from their internship. Do they need to find an opportunity in a specific industry? Department? Field?
In some cases, your student will have explicit instructions regarding what kinds of internships meet their degree requirements, which makes this part of the process easier. But, if it is in their hands, then they need to define their goals in relation to the paid internship.
Usually, an internship helps your child acquire a specific kind of experience that relates to their degree. This could be working in conjunction with professionals who hold their target job or getting general experience in a particular field, industry or department.
Identifying what they need can feel challenging, so, if your student hits a roadblock, have them talk to a professor or their academic advisor to help narrow down what they need to do.
2. Research Potential Companies
Once your child understands what they need from their paid internship, it's time to start doing some research. Many students look for an internship opening and then consider if they want to work for the company. We challenge them to flip this logic, which could make them happier in the long-run.
A great way to begin is to jump online and find companies that operate in the industry they would like to target or find professionals who work in the identified role.
Social media sites like LinkedIn, Facebook, and Twitter can be a great place to start, as well as career-oriented websites like GlassDoor. Even traditional job boards can be a wealth of information, as long as you do general searches based on your child's location and field or industry instead of focusing on internships.
The goal is to identify companies that could provide a valuable paid internship, and find a point of contact that works in the preferred department or position, even if they don't have an opening advertised.
Once they have a list of potential contacts, it's time to reach out.
3. Don't Forget Existing Connections
As your child looks for people to contact, make sure they don't neglect their current connections!
Friends and family members who work in the area may be able to help your student reach out to people in their organization, or may know other professionals through their extended networks and can get them connected.
Second degree connections (where your child and the target person have a connection in common) can be great people to contact. Plus, since they have a mutual connection, they know someone who can introduce them to the person they'd like to speak with.
If you and your child would like to learn more about how to get started with scholarships, sign up for our free college scholarship webinar! It's a great way to learn about the process and how to identify opportunities that can help your student avoid debt while pursuing their education!
4. Ask for an "Informational Call," Not a Paid Internship
Whether your child reaches out through email or a message to the person on social media, the important part is to resist the urge to ask about an internship first.
Blindly asking strangers to give your student a paid internship isn't likely to work, mostly because there is no existing relationship or connection.
Instead, your child needs to ask for an "informational call" where they can talk to the person about their current role and how they got to that point in their career. For example, having your student explain that they "one day aspire to be in their position and would love to hear their story about how they got there" can be a great way to open doors.
Most people love talking about their accomplishments (or themselves in general), and many professionals are open to helping young adults learn more about where a career in their field could lead.
All your child needs to request is "20 to 30 minutes of their time" to discuss the role, as that is usually easy for most professionals to accommodate and won't be perceived as burdensome.
5. Casually Mention the Paid Internship
Once your child has the person on the phone, it's time to work the conversation. First, they should ask the person questions about their position and career, as this helps develop a rapport.
Next, they mention that they are currently seeking a paid internship in the field, as they think it could be the right direction for them. Then, they can request recommendations or even see if shadowing the person they are talking to is an option.
Often, the conversation will then morph naturally, leading the professional to provide recommendations or even request your child's resume.
One of the most surprising things is that, if your child connects with the professional, a paid internship may be created specifically for them.
Many companies who aren't advertising positions are still open to the idea of having an intern. So, your student may land an opportunity at a company without any of the competition associated with formal job openings.
If the first person they contact can't help with the paid internship, your child has still gathered a lot of valuable information. Plus, they may have connected with someone in the field, and that's great networking! Have them ask if they can stay in contact because building a professional network now will make their future endeavors easier.
Then, they can simply move to the next person on their list and see what happens.
Ultimately, the worst-case scenario is that the professional they contact won't provide any assistance, so there really isn't anything to lose. But, if they offer support or a position, there's everything to gain.
Did you find this helpful? If so, share it with your friends and family so they don't forget anything either
Related Articles: