Summer break. It is a classic time for rest and relaxation, especially for the high school and college students in your life. But failing to see it as an opportunity to get ahead with scholarship applications means your child is missing out. Choosing to maximize summer break to build a scholarship-worthy resume is just a smart move especially since most students aren't under the same academic pressure during this season.
The key to maximizing a summer break to win scholarships is taking an organized approach. That way, the work can be comfortably spread out, and activities that require steps early on can be given priority. To help your student plan well, here are some steps to get them started.
Mind the Gaps – Assessing Strengths and Weakness
Your child can't build a plan if they don't recognize from where they are starting. Like we cover in our free webinar (which you can sign up for here!), your student needs to aim for a balance between good grades and being involved in other activities. Often, scholarship applications ask students to write essays about their experiences, and may or may not factor their grades into the equation. While having a strong academic background is critical for college success, good grades aren't the end all, be all in the scholarship game.
Here is a chart we use in The Scholarship System Course to help students understand where they should ideally fall on the involvement and grade spectrum: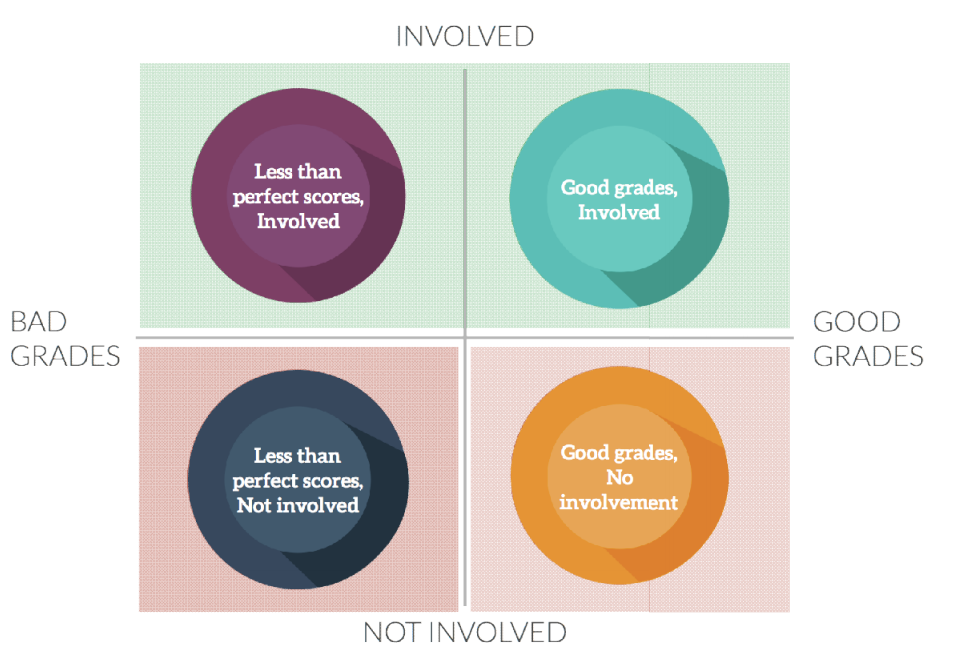 Ideally, your child should aim for good grades and a well-rounded approach to other experiences. Now, this doesn't mean they have to be everything under the sun. In fact, trying to pull that off may do more harm than good if they stretch themselves too thin and, subsequently, underperform across the board. Instead of trying to do everything to maximize summer break, have them pick an activity or two that peaks their interest, works with the schedule, and will serve as great scholarship application material.
In the end, it's better if they do a couple of things exceptionally well (without letting their grades fall) than to take on too much and experience mediocre results.
So, make sure your student reviews what they currently have under their belt and what they should work on during the summer. If their involvement is high, but their grades aren't great, then studying should take priority over finding new activities. However, if their grades are strong (and they don't have to be perfect to be strong), then it's time to get involved in something new to boost their scholarship potential.
Get Involved!
If involvement is what your student needs to tackle to maximize summer break, it can be tricky to figure out where they should start. Luckily, we're here to help you and your child out. Here are some of the most popular and effective ways to build up their experience for winning scholarships.
Part-Time Jobs to Maximize Summer Break
One scholarship judge told us that students should "get a job. Even if it's baby-sitting, pet sitting or mowing lawns, it shows initiative." A part-time job is a classic way to gain new skills while also letting them earn a little side money. Since the goal is to maximize their summer break and if keeping a job during the school year might not be plausible, it might be wise to explore short-term or highly flexible options.
You may be wondering, where can my child find a part-time job just to maximize summer break? Here are some great places to check: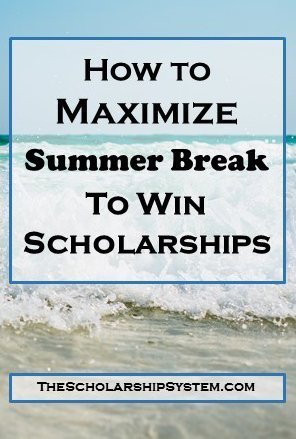 Park Departments
Most local parks have programs that operate only during the summer, and many will welcome younger workers into their midst during this busy season. For example, city swimming pools often need lifeguards and other workers, or some parks may bring on extra ground crews.
Yes, the work might not be glamorous, but it is a job with a definitive end date that offers valuable working experience and even the ability to spend some time in the sun.
Amusement and Water Parks
Another business that thrives in the summer and dies down once school is back in session is the amusement and water park industry. Again, these businesses are often open to hiring teens and young adults, even if they have limited previous experience. Plus, employee discounts and potentially free friends and family tickets mean these jobs can come with some fun perks too.
Temp Agencies
If your child is 18, then signing up with a temp agency can be a great way to get some intermittent work without the commitment of a formal job. Often, they can take advantage of more than one assignment over the summer, using the time to explore different types of work and businesses, creating great opportunities to learn on the job and gain new perspectives on the working world. Plus, when summer is over, they simply stop taking new assignments. Easy, peasy, done.
Food Industry
Working in the food industry is a skill that is easily transferrable. Customer service, multi-tasking, managing money and more, your child can learn many life skills while waiting tables. The food industry is also often very flexible, letting college students pick up shifts when they come home over breaks. It'd be great to build rapport with a decent restaurant sooner than later.
Maximize Summer Break with Volunteering
For students looking to gain experience in a particular area, volunteering may be the ideal way to spend their summer break. Most nonprofits are always interested in finding people who can lend a hand, so it may be easier to land these positions than formal jobs. Plus, your child may be able to target a particular organization or even a skill area that particularly appeals to them.
For example, animal lovers may appreciate spending time at a no-kill shelter, spending time with dogs and cats that need socialization and exercise to help make them more adoptable. It can also be a great option for aspiring veterinarians or students focused on life sciences.
Got a future nurse or doctor in your house? Then the Red Cross or local hospital might be great places for them to volunteer.
Is your child interested in supporting social services? Maybe they should volunteer at a local homeless shelter, food bank, or soup kitchen.
To help them find the right summer break volunteer opportunity, consider their current or future college major and research nonprofits with similar missions. If you want to see what may be a good match in your or your child's local area, check out VolunteerMatch.org. Simply tell the site what your student cares about (including if they want to target particular skills!) and tell them where you live. Then, see if any of the results sound like a good match.
Shadowing and Mentorships
In some cases, your student may be able to gain some on-the-job style experience in the field they wish to pursue by looking for a job shadowing or mentorship opportunity in the industry. This approach is similar to volunteering but tends to be in for-profit organizations.
Obtaining these summer break opportunities often requires legwork. So, have your child find area companies that operate in their preferred industry and start reaching out. Yes, it can feel a bit like cold calling, but it gives them a chance to practice pitching their capabilities and expressing their interest in the work. As a bonus, it can help them build a network too.
If they aren't sure who to speak too, then starting with the human resources department is often a wise choice. However, if they know someone working in the field and can make that personal connection to find opportunities, that's fine too. The purpose is to get out there and take advantage of fairly organic learning options, so even if they only find very short-term shadowing positions, it can still be a great summer break experience.
Build the Essay Bank
Scholarships and college applications often require essays, and there is nothing to say that some of the writing can't be handled over summer break. In fact, some scholarships for the next college school year open in August, so they can be part of the earliest group of applicants.
Now, many students would ask, how can I start writing essays if I don't have the official topics?
Well, it's actually pretty easy. Many scholarships use common subjects for their essays, so writing about these in advance often pays off. Here are some of the most popular topics:
Personal achievements
Overcoming challenges
Persons who have inspired you
Books that have inspired you
Why you want to go to college/study a particular subject
Your child can find other themes with a simple internet search, so encourage them to dig in now to maximize summer break!
And did you know children as young as 4 years old can apply for scholarships? That's one of the topics I talk about in my free webinar. If you want to join me for the next one, click here to find out when we are holding the next one or go to www.thescholarshipsystem.com/freewebinar
Research Scholarships at Target Colleges
Many colleges and universities have scholarship programs for their students and basic information about the application process are often available on the school's website all year round. Additionally, the deadlines for these awards are typically different from application due dates, so it is wise to collect the information early so your child can apply. You can also check the criteria and see what your child needs to meet to receive the awards. For example, if they have a specific ACT or SAT score, your child can start working towards that now.
If the application process is standardized, then there's no reason your student can't start collecting everything they need today. And, if it requires an essay, starting early gives them extra time to create a piece that is sure to impress.
Maximize Summer Break by Getting Started Now
For most students, summer break has either just started or is only around the corner. By getting a jump on things now, they can maximize summer break and their scholarship potential before the next school year starts. And, when it comes to scholarship funds, getting started now can be the key to success.