Updated on September 24th, 2021
Spring is upon us in most areas of the country this month and with that comes the realization that the school year is coming to an end. If you have been applying for scholarships for the better part of the year, this can be a time of great apprehension. The financial worries are real as students have selected their college, completed their FAFSA, and now know the real cost of college.
At this point in my daughter's senior year we were both very frustrated due to applying for over 30 scholarships and not receiving any of them. She was especially frustrated and announced that she would not be applying for any more scholarships as receiving the rejection notices were just too much for her.
Related articles: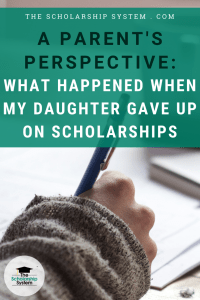 I kept encouraging her and told her we were going to double our efforts to find appropriate scholarships and apply for them. We narrowed our search and focused on local and good fit scholarships for April and May.
The good news is that at the end of May she received the largest local scholarship from the school foundation available and in July (yes, July, right before heading to college…) she received a $20,000 scholarship from a national foundation.
This is your notice as a parent that right now is the time for you to do some searching and offer assistance.
This is your notice as a student that we know you are busy with finishing up classes and want to have fun in your senior year but now is also the time to apply for a few more scholarships.
Don't give up the search and remember that the summer months offer scholarships with funding for the fall. Also remember that you have learned many skills in the scholarship process, especially if you've gone through The Scholarship System's course, even if you have not yet received any funds. This means you can use these skills to keep applying and refining your search methods like we did.
Spring is scholarship season for so many of us so let's BLOOM together and be successful.
Bio:
Tracy L. Quarnstrom has served as the director of Wolf Creek Online High school since 2003 and a member of The Scholarship System since 2016. She lives in Minnesota where she is passionate for advocating for choice for all students in the State from choosing their own high school to enrolling in dual credit courses. She enjoys working with high school students on a daily basis. She has two daughters who are a freshman and sophomore in college at this time. In her spare time, she is addicted to searching for and finding scholarships for her daughters. Through the process of assisting her daughters and their friends, she has gained an immense amount of knowledge about the college application and funding processes.
Want to learn more about how your child can find great scholarships? Sign up for our free college scholarship webinar! It's a great way to learn about the scholarship process, how to identify opportunities, and how your student can avoid debt while getting their education.
And if you want our latest list of scholarships with deadlines coming up, go to www.thescholarshipsystem.com/scholarshiplist.
Did you find this article helpful? Share it with family and friends so they don't miss out!