Updated on May 1st, 2023
Attending college in Iowa is a dream for many students. But choosing between all of the fantastic colleges in Iowa can be surprisingly tricky. Plus, students have to figure out the financial side of the equation, which isn't always easy.
If your student plans on attending college in Iowa, scholarships can make nearly any school affordable. If you and your student want to learn about Iowa scholarships, sign up for our free college scholarship webinar! Take a quick trip over to http://thescholarshipsystem.com/freewebinar to reserve a spot today.

Fortunately, a solid strategy makes it easier to determine which options could be the best fit. If your student is interested in attending college in Iowa, here's some information that can help.
About Iowa
Iowa has plenty to offer students. Along with an amazing history, it's a friendly state that maintains a small-town atmosphere even in its big cities. Plus, it's far more affordable than many other states, all while having a strong economy that can support a fantastic career.
When it comes to the weather, Iowa is classically Midwest, with hot summers and cold winters. During the summer, temperatures in the 90°F to 100°F range aren't uncommon. The springs are more temperate but can be rainy, with thunderstorms being a somewhat frequent occurrence. The fall is also comfortable, and the leaves changing colors are a sight to behold.
When it's wintertime, it's usually drier. Snowfall does happen, but total accumulation usually stays around 30 inches. For the temperatures, being below freezing isn't uncommon, so students should be ready to bundle up to keep warm.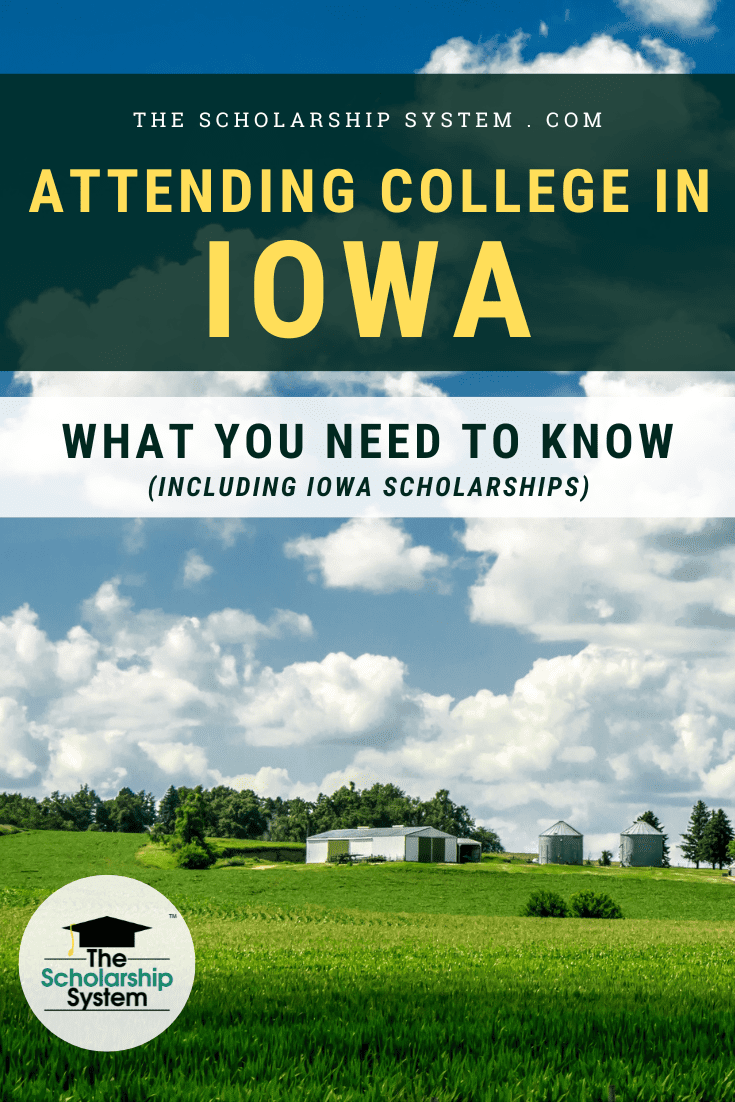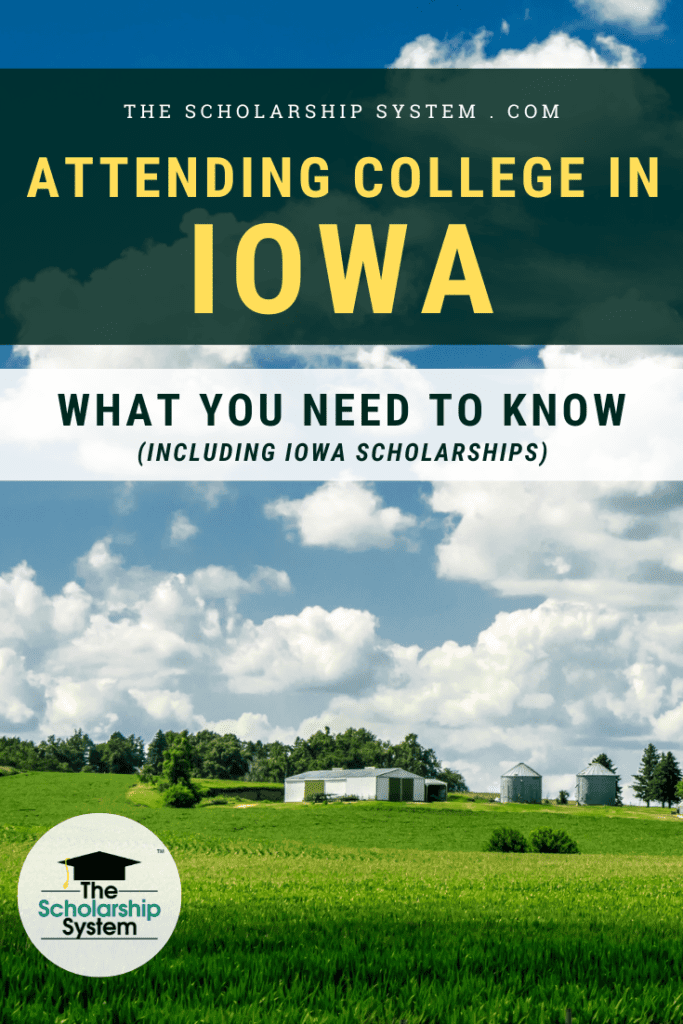 Colleges and Universities in Iowa
In total, there are around 77 colleges and universities in Iowa. Of those, there are 39 technical schools and community colleges in Iowa. The remaining 38 are 4-year institutions. That means, whether your student is looking for a university or community college in Iowa, they have choices.
However, with so many schools available, most students don't have time to research them all. Luckily, it's pretty simple to streamline the process.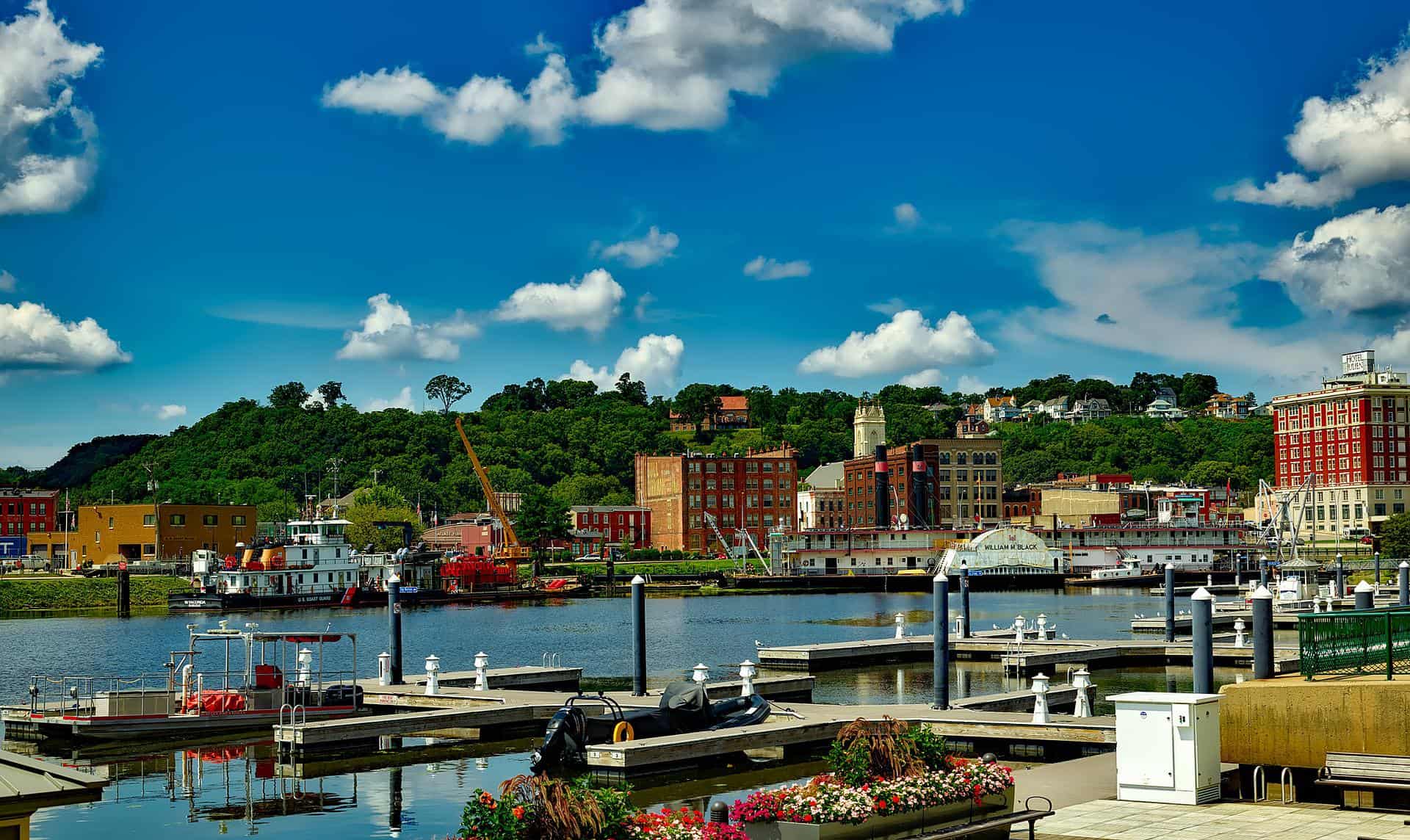 College Towns in Iowa
When students begin a college search, they usually start focusing on schools. However, by checking out college towns in Iowa, they might be able to find the right fit faster.
Every Iowa college town has a unique vibe and mix of amenities. However, they are typically geared toward younger adults, so what they bring to the table works well for college students. Plus, locals are often very supportive of their schools, which is helpful.
Here is a quick list of college towns in Iowa:
Ames
Cedar Falls
Cedar Rapids
Iowa City
Waterloo
While Des Moines does have some spectacular schools, it isn't necessarily a college town in the traditional sense since it also functions as the state capital. Still, it can be a great choice for many students, offering up big-city amenities while maintaining the friendly feel you'd expect from a Midwest capital.
Additionally, students shouldn't feel limited to just the cities above. Instead, they can serve as starting points for their college search, allowing them to factor their off-campus needs into the equation. In some cases, students may discover that another town is actually a better fit. If so, that's the direction they should go.
Major Iowa Colleges and Universities
Another approach to choosing between the colleges and universities in Iowa is to focus on the more well-known schools. Each of these institutions brings something noteworthy to the table. Along with larger student bodies in many cases, they may have reputations for strong academics, unique programs, exceptional sports teams, or great cultures.
If your student wants to focus on schools first, here is a list of colleges and universities in Iowa that can get them on their way:
As with college towns, students may prefer to explore institutions that aren't on this list of colleges in Iowa, and that's okay. This list is simply meant to serve as a starting point for students who aren't sure where to begin. In the end, the best colleges in Iowa for any student are the ones that feel like the best fit, so they should always factor that into their college decision.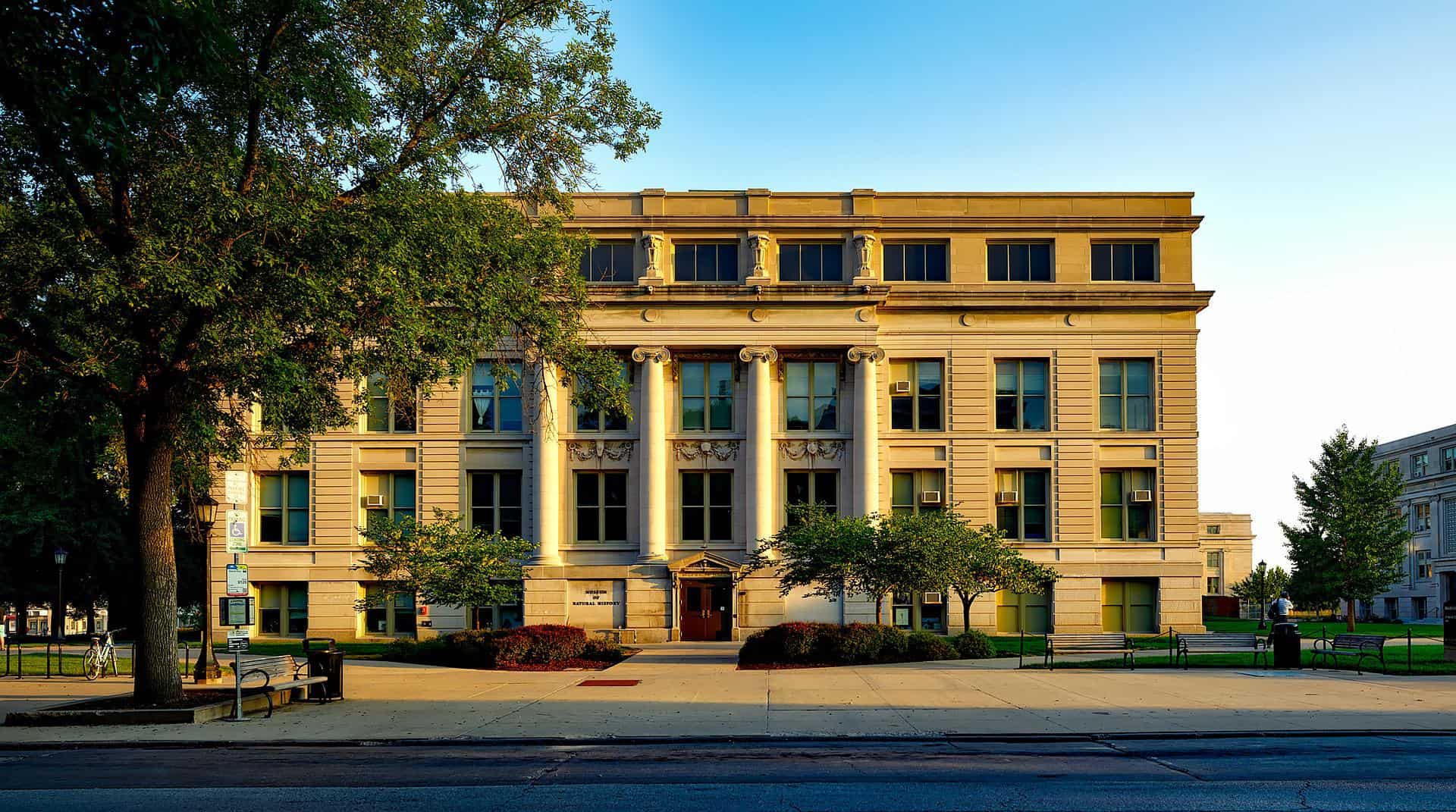 Iowa Financial Aid
In most cases, students need some form of financial aid to attend college in Iowa. While student loans are practically always an option, turning to debt can lead to financial hardship down the line. As a result, Iowa state scholarships and grants could be a better fit.
With Iowa scholarships and grants, students aren't accruing debt to cover their college costs. Both scholarships and grants typically don't have to get paid back. Instead, students simply need to meet the requirements, and they won't have to repay the money.
In most cases, an Iowa grant or scholarship issued through state programs does have one specific requirement that not all students will meet: residency. Generally, that means living in Iowa for at least 12 consecutive months for a purpose other than attending a university or college before the start of the school year. In some cases, that means having a job, paying Iowa state taxes, getting an Iowa state ID or driver's license, and having a local domicile.
However, those rules don't always apply to institutional grants and scholarships through the school a student is attending. For example, many Iowa State University scholarships don't have residency as a requirement. The same goes for most University of Iowa scholarships.
Additionally, out-of-state students can apply to national or regional awards that have different requirements and use those funds at many Iowa private colleges and public universities, including community colleges.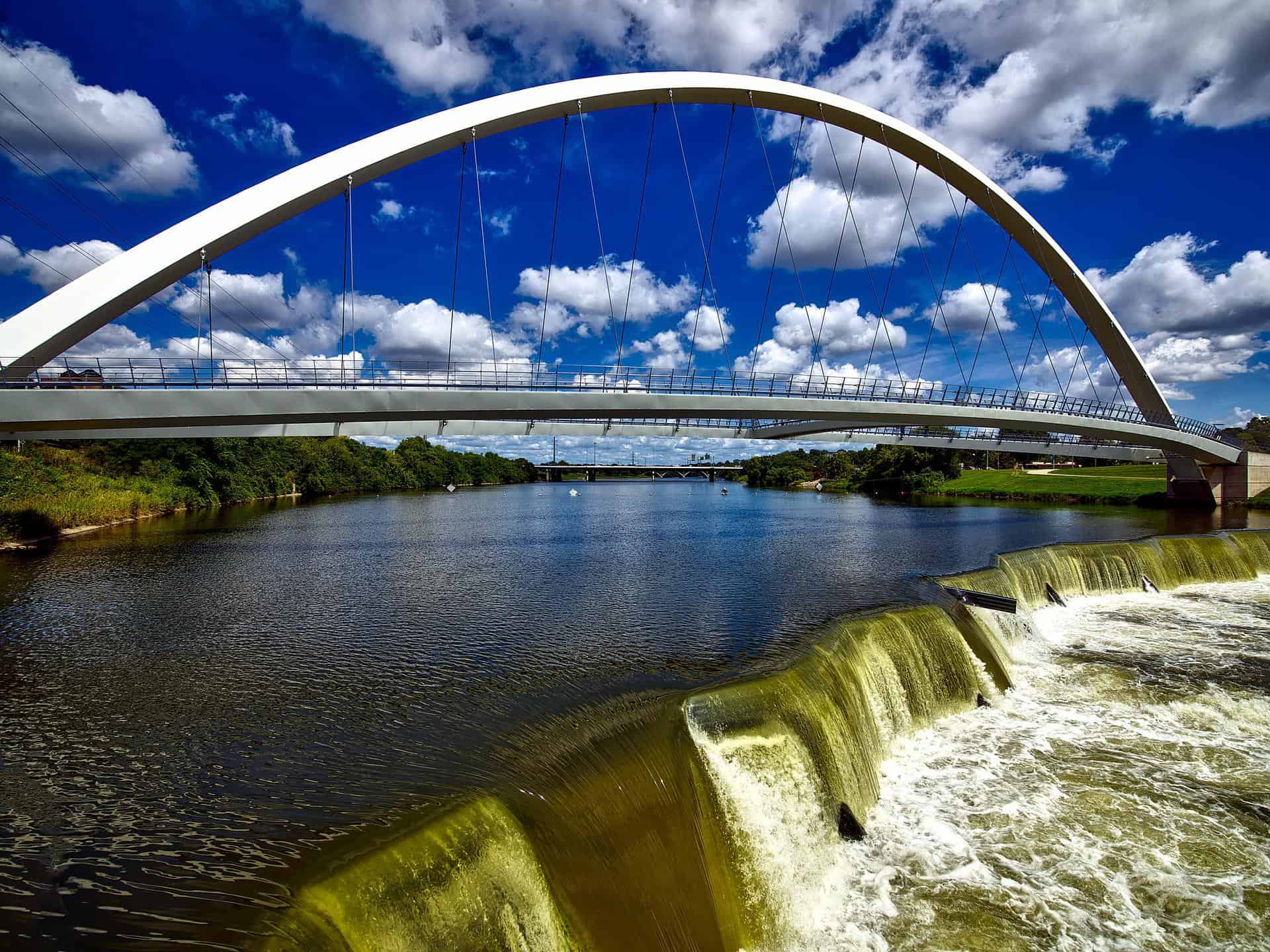 Iowa College Grants
Generally speaking, an Iowa tuition grant is functionally similar to a Pell Grant; they're just administered at the state level. For any student looking to reduce the cost of college, that can make an Iowa grant an excellent fit.
Here is a list of Iowa college grants students may want to check out:
Iowa Scholarships
Along with grants, Iowa university scholarships can significantly reduce the cost of college. Also, like grants, college scholarships in Iowa don't have to get paid back if your student meets the requirements.
Here is a list of scholarships in Iowa that students could explore:
Living and Getting Around in Iowa
While students attending college in Iowa may spend the majority of their time on campus, they'll usually need to get out and about on occasion. Plus, many students prefer to live off-campus. Since that's the case, knowing what it's like to live and get around in Iowa is essential. Here's some helpful information.
Housing in Iowa
Many students have to choose between dorms and apartments, and figuring out which one is right isn't always easy at first. However, by knowing the costs, the best option may seem obvious.
Housing in Iowa is usually reasonably affordable. The average home value is about $189,531, which is far below the national average of $349,816. While that might not mean that students can afford to buy, it could be possible once they launch their careers.
For apartments, rent usually runs near $656 per month for a one-bedroom and $831 per month for a two-bedroom. With prices like that, some students may be able to go in this direction, especially if they opt for a two-bedroom and split the cost with a roommate.
However, some may find dorms to be a better choice. Along with a set cost, it includes expenses like utilities and internet, which could make housing more manageable overall.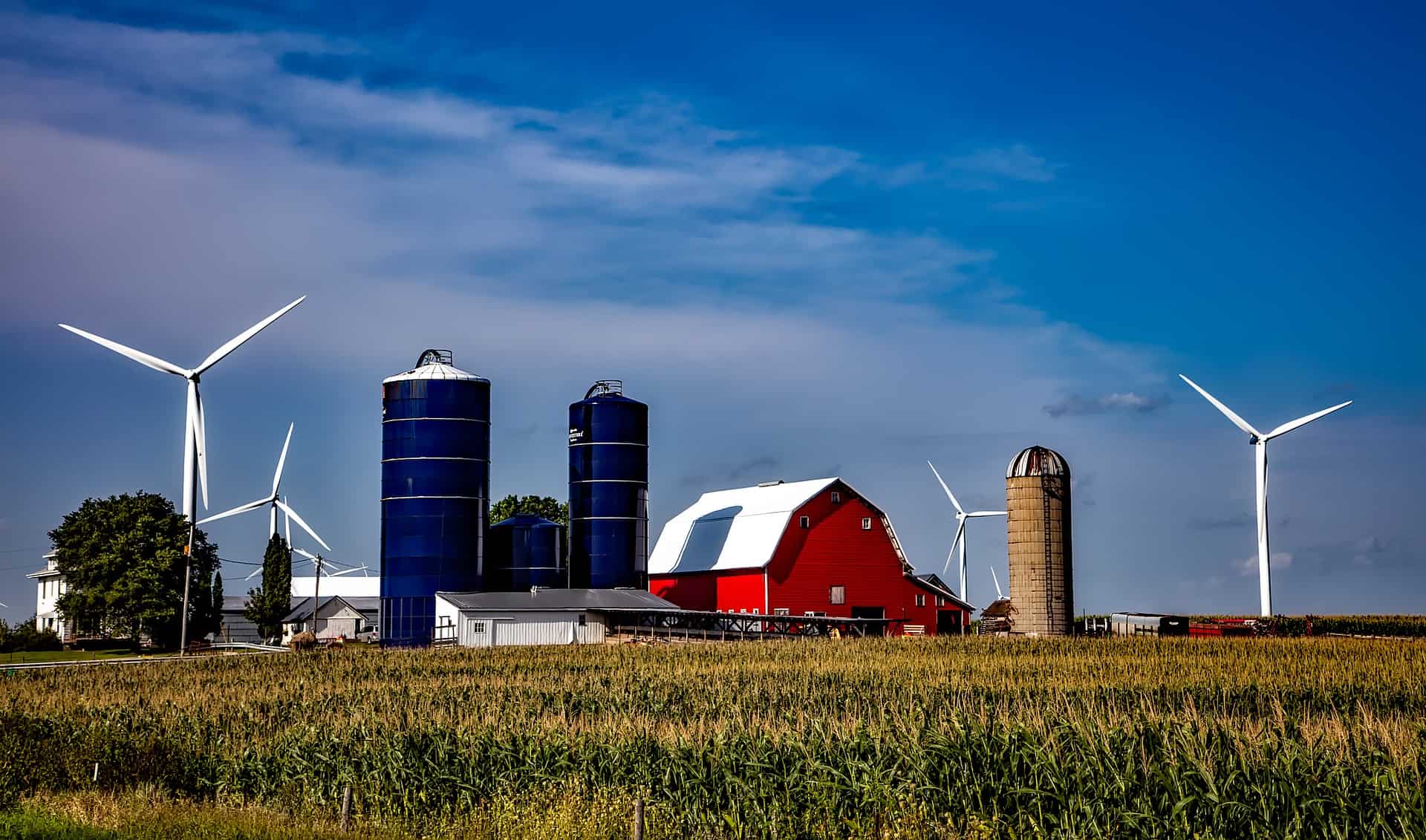 Transportation Options
Getting around Iowa is usually pretty easy. Locally, options like buses and rideshares could be doable. Plus, there are airports for heading to other states and even some train lines.
For air travel, Iowa has a few major airports. Here are the options available to students in the area:
Students can also take advantage of these Amtrak lines:
California Zephyr
Southwest Chief
Things to Do in Iowa
If your student wants to enjoy a fun time out, there are plenty of options in Iowa. For those who enjoy time outdoors, Maquoketa Caves State Park is a great choice, offering up a unique experience students may not find elsewhere.
The Figge Art Museum has an expansive collection that's worth exploring, while the Blank Park Zoo is a lovely option for seeing animals from all around the world. There's also the National Mississippi River Museum & Aquarium for students that want to spend a relaxing afternoon among sea life.

Making Money in Iowa
In many cases, students want to work while attending college to help make ends meet. That's why it's crucial to take a look at the local economy. Here's what students need to know about making money in Iowa.
Minimum Wage
Since many students choose entry-level jobs, making minimum wage is often the norm. In Iowa, this may be a little problematic, as the minimum wage is on the lower end.
The minimum wage in Iowa is currently $7.25 per hour, which matches the federal minimum wage. For tipped workers, the minimum wage is $4.35 per hour, as tips are expected to make up the difference. However, if the tips fall short, the employer has to increase the pay rate during that pay period to bring the employee up to the equivalent of $7.25 per hour.
Employment Rates
Knowing the unemployment rate is also helpful for students, as it lets them know how difficult it may be to find a job. When rates are higher, jobs are potentially scarce. With low unemployment, securing a position isn't typically as difficult.
Fortunately, the unemployment rate in Iowa is incredibly low, sitting at 2.7 percent as of May 2022. That's notably below the average unemployment rate in the country, which comes in at 3.6 percent. As a result, most students can likely find job opportunities if they need to work.
Iowa Key Industries
Understanding which industries are thriving in Iowa helps students see what kinds of jobs may be available, as well as the types of careers that are easiest to launch in the state. As with many states, Iowa's economy is diverse, presenting a wide range of opportunities.
When it comes to strong sectors, advanced manufacturing is a thriving industry. The same goes for agriculture and food production, as well as renewable energy.
Distribution and warehousing is another thriving sector, as Iowa's somewhat central location within the country lets it serve as a hub. Local officials are also working to grow Iowa's information and communications technology industry, which could produce opportunities for students majoring in those areas.
If your student plans on attending college in Iowa, scholarships can make nearly any school affordable. If you and your student want to learn about Iowa scholarships, sign up for our free college scholarship webinar! Take a quick trip over to http://thescholarshipsystem.com/freewebinar to reserve a spot today.