Updated on September 26th, 2021
If your child's financial aid package falls a bit short, you are often left debating whether you should take out Parent Direct PLUS Loans or private student loans.
Both options can help your student pay for a range of college expenses, including:
Tuition
Fees
Room and Board
Computers
Supplies
And More!
Additionally, both are widely used. But, before you make a selection, it's important to consider the potential benefits and drawbacks of each option.
Here are some points to consider when you are trying to determine whether a Parent Direct PLUS or private student loan is right for your child.
Parent Direct PLUS Loan Program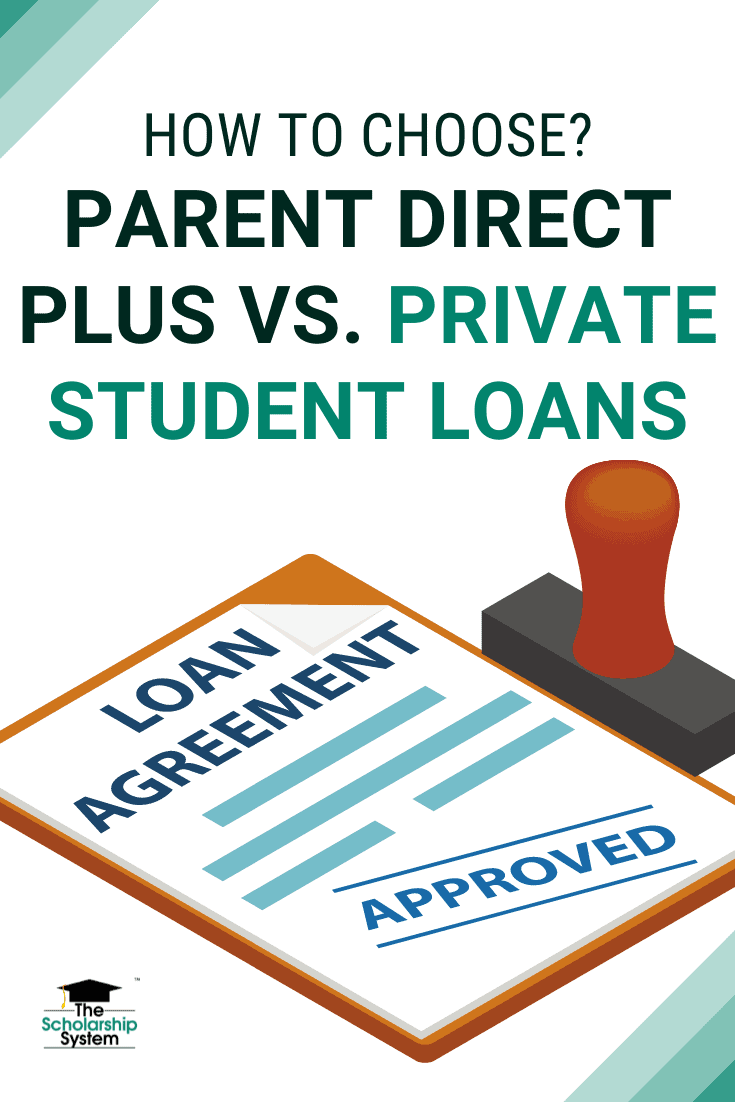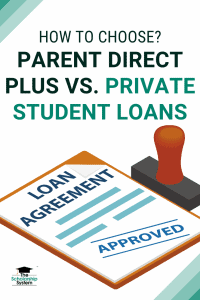 The Parent Direct PLUS loan program is managed by the federal government. When you use this type of loan, you are gaining access to funds through the US Department of Education, so they will act as your lender.
Typically, you are limited on how much you can borrow with a parent PLUS loan. The maximum is set at the cost of your child's attendance, as determined by the college or university, minus any other forms of financial aid they are expected to receive.
Ultimately, this means a Parent Direct PLUS Loan is designed to cover any monetary gap that exists after other forms of financial aid have been offered, but no more.
Eligibility for a Parent Direct PLUS Loan
According to the Department of Education, there are only three primary eligibility requirements for a Parent Direct PLUS Loan. First, you need to be the parent of a dependent undergraduate student who is enrolled at an eligible school at least half time. Second, you must have suitable credit. Third, you and your child need to meet the general eligibility requirements for federal student aid.
Applying for a Parent PLUS Loan
The foundation of the application process is the FAFSA. Your child needs to have a completed FAFSA on file for you to begin the process.
Next, your student needs to contact their chosen school's financial aid office to determine what Parent Direct PLUS Loan application is required.
Typically, you'll need to submit your request at StudentLoans.gov. The process is fairly straightforward and you can get started by selecting the "Parent Borrowers" section on the home page and clicking "Apply for a PLUS Loan."
As you complete the required process, you'll need to select your child's college or university from the list provided in the application as well as the additional information requested on the application.
Some schools use an alternative application process, so the financial aid office may provide you with instructions regarding their Parent Direct PLUS Loan procedures.
If you're found to be eligible, you'll need to sign a Direct PLUS Loan Master Promissory Note, showing that you officially accept the lending agreement.
Parent Direct PLUS Loan Interest and Fees
Like nearly every loan under the sun, you'll be responsible for covering interest and some fees.
The interest rate associated with a Parent Direct PLUS Loan is set by the federal government. If the first disbursement is before July 1, 2019, the interest rate is fixed at 7.6% for the life of the loan.
There is also a loan fee for Parent Plus Loans. If the first disbursement occurs before October 1, 2019, the loan fee is 4.248%.
It's important to note that the loan fee is proportionately deducted from every disbursement.
How Funds are Provided
All Parent PLUS Loan funds are first provided to the college or university that your child will be attending. This ensures that any tuition, fees, room and board, and similar school costs are covered before other expenses.
Once the school has used the amount they require, the additional money (if any) is given to you so you can cover your student's other expenses.
Repaying the Parent Direct PLUS Loan
Parent Direct PLUS Loan borrowers usually start making payments after the loan is fully disbursed. You always have the option to begin making payments earlier, and may be eligible for deferrals as long as your student is either enrolled at least half-time and during a six-month grace period after they leave college.
Even if you are required to make a payment initially, remember that interest begins accruing immediately. So, the longer you delay making payments, the more you'll owe.
You may also be presented with multiple repayment options, typically spanning between 10 and 25 years. However, not everyone is eligible for every plan. Your loan servicer can help you explore your options based on your unique financial situation.
In some cases, you may even qualify for loan forgiveness. For example, if a parent who secures a Parent PLUS Loan is in an eligible public service job, it's possible you might be able to have the loan forgiven after making 10 years of payments. However, these programs can change, so you'll need to monitor your options and see if any may apply to you.
Is the Debt Transferable?
Since the Parent PLUS Loan funds your child's education, you may be wondering if you can transfer the debt to them.
Ultimately, you are the borrower on the loan, so you can not transition the responsibility to your child, even if they are willing to take it on.
There are a lot of areas worth exploring to help reduce the cost of college. If you want to dig in deeper, here are two articles to check out:
Private Student Loans
Private student loans are quite different from those offered by the federal government. These are financial products offered by traditional lenders, such as banks and credit unions, and are not backed by the federal government in any way.
Unlike Parent PLUS Loans, you don't necessarily have to be a borrower on a private student loan. However, you can choose to act as a cosigner to help your child secure the loan. If you do cosign, you then become equally responsible for ensuring the debt is repaid. But, if you don't need to take on that obligation, the debt falls squarely in your child's hands.
Eligibility for Private Student Loans
In many cases, private student loans have more eligibility requirements than Parent Direct PLUS Loans. Along with your child being enrolled, the borrower (or borrowers) need to have suitable credit scores, and the credit score minimums may be more stringent.
Additionally, private lenders will want proof of steady income, which is why many parents have to act as cosigners, as many students can't meet this requirement on their own.
Banks and credit unions can also impose additional requirements, so your eligibility may differ from one institution to the next.
Applying for Private Student Loans
Generally, the application process will be fairly straightforward and not unlike any other loan application. You'll need to submit details for the credit check, provide proof of income, and identify your child's school.
If you are approved, you'll need to sign loan documents stating that you understand the terms as well.
It's important to note that some lenders aren't fully approving student loan applications until after June 1 as they want to pull credit checks closer to the actual first disbursement date. This means, if you apply early, they may pull your credit report twice which can harm your score. Additionally, if you are trying to group your loans into a single 30-day period to avoid the hard pull hit to your credit, then a lender delaying their application processing could cause some of your credit checks to not fall in the same 30-day window, which can also hurt your score.
Private Student Loan Interest and Fees
Unlike federal loans, the interest rate and fees associated with private student loans is set by the lender. This means you may be able to find an option that is less expensive than a Parent Direct PLUS Loan, or you may end up paying more.
Usually, your creditworthiness dictates what interest rate is offered. So, if you have excellent credit, this may be a more cost-effective way to go.
However, not all private student loan interest rates are fixed. With a variable interest rate, your rate may change for a variety of reasons, such a when the prime rate is adjusted. This means that changing economic circumstances could cause your rate to increase, making a loan that used to be less expensive that a Parent PLUS Loan suddenly more costly.
If you want to shop around, make sure to submit all of your applications within a 30-day window. Each formal application results in a hard inquiry, which can damage your credit score, typically by 5 or 10 points. However, a group of hard inquiries that occur in a single 30-day period are treated as one inquiry when it comes to the impact on your credit score, so make sure to group your applications together to avoid unnecessary harm to your credit.
How Funds are Provided
Private student loan lenders also have options when it comes to providing you with the funds. In some cases, the process is similar to federal loans, with the money being sent to the school first. However, some lenders may choose to send the cash directly to your student's bank account, leaving them responsible for ensuring the college receives the funds they are owed in a timely manner.
Repaying the Private Student Loan
With a private student loan, the bank or credit union controls the repayment terms. The details will be spelled out in your loan agreement, so you'll want to review what options are available before you sign.
If you want to explore private student loans, give these a try:
Credible – Easiest to use (loan comparison)
Simple Tuition – Best network of lenders (loan comparison)
LendKey – Favorite Lender
Ultimately, both Parent Direct PLUS Loans and private student loans are viable options. Consider your and your child's credit scores, whether you can prove steady employment, and see if a particular option makes the most sense for your situation.
Before making a decision, you want to compare the total cost of all of the loans your examining. This includes comparing interest rates, the length of the repayment terms, as well as items like origination fees. In some cases, a lower interest loan may actually be more expensive if the origination fee is high, so review all of the associated expenses before choosing the loan that is right for you.
Additionally, don't forget to factor in points like loan forgiveness. The vast majority of private loans don't offer loan forgiveness programs to government employees, teachers, public servants, or other jobs that qualify for forgiveness under the federal loan programs. While this doesn't impact every borrower, if it applies to you, it's worth exploring.
One last VERY IMPORTANT note:
It's NEVER too late to apply for scholarships. I am not just saying that because we are clearly obsessed with scholarships.. I am saying that because it's true. Even if your student has to borrow for one year, they can change that the following year by applying for scholarships like I did. I got more and more money every. single. year. while in college!
Scholarships don't have to be repaid and make it possible for your student to graduate from college debt free.
SO if you want to learn more about how your child can find great scholarships, join our next free college scholarship webinar. It's a great way to learn about the scholarship process, how to identify opportunities, and how your student can avoid debt while getting their education.